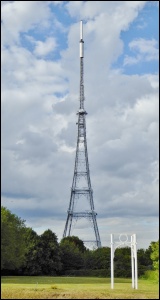 Crystal Palace transmitter is situated 6 miles South of The Tower Of London, though it was built rather more recently than the latter, in 1950. The tower is 222m high (see How High is High ? ) and in some ways looks similar to the Eiffel tower in Paris, although the French structure is taller at 318m.
Crystal Palace site gets its name from the original Crystal Palace which was built for the Great Exhibition (of 1851) and moved to this site in 1854, unfortunately it was destroyed by fire in 1936. Also located near the tower is the National Sports Centre of 1964.
In the old 405 line VHF days the transmitter only broadcast the BBC and a second similar design (152m in height) was constructed in 1962 for ITV * at Croydon. When UHF started transmission in the 60's (1964 from Crystal Palace) the distinction between BBC and ITV broadcasting sites was discontinued and everything was transmitted from Crystal Palace. In fact in 1985 when the VHF signals were finally switched off it seemed Croydon's days as a TV transmitter were over. However that wasn't quite the end of the story because when Channel 5 began broadcasting in 1997 Croydon was given the job of transmitting it to the London and SE area, though it wasn't transmitted at full power to the south so as not to cause co-channel interference in France. These analogue C5 transmissions continued until digital switchover on the 18th April 2012. Now Croydon is only used for radio transmissions (not BBC).
* This double transmitter scenario was also used for (BBC first) Sutton Coldfield / Lichfield, Holme Moss / Emley Moor, Pontop Pike / Burnhope, Kirk O'Shotts / Black Hill, Wenvoe / St Hilary, Divis / Black Mountain and Sandale / Caldbeck, Ashkirk / Selkirk (amongst others).
Crystal Palace transmitter's population coverage is unsurprisingly the highest in the UK at around 11 million. It obviously broadcasts to London but also to much of the south east including as far as Reading, or even further if the altitude or "line of sight" of the location is good enough.
As far as London goes (its primary area of transmission) Crystal Palace is unique because it is a main transmitter right in the middle of the city its designed to serve. Most main transmitters are built up on the nearest hill or mountain usually some distance away, e.g. Winter Hill (the second biggest transmitter in terms of population coverage) is 16m from the centre of Manchester. What all this means is that most sites in London are in a strong signal area, though the high buildings tend to work in the other direction.
Crystal Palace transmitter's channels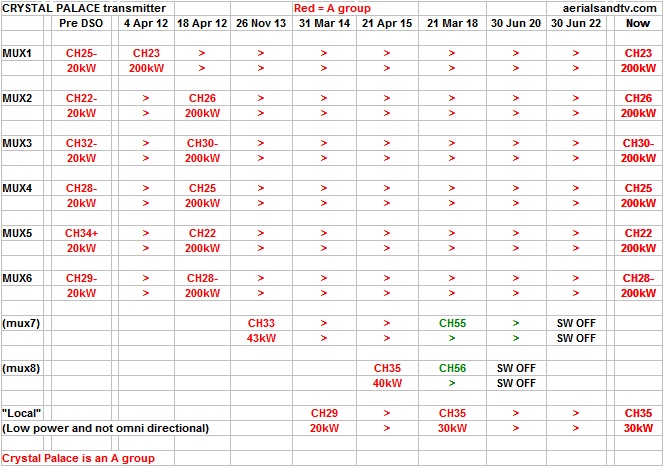 Crystal Palace is the joint most powerful transmitter in the country at 200kW.
Note how the power increased substantially at the 2012 digital switchover
Crystal Palace transmits a horizontally polarised signal and it was, is, and is due to remain, an A group transmitter.
Crystal Palace transmitter has about about fifty smaller repeaters of which 8 are horizontally polarised which could be important to bear in mind if you are trying to confirm which transmitter you are on !
There is one "Local" channel allocated to Crystal Palace on CH35 used for a local London TV channel.
For Crystal Palace we recommend the or Yagi10K for strong signal areas, the Log36 or Yagi 18K for medium signal areas, the Yagi18A for outside installs in poor signal areas, the XB10A for loft installations in poor signal areas, and the XB16A for those with the most marginal signals. Unless you have a massive loft we'd normally recommend the XB10A over the XB16A for a loft install due the smaller size of the former aerial. The dimensions and test performance of the aerials can be found on the relevant buy pages.
See this customer aerial report, and the wrong aerial for Crystal Palace.
Those situated to the North or NW of Crystal Palace may find that during certain weather condition they can suffer from co-channel interference as their aerials are pointing towards the continent.
Crystal Palace television transmitter from the athletics track of the same name.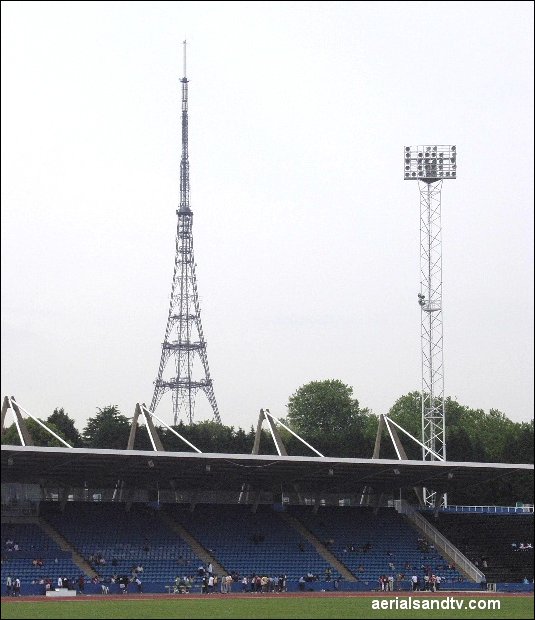 Crystal Palace television transmitter overall shot.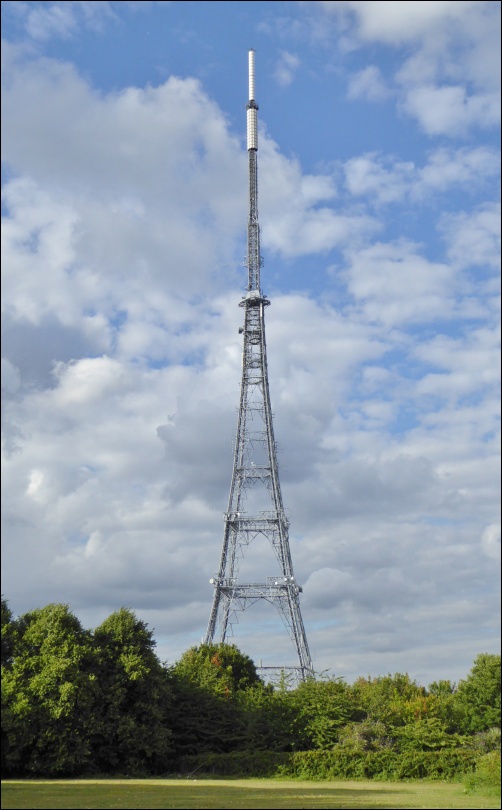 Crystal Palace TV transmitter, close ups of the tower and its transmitting arrays.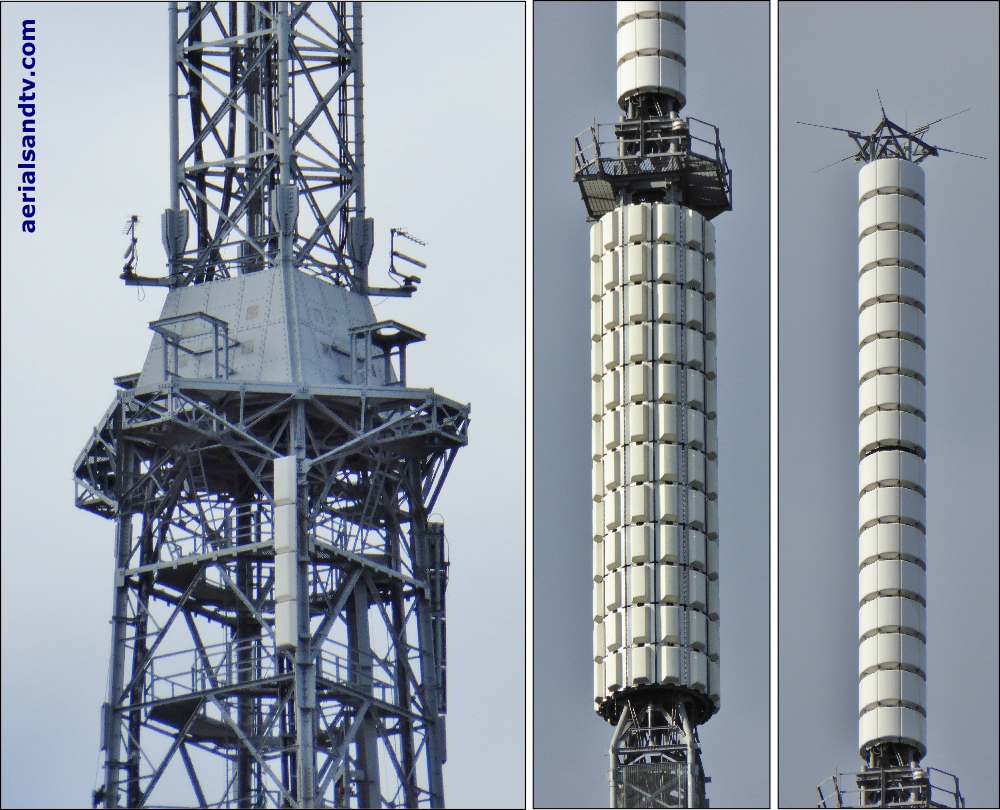 These are the wrong aerials for Crystal Palace, or any other A group transmitter : see Crystal Palace graph.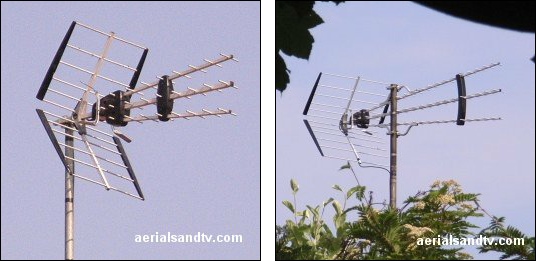 Both these aerials were spotted in Purley On Thames, just west of Reading, and they're both on Crystal Palace transmitter which is about 40 miles away. The thing is, they're the wrong aerials for Crystal Palace, or any A group transmitter come to that. I'm not familiar with the signal strength in this location (though the one on the left was on a bleedin' high pole....) but whether it's a strong or weak area the installer has still fitted the wrong aerial.
Why ?
Well if it's a weak reception area an A group aerial should have been used.
On the other hand if it's a strong or medium reception area he should have fitted a Log Periodic aerial or a Yagi10K. Let's assume it's a weak area. I estimate that over the Crystal Palace frequencies the aerial on the left would average about 1.5dB more than a DM Log and the one on the right about 2.0dB more. But if you're short of signal a Yagi18A would give about 4.7dB more, and an XB16A about 6.5dB more. We had a customer who was shielded from Crystal Palace transmitter by the Arsenal football stadium. He originally had a DAT75 (a large wideband Tri boom aerial) but his pictures were very poor, so he swapped to an XB16A and reported that whilst his signal wasn't perfect it was much better, "we can actually watch TV now" was his exact comment !  QED #1
Now don't get me wrong, I'm not saying these wideband aerials aren't working for these particular installations. Let's be honest, if it's a decent signal area they'll work fine. But the fact is that on Crystal Palace there would be a minimal performance difference between one of these huge wideband aerials and a Log36 or Yagi18K. They perform just as well (in the A group) as any wideband Tri Boom antenna, yet have much less wind loading and are still (effectively) widebands. The 18K would also be better made than any Tri Boom I've ever seen. QED #2
The thing is a Log36 or 18K are smaller than a Tri Boom so some installers find it harder to justify their (large ? ) bills..... Any connection ? Or am I just getting cynical as I get older ?
In my opinion if any installer tries to sell you this type of Tri Boom aerial for Crystal Palace (or any other A group transmitter) you can quote me that he's fitting the wrong antenna.
Although I think Tri Booms are over rated (see this test of a Tri Boom aerial) it's possibly a little unfair to pick on them because all of the comments in this article apply (to a large extent) to any wideband Yagi type aerial, whether X Beam or not.
But all Tri Booms are wideband so at least I can be sure what I've photographed !
Crystal Palace transmitter's graph of its channels v the gain curves of the aerials we recommend for it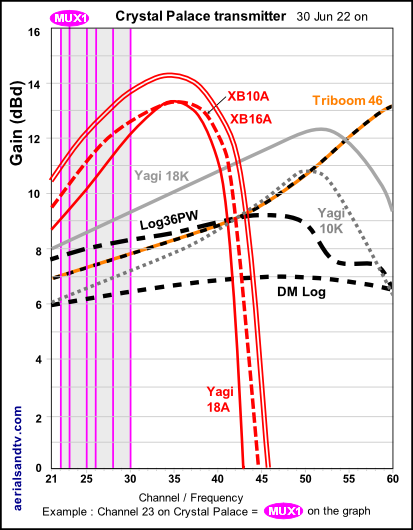 Crystal Palace transmitter channel allocation guide
This channel allocation guide for Crystal Palace also includes the same information for most of the other major transmitters receivable within the coverage area of Crystal Palace, i.e. Sandy, Sudbury, Bluebell Hill, Dover, Tunbridge Wells, Heathfield, Reigate, Midhurst, Guildford, Rowridge, Hannington, Oxford and Hemel Hempstead. This data can be of great use in determining possible alternative transmitters to try if Crystal Palace fails to give an adequate signal, the importance of "Line Of Sight". Note how most of the broadcast channels from the various transmitters "Dovetail" together but it has not been possible to eliminate potential co-channel problems. The Channel Allocation Guides can be very useful in the diagnosis of co-channel interference problems and can also be invaluable if you are trying to find a spare channel for a modulated output (e.g. for a Sky box or CCTV system) to be added to your TV setup/distribution system without suffering from co-channel.
Also check Crystal Palace's fifty six smaller repeaters, quite a few of which are horizontally polarised (as is Crystal Palace).
The frequencies given are for (most) digital MUXES, for analogue channels deduct 3MHz.
For the most up to date MUX to channel allocations etc put this postcode SE19 1UE into the Freeview checker.
Also see London region Freeview transmitters.