You've landed on probably the best, and certainly the most extensive, aerials site on the entire Internet and in 2018 we had 315,000 visitors with 725,000 page hits. In fact even "the trade" use this site. Actually, even we use it if we want to check up on anything to do with aerials !
We sell (only) the best quality aerials, poles, brackets and clamps for use in everything from aerial installations to installing weather stations, RF links, GPS antennas and even flag poles....
The choice is yours : phone, click or visit.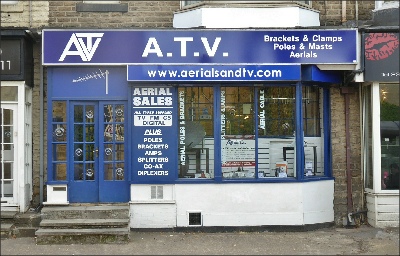 Business opening hours :
9.15AM to 5.00PM Monday to Friday
Closed Saturday, Sunday & Bank Holidays *
* Occasionally staff are in on Saturdays and bank holidays, phone to check.
A.T.V have been trading in Sheffield since 1994, initially selling and repairing TVs (this side of the business ceased in 2010). The shop was opened in 1996 and we entered the aerial trade in 2000. The web site was started in 2005, we began selling by mail order in 2006 due to so many requests from our readers !
Reviews on Trustpilot & Google
ATV aerial testing : how much signal is lost by an incorrectly assembled reflector ?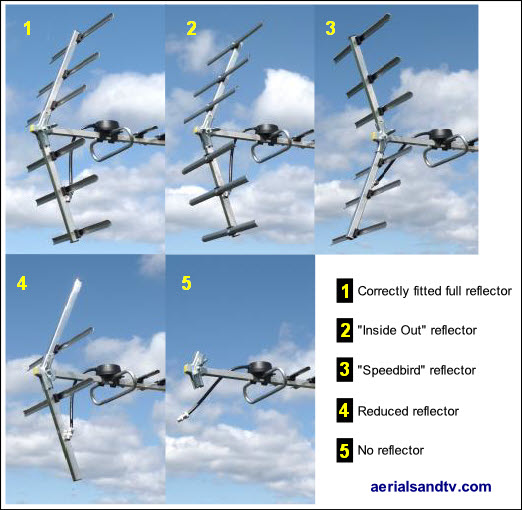 Scholars welcome!
If you're just browsing our site out of a general interest in TV & radio reception, or you read it and find out how to solve your problem without having to buy anything, you're more than welcome.
However, to be frank, those using our site, discovering they need to buy something to solve their problem, and then buying it elsewhere, are a little bit less welcome.
If you've found this site informative we'd be grateful for links onto it from other websites, this will help to increase the site's search engine ranking and encourage more visitors.