Description
"Hard wired" dipole which is preferable for weather proofing….
The XB10A is an alternative to the Yagi18A for poor areas of reception.
Although the XB10s have marginally more gain we normally recommend the grouped Yagi18s for outside installs because of their exceptional build quality. However, if you're using the aerial in a loft it's often a good idea to go for an XB10 because their smaller size enables more flexibility over where to install them within the roof space, furthermore they can also be end mounted (though we recommend cradle mounting the aerial for external installs). For an X Beam type these aerials are pretty strongly constructed, have a balun and come with a cradle and tilting clamp for poles up to 2in.
Due to wind loading considerations if fitting to a 10ft pole we advise using the 2" variety.
See aerial reports for the XB10A.
Examples of the major transmitters which can utilise an XB10A.
The test performance and the dimensions and wind loading of the aerial  can be found in the tables below.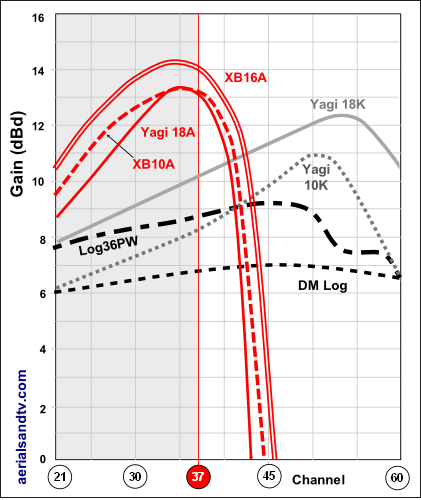 Also see other A group curves and relevant comparisons.
ATV aerial tests full results : our stock A group aerials v a typical Bacofoil XB10WB, all relative to a DM Log.