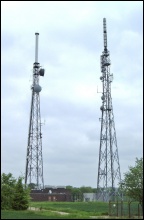 Bluebell Hill transmitter is 3 miles North of Maidstone and was opened in 1974. Being a main transmitter it is horizontally polarised. Originally (for analogue) Bluebell Hill was an E group then became a B group (more or less) at switchover before becoming a K group after the 700MHz clearance in July 2018. Most B group (or E group or wideband) aerials which worked before should continue to work fine for Bluebell Hill's K group frequencies, see Bluebell Hill graph.
Ofcom quote Bluebell Hill's maximum population coverage as being about 1.5 million, but that includes households which may well be on another transmitter with overlapping coverage, it'll actually be significantly less than that.
For Bluebell Hill we recommend the Yagi10K for strong signal areas, the Log36 for medium signal areas, and the Yagi18K or XB10K for poor signal areas, the latter aerial being particularly well suited to loft mounting. The XB16K is for those with the most marginal signals. The dimensions and test performance of the aerials are on the relevant buy pages.
Bluebell Hill transmitter's channels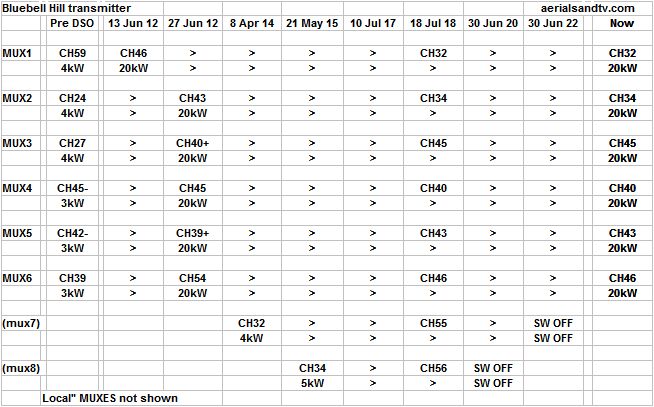 There is one "Local" channel allocated to Bluebell Hill, CH21 (mainly) used for a Maidstone TV station, though it is only transmitted at 1kW (i.e. significantly lower power than the main 6 MUXES).
Note the large power increase after the 2012 digital switchover, and the fact that Bluebell Hill was an E group, then a B group, but is now a K group. However, most decent B and E group aerials (plus widebands) will still work on it (even under its K group guise) unless you're in a particularly poor signal area. This may not apply to cheap crappy Contract aerials though.....
Bluebell Hill transmitter has (only) three smaller repeaters to improve coverage in poor reception areas within its coverage area.
For Bluebell Hill's frequencies see its channel allocation guide. This also includes the same data for some of the other major transmitters also receivable within Bluebell Hill's coverage area, namely Crystal Palace, Sandy, Sudbury, Dover, Hastings, Heathfield, Tunbridge Wells, Whitehawk Hill (Brighton), Midhurst and Reigate. The Channel Allocation Guides can be very useful in the diagnosis of co-channel interference problems and can also be invaluable if you are trying to find a spare channel for a modulated output (e.g. for a Sky box or CCTV system) to be added to your TV setup/distribution system without suffering from co-channel.
Those situated to the North or West of Bluebell Hill may find that during certain weather conditions they can suffer from co-channel interference as their aerials are pointing towards the continent.
The nearest railway to Bluebell Hill is, very unusually, one which opened as recently as 2003, namely the Channel Tunnel Rail Link. In fact the line actually goes under Bluebell Hill in a tunnel which is only about half a mile to the SW of the transmitter
External Links
Bluebell Hill transmitter page at MB21
Bluebell Hill at Wikipedia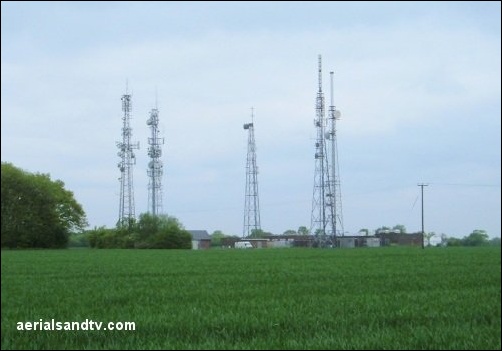 Bluebell Hill transmitters
Bluebell Hill transmitter : graph of its transmissions against the gain curves of the aerials we recommend for it :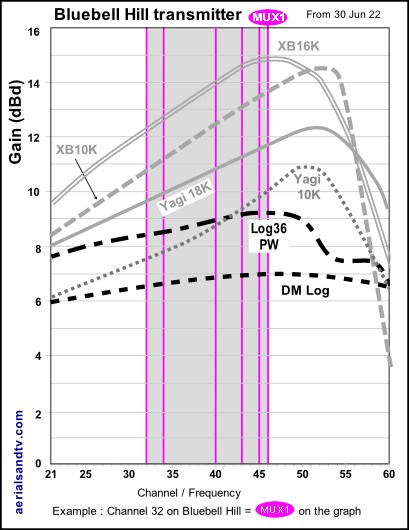 Bluebell Hill's channels in relation to the UHF TV band and the gain curves of the aerials we recommend for it. [link]
Bluebell Hill transmitter's channel allocations