Subjects are listed on this page in the following order :
- Digital power output, aerial group and polarisation of Hannington transmitter
- Hannington's "Local channels"
- Our TV aerial recommendations for Hannington
- Hannington's graph (its transmissions v our aerial recommendations)
- Hannington's channels/frequencies (including alternative transmitters)
Hannington transmitter is situated 16 miles SW of Reading on the North Hampshire Downs and it was opened about 1970. The site height is 217m and the actual mast is 134m high with the shroud covering the analogue transmitting array being about another 20m on top of that, thus the (average) transmitting height is about 369m, see How High is High ?
The transmitter is actually about 2 miles to the East of Watership Down (as in the talking rabbits). Until 1964 there was a railway running (about 3 miles to the west) from Didcot Winchester. This line had a fascinating history as it was originally planned as a double track but only completed as a single line in 1885 then, because the line ran from the industrial Midlands down to the South Coast ports it became very heavily used during WW2 and was finally doubled between 1942 to 1943 ! Unfortunately its importance then diminished so greatly that by 1964 it was closed. However that was not quite the end of the story because the infamous Newbury bypass (that's Swampy et al) was built on part of the ex railway lines trackbed, the actual section used was from Tot Hill to Enborne. Fascinating indeed.
Hannington's population coverage is approximately 750,000 and it transmits to homes in many towns ESE of London including Reading, Newbury, Basingstoke and Winchester. It is often used as an alternative to Crystal Palace, Oxford, Guildford or even Rowridge transmitters.
Hannington transmitter's channels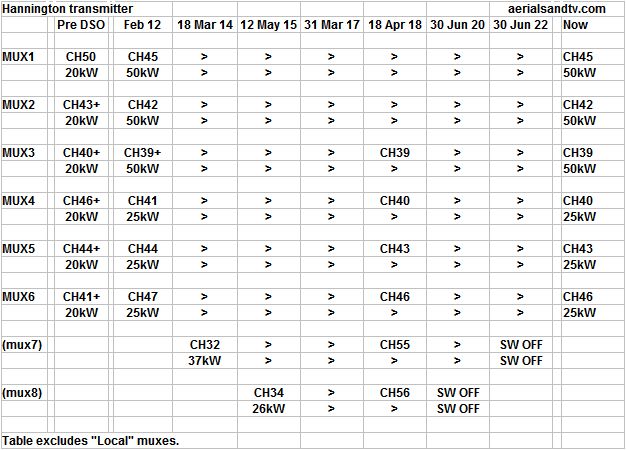 Hannington transmitter reverted to a B group at digital switchover (in February 2012) and still is a B group. It had originally been a B group before becoming an E group in 1982 when C4 broadcasts started.
Being a main transmitter Hannington is horizontally polarised.
Note the increase in transmission power at the 2012 digital switchover. Nearly all transmitters increased their power by a factor of 10 at switchover, so, relatively speaking, Hannington's increase was rather less than the others. But remember that the transmitter's former easterly attenuation was abolished at switchover, so for that area a very big rise in power occurred.
Also see Hannington's nine smaller repeaters.
There is one "Local" channel allocated to Hannington, on CHs 32 or 34, this is mainly used for local TV channels for Reading and Basingstoke (see below).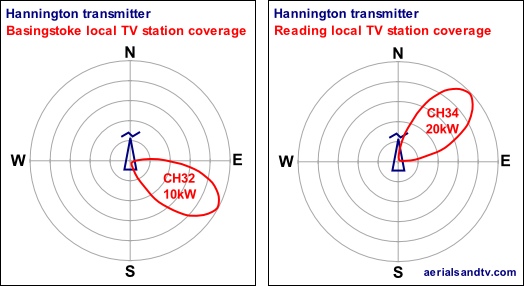 The Reading and Basingstoke local TV stations have restricted radiation patterns (coverage) as per the above graphics, i.e. they are not omnidirectional from Hannington.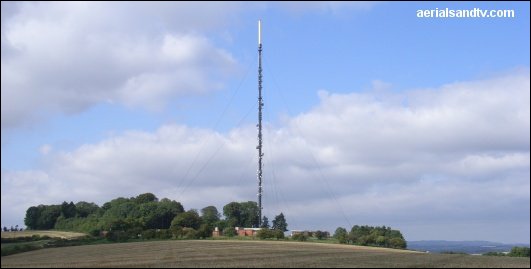 Hannington TV transmitter from the East, note the view from the North Downs.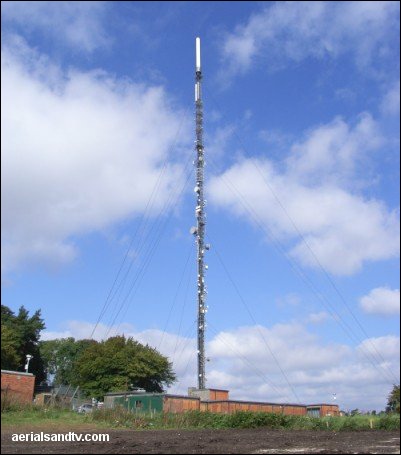 Hannington transmitter against a beautiful blue sky, not that we got many of them in 2007 when this picture was taken !
Hannington transmitter : graph of its transmissions against the gain curves of the aerials we recommend for it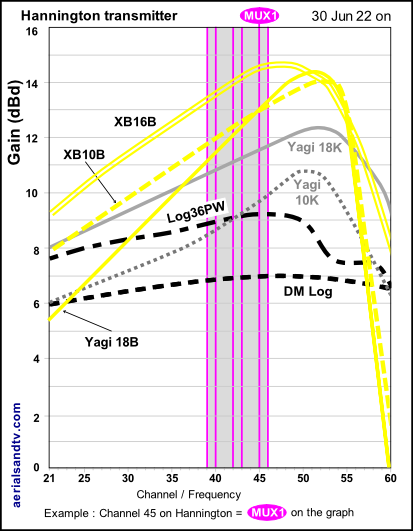 Hannington transmitter's channel allocations
The channel guide below also includes the same information for other potentially co-receivable transmitters within the Hannington coverage area, namely Oxford, Crystal Palace, Guildford, Midhurst, Rowridge, Salisbury, Mendip, Ridge Hill & Lark Stoke. This information can be useful for identifying other transmitters which may give a superior signal. The channel allocation guides can also be very useful in the diagnosis of co-channel interference problems and can also be invaluable if you are trying to find a spare channel for a modulated output (e.g. for a Sky box or CCTV system) to be added to your TV setup/distribution system without suffering from co-channel.