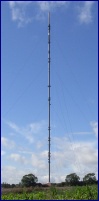 Waltham transmitter subject list :- 

- Digital power output, aerial group and polarisation of Waltham transmitter
- Our TV aerial recommendations for Waltham
- Waltham's graph (its transmissions v our aerial recommendations)
- Waltham's channels/frequencies (including alternative transmitters)
Waltham television transmitter (TX) is a "guyed mast" structure 309m in height (see How High is High ?) and is situated 18 miles SE of Nottingham. The mast is identical to Mendip and Bilsdale. It was built by British Insulated Callender's Cables (or B.I.C.C) who were responsible for much of the infrastructure built in this country from 1945 up to the 1980s. The company is still going but now called Balfour Beatty. The mast is a tubular structure to the top and has in internal lift, though this is out of use partly due to the accident at Belmont.
The transmitter was originally owned by the BBC before being sold off to Crown Castle then to National Grid Wireless and finally to Arquiva (sic). Waltham was erected in 1968, or to be more accurate the present structure was put up then. The original fell down in 1967 just before entering service !
Waltham broadcasts ITV Central and the relevant BBC Regional TV programmes from the East Midlands. Its population coverage is around 1.5 million people and many in Nottingham, Leicester, Peterborough, Lincoln, Derby and Mansfield are aligned onto it.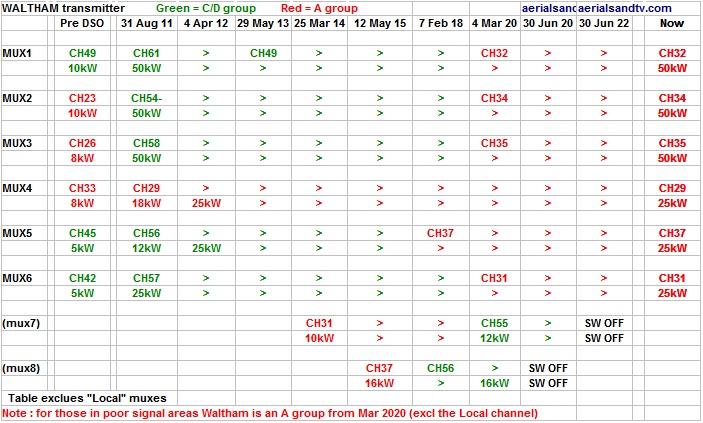 Note the huge increase in power after the 2011 digital switchover.
Being a main transmitter Waltham is horizontally polarised and puts out (up to) 50kW. Originally, for analogue it was a C/D group but with the advent of digital television it went wideband, before, in Mar 2020, becoming an A group. For those in reasonable signal areas (= most people) it will make no difference, but for those in poor signal areas swapping to an A group aerial will give a significant increase in signal (if you have an A group aerial obviously), see Waltham's graph.
Waltham has has sixteen [including Nottingham] smaller repeaters to improve its coverage in poor signal areas.
There is one "Local" MUX allocated to Waltham (on CH26 to the 3rd March and on CH41 after that) which is mainly used for a local Nottingham TV station.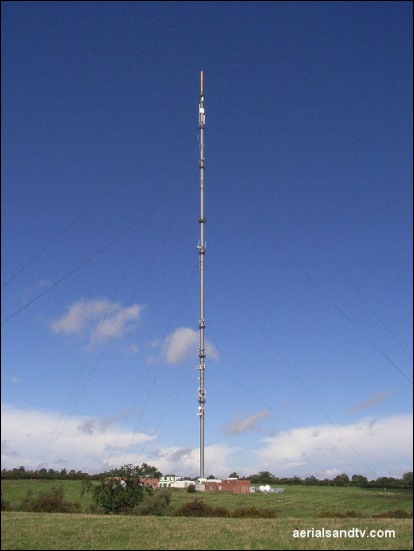 Blue sky at Waltham TV transmitter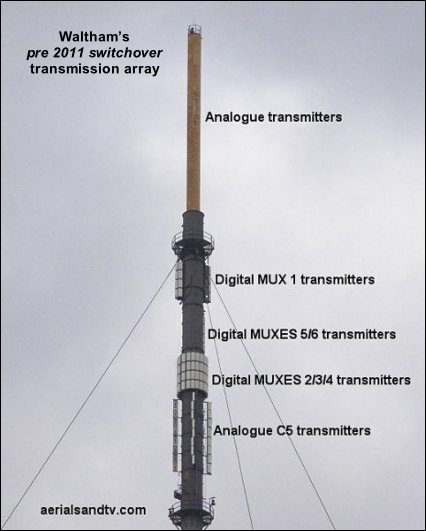 Waltham's pre DSO transmitting array. Note how the MUX 5/6 antennas were almost hidden on the NW face of the mast so as not to broadcast in the direction of Sandy (which is SSE), which would have caused co channel interference with Sandy's pre DSO transmissions. Post switchover this isn't a problem, so now Waltham's transmissions are omnidirectional.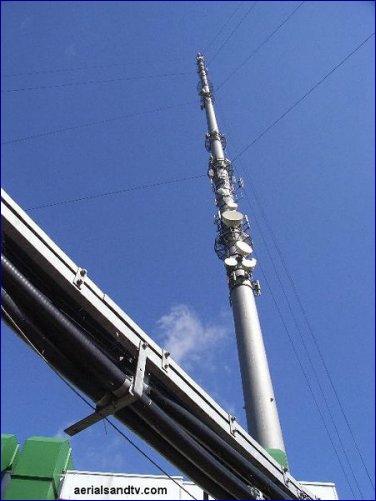 Picture showing the feeder cables which carry the Digital signals up to the transmitters. These feeders are about 6" in diameter and and over 300m long they are very expensive (tens of thousands of pounds each) and there are four of them, two each for the main transmitters and two for the reserve antennas. All the main constituent parts of any main transmitter are duplicated at (great cost one might add) so there is always a back up ready to use. Don't forget these things provide TV pictures for huge numbers of people, around 1.5 million depend on Waltham.
The biggest transmitters (in terms of approximate population coverage * over 1 million) :
Crystal Palace (London) 11 million
Winter Hill (NW of Manchester) 7 million
Sutton Coldfield (N of Birmingham) 5 million
Emley Moor (NW of Sheffield) 4 million
Black Hill (E of Glasgow) 2.5 million
Pontop Pike (SW of Newcastle) 2 million
Sandy (E of Bedford) 2 million
Rowridge (Isle of Wight) 1.75 million
Belmont (ENE of Lincoln) 1.5 million
Mendip (S of Bristol) 1.5 million
Sudbury (WSW of Ipswich) 1.5 million
Waltham (SE of Nottingham) 1.5 million
Bilsdale (S of Middlesborough) 1.0 million
Craigkelly (N of Edinburgh) 1.0 million
* Based on the BBC estimates from 1977, but I can't imagine they're that far out. The last time I looked all the major towns and cities were in the same place as they were in 1977.…. I think these figures are actually more accurate than the Ofcom quoted statistics which don't seem to take into account of people in a transmitters reception area actually using a different transmitter. For instance, many people in Waltham's reception area actually use Sutton Coldfield, or Belmont.
Also see : Top 12 FM transmitters
Waltham transmitter : graph of its transmissions against the gain curves of the aerials we recommend for it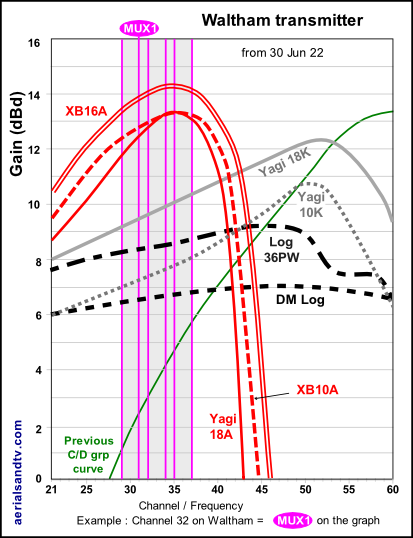 This graph illustrates clearly how, post 700MHz clearance, some aerials, mainly C/Ds (but also possibly the odd wideband) may struggle to pull in an adequate signal. The good news is that swapping to an A group aerial will actually put you in a better position than you were before (i.e. better than a wideband on a wideband Waltham). This is because, watt for watt (transmitted power), A group signals [being a lower frequency] travel further more efficiently than C/D signals. Provided, of course, you have an aerial tuned to pick them up at peak efficiency, i.e. an A group aerial !
Waltham transmitter's channel allocations
For the most up to date MUX to channel allocations etc put this postcode LE14 4AJ into the Freeview checker.
Also see Central region Freeview transmitters.
The guide below also includes the same data for some of the other major transmitters also receivable within Waltham's coverage area, namely Sutton Coldfield, Oxford, Sandy, Tacolneston, Belmont, Emley, Chesterfield, Nottingham and Fenton.
The channel allocation guides can be very useful in the diagnosis of co-channel interference problems and can also be invaluable if you are trying to find a spare channel for a modulated output (e.g. for a Sky box or CCTV system) to be added to your TV setup/distribution system without suffering from co-channel.
Also check Waltham's sixteen (including Nottingham) smaller repeaters.
The frequencies given are for (most) digital MUXES, for analogue deduct 3MHz.