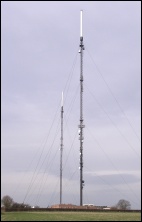 Sudbury transmitter page jump links :
- Digital power output, aerial group and polarisation of Sudbury transmitter
- Continental co-channel interference issues with Sudbury
- Our TV aerial recommendations for Sudbury
- Sudbury's graph (its transmissions v our aerial recommendations)
- Sudbury's channels/frequencies (including alternative transmitters)
Sudbury transmitter was opened in 1968 (see technical details of original transmitter) for the transmission of BBC2, then BBC1 & ITV were added in 1970 before Channel 4 came along in 1982. The figures for the mast heights vary according to which source you look at, but I reckon the mast height for the original TX is about 140m (a.g.l) with the aerial array (covered by its fibreglass shroud) on top of that, possibly another 20m. The second of the structures, the one transmitting digital, is around 130m in total height, see How High is High ? The site height is 70m and the TX is located about 14 miles WSW of Ipswich.
Sudbury's approximate population coverage is just under one and a half million. Many people in Ipswich, Colchester, Bury St Edmunds and Chelmsford use Sudbury. In addition it's an alternative transmitter for Cambridge, Southend and NW London.
Sudbury transmitter's channel powers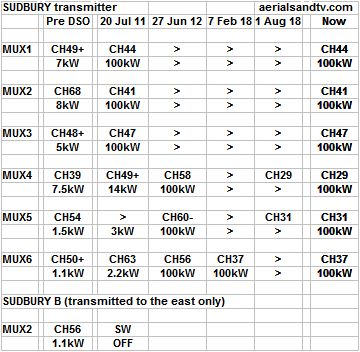 Sudbury is a pretty powerful transmitter, specifically the joint eighth most powerful in the country.
Note the huge power increase at the 2011 digital switchover.
Sudbury is horizontally polarised and was originally a B group before the advent of Digital, then it went E group but (since the 2018 700MHz clearance) it is now an K group ! However, most decent B and E group aerials (plus widebands) will still work on it (even under its K group guise) unless you're in a particularly poor signal area. This may not apply to cheap crappy Contract aerials though.....
Sudbury has eight smaller repeater transmitters off it, not many because it's quite flat round there !
Those situated to the West of Sudbury may find that during certain weather condition they can suffer from co-channel interference as their aerials are pointing towards the continent.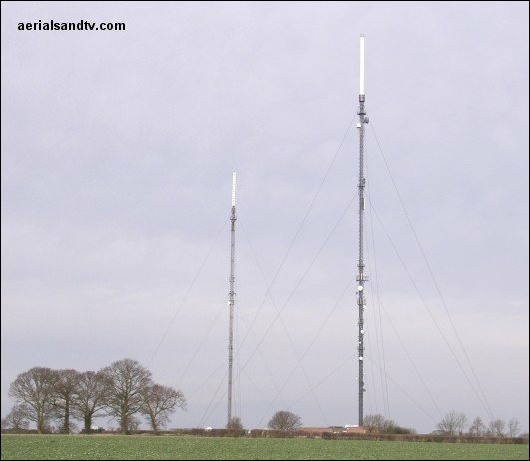 Sudbury Transmitters from the South.
The original Sudbury transmitter is on the right and the supplementary transmitter on the left.
Sudbury transmitter : graph of its transmissions against the gain curves of the aerials we recommend for it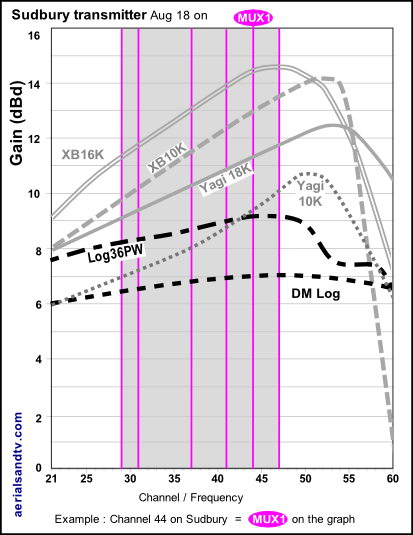 Sudbury's channels in relation to the UHF TV band and the gain curves of the aerials we recommend for it. The transmitter was originally a B group before the advent of Digital, it then went E group, before becoming a K group, which is actually quite close to being its original B group !
Sudbury transmitter's channel allocations
For the most up to date MUX to channel allocations etc put this postcode CO10 5NG into the DUK checker.
Also see Anglia region Freeview transmitters.

The guide below also includes the same information for other potentially co-receivable transmitters within Sudbury's coverage area, namely, Bluebell Hill, Crystal Palace, Hertford, Hemel Hempstead, Oxford, Sandy, Waltham, Belmont and Tacolneston. The Channel Allocation Guides can be very useful in the diagnosis of co-channel interference problems and can also be invaluable if you are trying to find a spare channel for a modulated output (e.g. for a Sky box or CCTV system) to be added to your TV setup/distribution system without suffering from co-channel.
Also check Sudbury's eight smaller repeater transmitters.
The frequencies given are for (most) digital MUXES, for analogue channels deduct 3MHz.