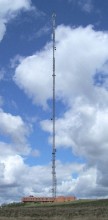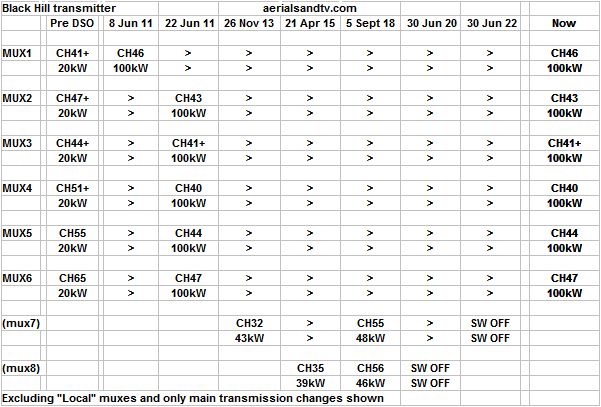 Black Hill is horizontally polarised. It was originally a B group for analogue, then temporarily became an E group (or wideband) whilst transmitting both analogue and digital, before reverting back to a B group at switchover in 2011.
Black Hill is a main transmitter and it has sixty four (including Torosay's twenty two) smaller repeaters to improve coverage in poor reception areas within its coverage area.
There is one "Local" channel allocated to Black Hill, CH30, this is mainly used for a local Glasgow TV channel. This channel can be picked up by all decent B group aerials.
For Black Hill we recommend the Yagi10K for strong signal areas, the Log36 or Yagi18K for medium signal areas, the Yagi18B for outdoor installs in poor signal areas, the XB10B for loft installations in poor signal areas, and the XB16B for those with the most marginal signals. Unless you have a massive loft we'd normally recommend an XB10B for loft installs (over an XB16) due to smaller size of the former aerial. The dimensions and test performance of the aerials can be found on the relevant buy pages.
Those in poor reception areas, can take advantage of the superior performance of a B group aerial over a wideband. If you really need a "high gain" aerial (and most people don't) a decent B group aerial should be used. On the other hand if the signal is strong (or medium) then, by definition, it doesn't need a "high gain" antenna anyway ! Under these circumstances a Log Periodic should be fitted instead.   See Black Hill's graph.
External links
Black Hill Transmitter page at MB21
Black Hill Transmitter page at The Big Tower
Black Hill Transmitter page on Wikipedia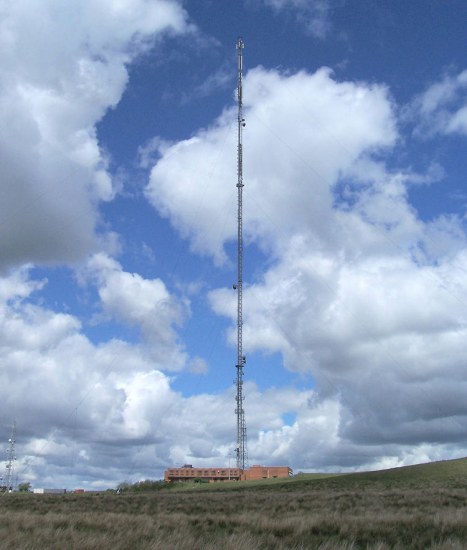 Black Hill transmitter, situated between Glasgow & Edinburgh (picture MB21).
Black Hill transmitter : graph of its transmissions against the gain curves of the aerials we recommend for it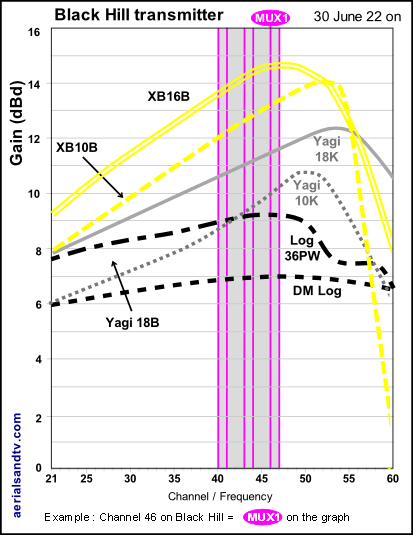 Black Hill transmitter's channel allocations
For the most up to date MUX to channel allocations etc put this postcode ML7 4NZ into the Freeview checker.
Also see Scottish Central region Freeview transmitters.

The guide below also includes the same information for other potentially co-receivable transmitters within Black Hills coverage area, namely Craigkelly, Angus, Torosay, Rosneath, Darvel, Caldbeck, Selkirk, and Chatton. The Channel Allocation Guides can be very useful in the diagnosis of co-channel interference problems and can also be invaluable if you are trying to find a spare channel for a modulated output (e.g. for a Sky box or CCTV system) to be added to your TV setup/distribution system without suffering from co-channel.
Also check Black Hill's sixty four (including Torosay's twenty two) smaller relays.
The frequencies given are for (most) digital MUXES, for analogue channels deduct 3MHz.
I suspect that Caldbeck may well have a restricted radiation pattern in a Northerly direction and that "Caldbeck Scotland" will act as a supplementary transmitter (on different frequencies) only transmitting in this direction.