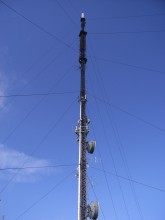 Pontop Pike transmitter page jump links :
- Digital power output, aerial group and polarisation of Pontop Pike transmitter
- Our TV aerial recommendations for Pontop Pike
- Pontop Pike's graph (its transmissions v our aerial recommendations)
- Pontop Pike's channels/frequencies (including alternative transmitters)
Pontop Pike transmitter was opened in 1953 (though the date on the buildings at its base is 1955 ! ) to transmit BBC television on the "old" VHF 405 line system. This was BBC only remember, ITV (actually called ITA then) came from nearby Burnhope transmitter on the VHF from 1959. Transmission of this signal (from both transmitters finally ceased in 1985, though since 1966 Pontop had been broadcasting (in colour) on the UHF 625 line system. The mast is a cable stayed spaceframe with height (to the base of the transmitting arrays' shroud) of 134m, so the tip of the mast is probably another 20 or so metres above that, also see How High is High ?
The transmitter is situated 10 miles SW of Newcastle and its population coverage is approaching two million. The transmissions are received in most areas of the North East including Newcastle, Sunderland, Durham, Hartlepool, Darlington, Stockton and Middlesborough. Bilsdale would probably be the main choice for the last three, but in the end transmitter choice is all down to "line of sight"...... According to Ofcom Pontop Pike is nominally omni directional for all the Digital MUXES.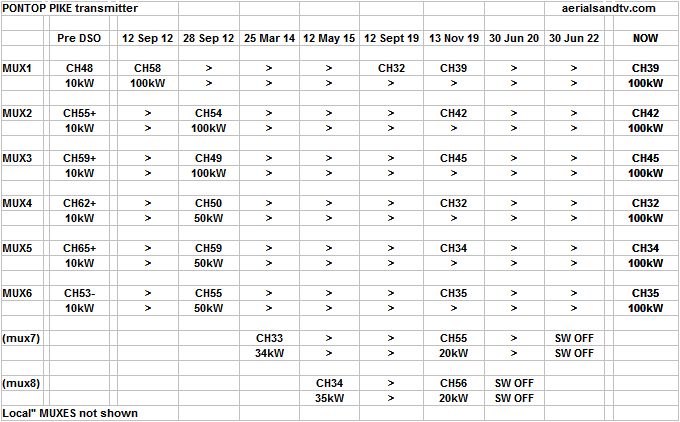 The transmitter puts out up to 100kW of digital power which makes it the 13th most powerful transmitter. Note the huge increase in power after the 2012 digital switchover.
Pontop Pike is horizontally polarised and it was an E group until Nov 2019 when it became a K group (see Pontop's graphs).
There is one "Local" MUX allocated to Pontop Pike on CH33 (from Nov 19)
Pontop Pike has twenty five smaller repeaters to improve its coverage in poor signal areas.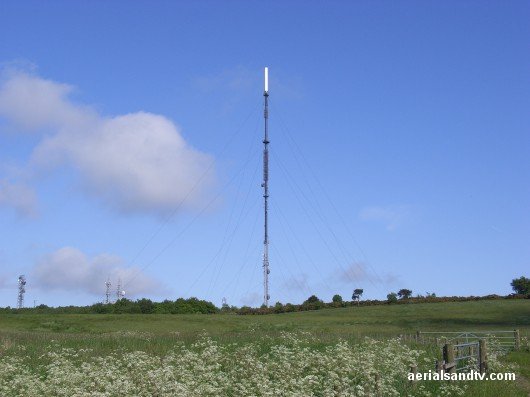 Pontop Pike transmitter from the south west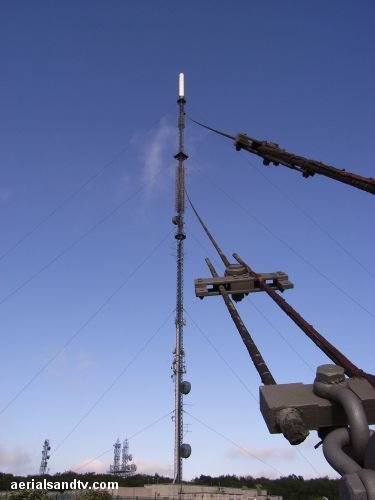 Pontop Pike transmitter : graph of its transmissions against the gain curves of the aerials we recommend for it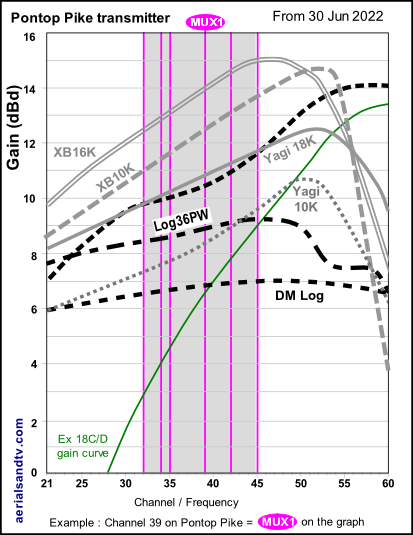 Pontop Pike transmitter's channel allocations
For the most up to date MUX to channel allocations etc put this postcode DH9 9AT into the Freeview checker.
Also see Tyne Tees region Freeview transmitters.
The guide below also includes the same information for some of the other transmitters in Pontop's coverage area, namely Bilsdale, Emley Moor, Chatton, Fenham, Newton, Haltwhistle, and Weardale. The Channel Allocation Guides can be very useful in the diagnosis of co-channel interference problems and can also be invaluable if you are trying to find a spare channel for a modulated output (e.g. for a Sky box or CCTV system) to be added to your TV setup/distribution system without suffering from co-channel.
Also check Pontop's twenty five smaller repeaters
The frequencies given are for (most) digital MUXES, for analogue channels deduct 3MHz.