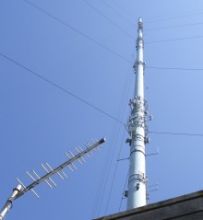 Not entirely co-incidentally, these were the original 80 preswitchover digital transmitters, plus 12 more added during the 700MHz clearance.
In addition, there are just under 1100 smaller repeater transmitters, but they only transmit the first 3 MUXES (the PSBs), not all 6 of them. That said, these three PSBs include all the main channels and the six HDTV channels.
Details of local repeaters are available on the DUK postcode predictor (which is far worse since Nov 19....) by putting in a local postcode.
Officially 90% of the population can get on a 6 MUX transmitter, that is to say 10% (= 6 million people) can only get on a 3 MUX repeater. I have to say I think that's rubbish. I spend far too much time looking at TV aerials all over the country and I'm sure the number of people able to get on a 6 MUX TX is far higher than 90%. The four most important points to bear in mind are:
1 - Many people are on a small repeater transmitter when they don't even need to be on one. This is mainly due to lazy or incompetent installers. Having said that it's only relatively recently that being on a main transmitter was important, before digital (certainly before C5) it made no difference to how many channels the customer would receive so the aforementioned installers would just go for the easiest option (Oughtibridge in this case ! ) which they knew would work at the locality.
2 - Since the 2008 to 2012 switchover (and many aerials were installed before this) the transmission power has been hugely increased, often by a factor of 10.
3 - There may be around 1100 repeater transmitters and only 50 main transmitters, but the 30 largest repeaters (by far the biggest in terms of population coverage) transmit all 6 MUXES. Sheffield is a repeater but I reckon its coverage must be bigger than a dozen or more "main" transmitters. Many of the smaller repeaters only transmit to a few hundred people, some to less than that.
4 - I'm sure there are a huge number of sites which can't get on a 6 MUX transmitter, but generally there aren't many people (relatively speaking) living in those localities.
The information below includes the all the 6 MUX transmitters' locations, their digital power outputs, their polarity*, if they have changed group (i.e. required a new aerial at digital switchover) and last, but by no means least, the aerials we recommend for them.
* e.g. BH indicates a B group Horizontally polarised transmitter.
If you're on one of the smaller three MUX repeaters (see "which transmitter am I on?") and you want all six digital Freeview MUXES you'll have to try and get onto one of the transmitters listed below. You could try realigning your aerial (though you may well have to re-polarise it) and then retuning. You will also have to check both transmitters are the same group, this is not required if you have a wideband aerial, though W/Bs have lower gain than a grouped aerial, particularly an A group.
If you get a signal but it's not as good as you want, you could upgrade the aerial, but you could also try a mast head amplifier or repositioning your aerial.
And don't forget the cable (and any crappy wall plates).......