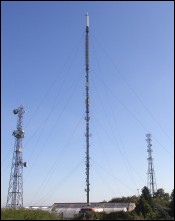 Oxford transmitter page jump links  :
- Digital power output, aerial group and polarisation of Oxford transmitter
- Our TV aerial recommendations for Oxford
- Oxford's graph (its transmissions v our aerial recommendations)
- Oxford's channels/frequencies (including alternative transmitters)
Oxford transmitter is situated 4 miles NE of the City near the village of Beckley, in fact some people refer to it as Beckley transmitter. The structure was built in 1962 and is 160m high, see How High is High ? VHF/405 line TV transmissions started in 1962 with UHF following in 1968 (BBC2) and 1970 (BBC1/ITV). The transmitter can be seen on the hill from the railway between Oxford and Banbury which was opened in 1850 by the Great Western Railway as part of a route which eventually reached Chester and Birkenhead. Interestingly it was built as a broad gauge line then converted to mixed gauge in 1852 before becoming standard gauge only in 1869.
Oxford transmitter has a population coverage of around three quarters of a million. Its transmissions can be picked up in Swindon, Reading, Banbury, Bicester and Milton Keynes, plus Oxford, obviously.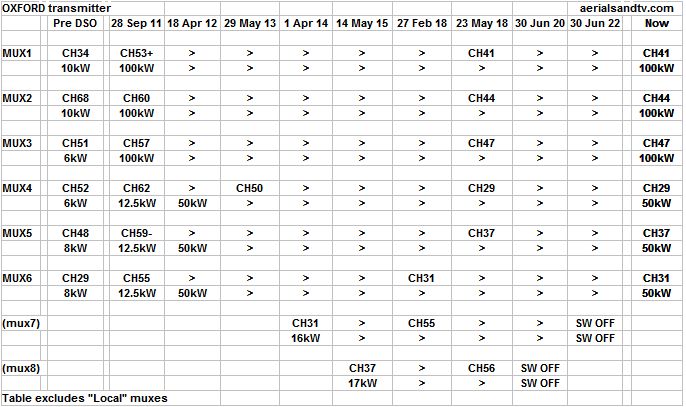 Oxford is quite a powerful transmitter (joint 13th most powerful in the UK).
Note the huge increase in power after the 2011 digital switchover.
There are two "Local" MUXES allocated to Oxford on CHs 22 and 46 for Oxford local TV station(s).
Oxford transmitter is horizontally polarised and it's a K group, see Oxford's graph. Originally, for analogue (and digital up to 2018) Oxford was a C/D group.
Oxford transmitter has five smaller repeaters to improve its coverage in hilly areas (it only used to have two, but three were swapped from Sutton Coldfield at switchover).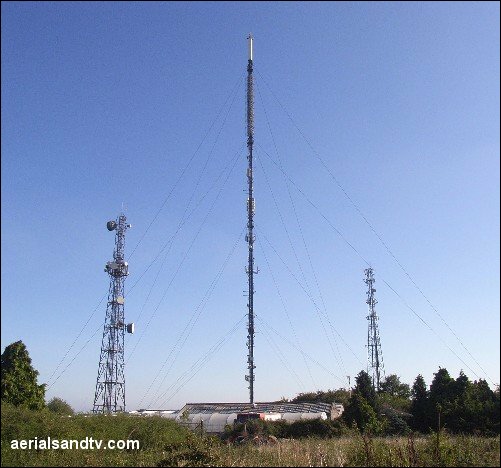 Overall view of Oxford TV transmitter, the structure on the left was originally built for the receive antennas when Oxford was (effectively) a VHF repeater off Crystal Palace.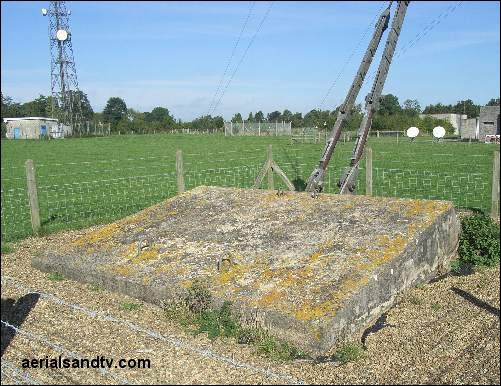 Close up of one of the massive concrete anchor blocks for Oxford transmitter's stays, there is considerably more of it underground......
Oxford transmitter : graph of its transmissions against the gain curves of the aerials we recommend for it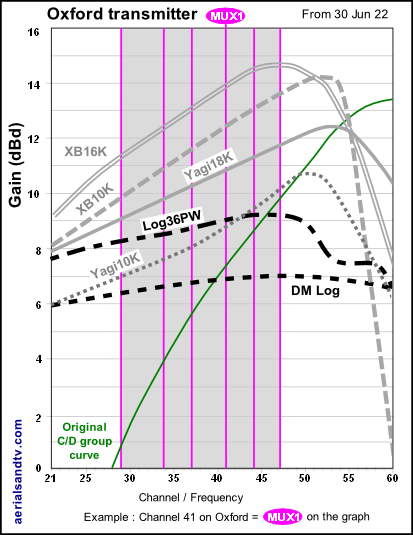 Oxford transmitter's channel allocations
For the most up to date MUX to channel allocations etc put this postcode OX3 9ST into the Freeview checker.
Also see Meridian region Freeview transmitters.

The guide below also shows the output for the main co-receivable transmitters within Oxford's coverage area, namely Sutton Coldfield, Waltham, Sandy, Hemel Hempstead, Crystal Palace, Hannington, Mendip, Ridge Hill and Lark Stoke. This information can be most useful for identifying alternative transmitter options or potential causes of co-channel interference plus it can also be invaluable if you are trying to find a spare channel for a modulated output (e.g. for a Sky box or CCTV system) to be added to your TV setup/distribution system.
The frequencies given are for (most) digital MUXES, for analogue channels deduct 3MHz.