How fast will I get my order ?
During the Coronavirus episode(s) we are only operating via mail order. Furthermore we only have one member of staff working at a time so it is possible some orders may not be shipped "same day" (though most will). If your order is urgent please phone to check if it'll be going "same day".
Collections, for pre-ordered goods only, can be made from outside the rear of the shop.
Orders are usually shipped within 24 hours (M-F) and delivery made the day after that, but same day despatch is not normally guaranteed. If your order is urgent (and we're contacted before 12 noon) we can usually send it out "same day" if you request this.
Timed deliveries are available (before 10.00 or before 12.00) as are Saturday deliveries though these all attract a supplementary charge, please phone for a quote.
Most orders are sent by carrier (TNT), though Royal Mail 1st class may be utilised for smaller items. If your order is for one of the latter the P&P charge can be reduced for RM orders phoned through, but not for Online orders. Deliveries by carrier will require a signature and are made Monday to Friday (Saturday delivery available at a significant supplement....), many customers find it more convenient to have their order delivered to their work address. If this, or anything else "non-standard", is required please phone your order through.
If delivery is not made within two working days please contact us.
This is important so we can sort out any delivery problems whilst the order is still at "your end" because once the carrier (or Royal Mail) has sent it back to us additional carriage is required to send it out again. So the moral of the story is, if you haven't had your order within 2 working days :
Don't delay, phone today !
Urgent or otherwise important orders
Time-senstive and otherwise urgent deliveries should always be PHONED through!
Remember, the Internet / E Mail / Online orders can fail or get lost in the ether (err, yes they can….), critical orders should be phoned through, as should any order requiring a timed delivery. "Before 12.00" and "before 10.00" deliveries are available at a supplement, please phone for a quote.
Stock holding
Almost all stock * is held at our shop, it's not sent out by a third party. It's rare for us to be out of stock of anything in our range, but if you want to be sure, phone us up. If we receive an Online order and the part is out of stock we'll phone or E Mail you the same day (wherever possible) we receive the order and give an ETA.
*A few products (literally) are sent direct from the supplier, usually because they're too big to store at our shop or transported by TNT.
Spare parts
We understand people don't like binning stuff for the want of a spare part so wherever possible we will endeavour to supply spare parts for any aerial purchased from us. Normally the spares would have to be for a current production model but we do have some odds and sods for obsolete types.
Your telephone number
We only require your phone number in case there's a problem with the order, it is particularly useful to the delivery driver if he can't find the address ! It's by no means unknown for us to look at an order and think "that looks wrong, we'll phone them up to check they've got that right" *, but we can't do that if we haven't got your number or it's your home phone number and you're always at work during working hours. NOTE : we are not saying we will spot every error on every order and phone the customer to check, it's just the seemingly obvious ones (to us) that we happen to notice.......
Your phone number will not be used for marketing purposes, or passed to any third party. We can't be doing with any of that nonsense.
*We won't do this by E Mail because we need an answer straight away. If we send an E mail we might not get the reply back before we'd need to pack it in order to get it off same day. But the customer may have ordered the right stuff and need it for the following day ! Thus we'd be left in an impossible position.
Damaged in transit
To be fair to our carriers it is actually relatively rare for them to damage something, but if you sign for a package, with any carrier, you are deemed to have received it in good condition ! Whenever you sign for any parcel always examine it very closely, then, even if it looks fine from the outside, you should (as a matter of course) write "unexamined" under your signature. This (slightly…..) Increases our leverage with the carrier, but does not compensate for any time delay in telling them of a damaged delivery (see below).
If the package is damaged and/or you are in any doubt as to the condition of the goods, try and get the driver to let you look at the item, that will probably save everyone a lot of time if it's actually OK and it's just the box which is crushed. Many drivers know this and will be co-operative. But if they aren't sign for it but write damaged under your signature. Once you've done this you (and us....) are "covered". Remember we're on your side in any argument(s) with the carrier, but we do need some ammunition ! Alternatively refuse delivery and it will be returned to us for reshipment.
If you only notice any damage to the order after signing for it, phone us up and E Mail a picture of the damaged item as soon as possible (certainly the same day), speed is of the essence here if we're to stand any chance of getting the carrier to accept responsibility.
Never sign for something then leave it unopened for days in the corner of the room !
Once you've signed for it do not send the order back without our instruction to do so, because this weakens our case against the carrier.
Warranties : our attitude to them
All products come with a 12 month guarantee apart from Proception (most of the amps and external splitters), they've got a 2 year guarantee. But we want to be "good ol' boys" so if any product from us fails out of its 'official' warranty you phone us up and we'll try to help you out anyway. In addition we give a lifetime warranty on any pole or bracket we sell (excludes the cost of the carriage) provided the item is used as recommended by us for the job you're doing.
Amplifier returns policy
First, and most important point, read is my aerial amplifier faulty ?
The chances are that'll save us all a lot of messing about ! Having read the aforementioned article if you still think the amp is faulty please phone us. As mentioned above we will not be strict about interpreting the length of guarantee on any amp we sell. We will send out a replacement amp and you will be required to pay for that and the carriage. When we receive the amp back if the amp proves to be faulty we will reimburse the cost of the amp and cost of the carriage including the cost of your carriage to us (2nd Class Signed For).
On the other hand if the amp proves to be OK the cost of the amplifier will be reimbursed (if it is in saleable condition) but no refund on the carriage will be made.
Most of our orders go to business customers therefore our standard refund policy on all items is that we will accept items back with no time limit (provided we still stock the product ! ) subject to a 25% restocking charge [plus the carriage] provided it is in as new condition. Full value is given on products being returned for exchange.
Standard delivery charges
Charges are for next day delivery in England, Wales and S / SE mainland Scotland, it excludes the Scottish Highlands, offshore or Northern Ireland (see map).
Order value under £50 = £8
Order value over £50 to under £100 = £4
Order value over £100 = Free
"Before 12.00" and "before 10.00" deliveries are available at a supplement, please phone for a quote.
Usually orders received before 12.00 are sent out same day for delivery the day after.
NOTE : there is a supplement on non conveyable items, plus on some delivery locations, these supplements are still chargeable on orders over £100 which qualify for free basic carriage. On the latter the basic carriage will still be free, you only pay the surcharge amount.
Also see carriage on non UK orders, and check if it's possible for us to use Royal Mail and save a bit of P & P.
Cheaper delivery by Royal Mail
Most of our orders go out by next day carrier and that costs us more than you'd think, in fact (to a residential address) we actually lose money on the cost of delivery.....
It is sometimes possible for us to send orders by Royal Mail. Items small enough go by mail can be sent First or Second class according to how urgently you want the item, the cost is from £3.50 upwards but the order must be phoned through for that price. We usually (not always....) spot online orders which can be sent RM and if we find those we manually refund part of the carriage, but it still won't be down to £3.50 (like it would be if it had been phoned through) because of all the extra time and messing about we go through.
Although most First Class items get there the next day that obviously isn't guaranteed, in fact, according to the RM, an item isn't considered "lost" for 15 working days!
Unfortunately Royal Mail withdrew Standard Parcels in April 2013 so nothing bigger than 24 inches (61cm) can be sent by mail, furthermore if it weighs over 2Kg sending it RM rapidly loses any price advantage....
Carriage supplements : by location
All deliveries by carrier to the Scottish Highlands, Offshore and Northern Ireland are subject to a carriage charge supplement, please phone for this then add the amount using this button.
Similarly deliveries by carrier to Isle of Wight incur a supplement (is there any way we can have it delivered to a mate of yours on the mainland ! ) currently £6.50. However there is no supplement to any UK address if we can send the order by Royal Mail though there are significant size/weight restrictions and the whole order has to fit in one box.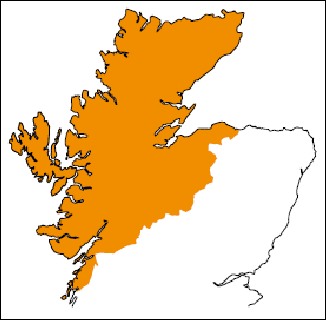 TNT are our main carrier and the following postcodes are classified by them as Scottish Highlands for carriage charge purposes, i.e. a significant supplement is chargeable.
IV + KW + HS all postcodes
PA34, 37 to 39
PH 19 to 26, 30 to 40 & 49 to 50.
(Plus PH41 sector 4 only)
Plus all offshore destinations, e.g. the Isle of Arran or Shetland.
We can sometimes send medium sized orders which can be packed in one box more cheaply using an alternative carrier, contact us for a carriage quote.
Note that smaller (under 61cm) and lighter (under 2Kg) orders sent by Royal Mail are not subject to surcharges, in fact you may even get some of the carriage refunded !
Carriage supplements : by size
There have always been surcharges for some delivery locations but in 2015 we had go a whole lot further when TNT began charging for items over 1.6m in length. That was bad enough but, because FedEx had bought out TNT back in 2016, it got a whole lot worse in May 2019. Their definition of "non conveyable" is an absolute joke and, in fact, isn't even objective, what the hell is an "irregular shape package" ? Anyway, this also explains why we sell some poles in apparently esoteric lengths, they're the longest they can be sent without attracting the significant supplement - £11.50 as at Aug 2020 [incl fuel surcharge and VAT]. In fact we have to get these "surcharge dodging" poles specially cut down so they're actually slightly more expensive than the 6ft versions ! But let's look on the bright side, at least that means the pole (being a bit shorter) is a bit stronger….. For Online orders the surcharge amount should be automatically added on to the cart, the surcharge will only go on once (for each category) no matter how many products of that category you buy. There are four categories of non conveyable surcharge reflecting the fact we can bundle products together so only one n/c surcharge is payable per type of product :
Straight product length surcharge
Cranked poles length surcharge
Large T&Ks non conveyable surcharge
Plate mount non conveyable surcharge
An example if you order a 10ft pole and an FM6 aerial they can be taped together = only one surcharge. But if you order 24" T&Ks and a 10ft pole they can't so be packed together so two n/c surcharges would be payable.
As an aside, Fedex, are a bunch of soddin' hypocrites. Their environmental policy states they strive for "Efficient use of natural resources to minimize waste generation", well since their very unwelcome takeover of TNT they have forced us to use 50% more packaging !
Needless to say I wish FedEx hadn't come within a million miles of TNT, as do many of our customers......
Maximum lengths we can send out
To all mainland UK (incl offshore islands such as Shetland & the Isle of Man) = 3.6m.
We can send poles up to 20ft direct from the carrier at an extra charge, please phone for details.
To Northern Ireland = 2.0m.
Outside the UK = Please contact us
Non UK orders
We can send some orders outside the UK subject to certain length and/or weight restrictions, please contact us for a carriage quote then pay it with this button. Basically longer products tend to be very expensive (or sometimes even impossible) to get a quote for.
Why we do not accept PayPal
In May 2020 we finally kicked PayPal off our online shop.
Why ?
Well they're arrogant money grabbing financial "Gods" who try to exploit what they see as their dominant position. They not only charge huge fees (up to 3 or even 4% by the time all the extras have been added on) but if a customer cancels an order PayPal have stopped refunding the retailer for the fees. To be honest we get very few customers cancelling but it doesn't take much time on this site to cotton on to the fact I'm a bit of an idealist, so it's the principle that counts for me. So, if a customer orders a £60 aerial then cancels, it still cost us about £2, or it did till we said bye bye PayPal......
You can pay securely by debit or credit card online via Stripe, or phone us up and we'll put it through our counter top PDQ machine.
You can tell we're not Amazon because.....
1 - We only sell decent quality stuff.
2 - We know about our products.
3 - You can actually phone us up.
4 - We pay our taxes...