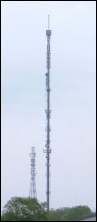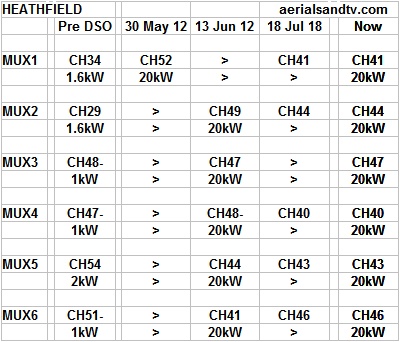 Note the big increase in power after the 2012 digital switchover.
Heathfield is a B group though originally (for analogue) it was a C/D group. However, C/D group aerials often pick up signal quite well below their designed for band, reception of all the digital is often still possible on an original "C/D analogue group" aerial (see Heathfield's graph). This may not apply to some cheap crappy Contract aerials.
Being a main transmitter Heathfield is horizontally polarised.
Heathfield has an omnidirectional transmitter radiation pattern and operates as a single frequency network with Tunbridge Wells transmitter.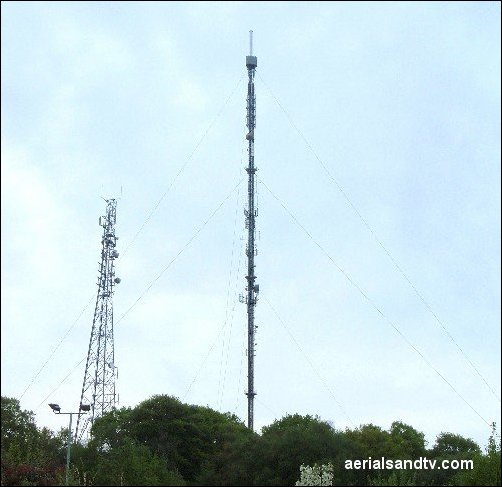 Heathfield television transmitter
Heathfield  transmitter : graph of its transmissions against the gain curves of the aerials we recommend for it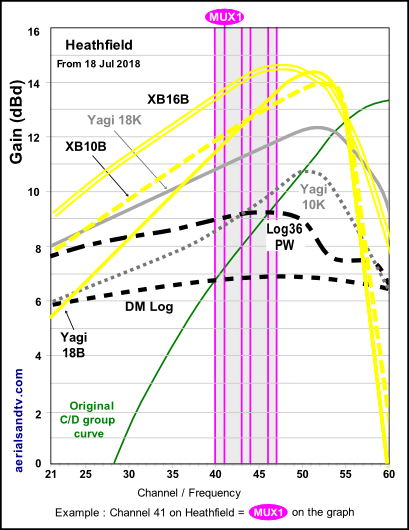 Heathfield's channels in relation to the UHF TV band and the gain curves of the aerials we recommend for it.
After the switchover in 2012 Heathfield became a B group (as opposed to its original C/D group). Thus four of the six MUXES are technically out of the original C/D group. But the graph shows quite clearly that the "cut off" for C/D group aerials is not precipitous and that most people in reasonable signal areas will get all the Digital OK off their "old" C/D group aerial, particularly as the power was increased at the 2012 DSO by a large margin. Though this may not apply to some cheap crappy Contract aerials.
Heathfield transmitter's channel allocations
For the most up to date MUX to channel allocations etc put this postcode TN21 0UG into the Freeview checker.
Also see Meridian region Freeview transmitters.

The channel allocation guide below also includes the same information for other potentially co-receiveable transmitters, this also include the frequencies for Crystal Palace, Bluebell Hill, Tunbridge Wells, Dover, Hastings, Whitehawk Hill (Brighton), Rowridge, Midhurst, Guildford and Reigate. This data can be very useful for identifying other transmitter options, see importance of "line of sight". The channel allocation guides can also be very useful in the diagnosis of co-channel interference problems and can also be invaluable if you are trying to find a spare channel for a modulated output (e.g. for a Sky box or CCTV system) to be added to your TV setup/distribution system without suffering from co-channel.
Note the various co-channel issues, and that's before one brings in the continental transmitters ! Also check Heathfield's sixteen (including Hastings) smaller repeaters.
The frequencies given are for (most) digital MUXES, for analogue channels deduct 3MHz.