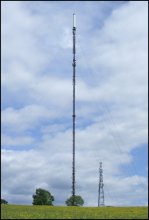 Subjects are listed on this page in the following order :
- Digital power output, aerial group and polarisation of Sutton Coldfield transmitter
- Our TV aerial recommendations for Sutton Coldfield
- Sutton Coldfield's graph (its transmissions v our aerial recommendations)
- Sutton Coldfield's channels/frequencies (including alternative transmitters)
Sutton Coldfield TV transmitter was one of the first in this country when it began broadcasting the BBC on the old 405 line VHF system in 1949, UHF colour transmissions started in 1965. The original mast was demolished in 1985 and the replacement is a 225m high (see How High is High ? ) mast which was built in 1983. Apparently the older structure was insufficiently strong to take the weight of the increasing number of transmitting antennas required. To make things even more complicated a 225m temporary mast was erected in the spring of 2009 so that work could proceed in raising the height of the original mast by 31m (to a total height of 271m). This second mast was dismantled from Summer 2013.
The site is not quite in Sutton Coldfield but being just North of its namesake and it's visible from most areas North of Birmingham. The railway line to Lichfield runs near to the site, this particular section being opened by the London & North Western Railway in 1884.
Sutton Coldfield has the third highest population coverage (approx 5 million) of any transmitter in the UK and broadcasts to many major towns and cities including Birmingham, Wolverhampton, Coventry, Leicester, Derby and Stoke.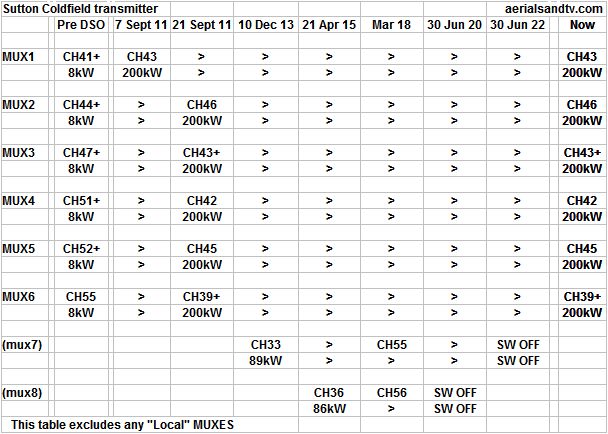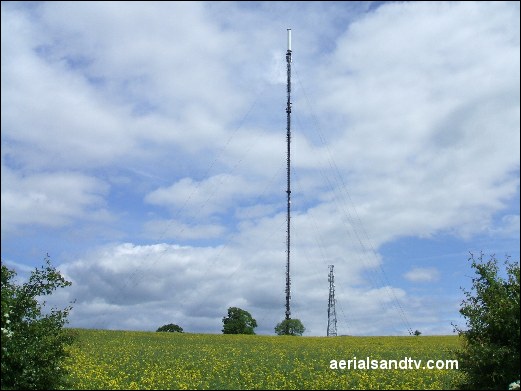 Overall view of Sutton Coldfield's (original) television transmitter.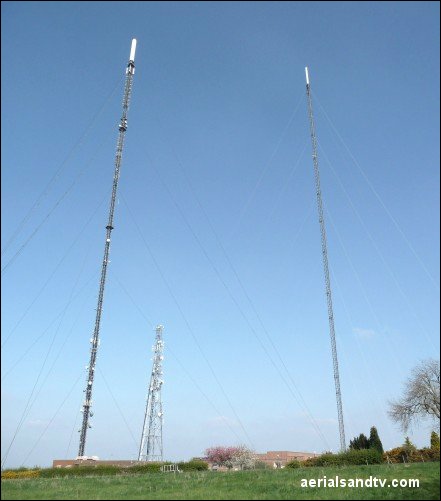 From Spring 2009 to Summer 2013 Sutton Coldfield had two masts (the original mast is on the left).
As part of the work required for DSO a 225m temporary mast was erected so that work could proceed in raising the height of the original mast by 31m. Thus the mast ended up a total height of 271m.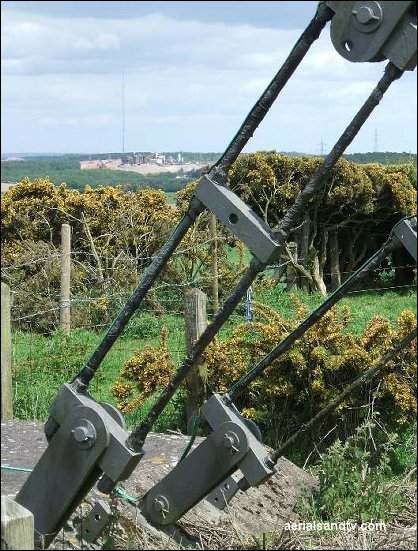 View of Lichfield transmitter (originally the ITV transmitter, Sutton Coldfield being the BBC transmitter) from one of Sutton Coldfield's outer most stay anchor points. There were a few tandem transmitter set ups when TV was VHF. [link]
Note the tensioning mechanisms for the stay ropes.
Sutton Coldfield transmitter : graph of its transmissions against the gain curves of the aerials we recommend for it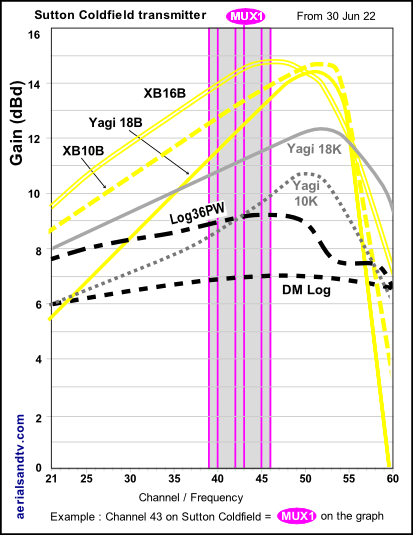 Sutton Coldfield transmitter's channel allocations
For the most up to date MUX to channel allocations etc put this postcode B75 5JJ into the Freeview checker.
Also see Central region Freeview transmitters.
This table below also includes the same information for some of the other transmitters receivable in the area, Waltham, Sandy, Oxford, Lark Stoke, Ridge Hill, Bromsgrove, Malvern, Brierley Hill, The Wrekin, Winter Hill, Emley Moor and Belmont. Note how they "dovetail" together in an attempt to minimise co-channel interference. The channel allocation guides can be very useful in the diagnosis of co-channel interference problems and can also be invaluable if you are trying to find a spare channel for a modulated output (e.g. for a Sky box or CCTV system) to be added to your TV setup/distribution system without suffering from co-channel.
Also check Sutton Coldfield's thirty eight smaller repeaters.
The frequencies given are for (most) digital MUXES, for analogue channels deduct 3MHz.