Note, due to the new phenomenon of MUXICAL chairs you may experience problems with certain MUXES disappearing. First try rescanning your TV / set top box, do it manually if possible. If this fails to sort it check on transmitter work or call the reception advice phone numbers.
Also see basic digital fault finding
700MHz clearance finally finished at Winter Hill on the 12 Aug 2020 (the latter event had been postponed due to the Coronavirus). Somewhat surprisingly it changed from a C/D to an A group on CHs 29 to 37. Most wideband aerials will continue to work, however, many older C/D aerials may struggle in poorer areas, Winter Hill's graph explains it all !
The good news is that those with poor signals who swap to an A group aerial will get significantly better reception even than with a wideband.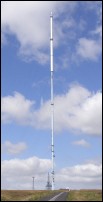 Winter Hill transmitter subject list :
- Digital power output, aerial group and polarisation of Winter Hill transmitter
- Our TV aerial recommendations for Winter Hill
- Winter Hill's graph (its transmissions v our aerial recommendations)
- Winter Hill's channels/frequencies (including alternative transmitters)
Winter Hill television transmitter was built in 1965 by British Insulated Callender's Cables (or B.I.C.C) who were responsible for much of the infrastructure built in this country from 1945 up to the 1980s. The company is still going but now called Balfour Beatty. The transmitter was originally owned by the ITA then it was sold off to NTL and finally to Arquiva (sic).
Winter Hill mast is 309m high (a.g.l.) - see How High is High ? - and had an internal lift (no longer in use following the accident at Belmont) though this didn't go all the way to the top because (unlike Mendip, Bilsdale and Waltham) the structure is only tubular to the third stay level. The design and height of the mast are similar to Waltham though the latter has only 4 sets of stays rather than the 5 of Winter Hill. Both are shorter versions of the Belmont transmitter in Lincolnshire and coincidentally there is also a village called Belmont not more than a mile from Winter Hill !
The mast is visible from miles around and clearly in view of the roads and railway which run a few miles to the south. The main road is the M61 from Preston to Manchester which was opened in stages between 1969 and 1970. The railway has a particularly interesting history as it was one of the first "inter city" lines opened way back in 1841 as the Bolton & Preston. After this it went through a bewildering number of owners, it became a North Union line in 1844, then the Lancashire & Yorkshire/London & North Western Joint in 1888, LMS (London, Midland & Scottish) in 1923 and then British Rail in 1948. And that was before the farce of privatisation with Railtrack in 1994, the latter was sold off in 1996 before finally being taken over by Network Rail in 2002 !
Winter Hill is one of the most important transmitters in the UK and has the second greatest population coverage of any British TV transmitter at around 7 million people, its signals are received in many large towns/cities including Liverpool / Birkenhead, Manchester, Warrington, Preston and Blackpool. The transmitter is located on the high ground 5 miles NW of Bolton overlooking the "Cheshire plain" and on a clear day much of the plain to the South is visible, the views are stunning, from Rochdale in the East all the way round to Southport in the West. The transmitter's elevated site also means its coverage area stretches way down as far as Crewe, Stoke and even Shrewsbury. The altitude of the site is why Winter Hill's transmitting antennas are the highest of any main television transmitter in the country at 718m. Only Holme Moss is higher than this (at 758m) but since 1984 that has only broadcast radio. This high ground which the mast is built on was a contributory factor to the infamous plane crash on these moors in 1958, 35 people died and 7 survived.
Due to the mountainous terrain in the NW of England Winter Hill has a large number of repeater transmitters (67 of them) relaying the signal into the valleys and dips which do not have the critical "line of sight" reception path.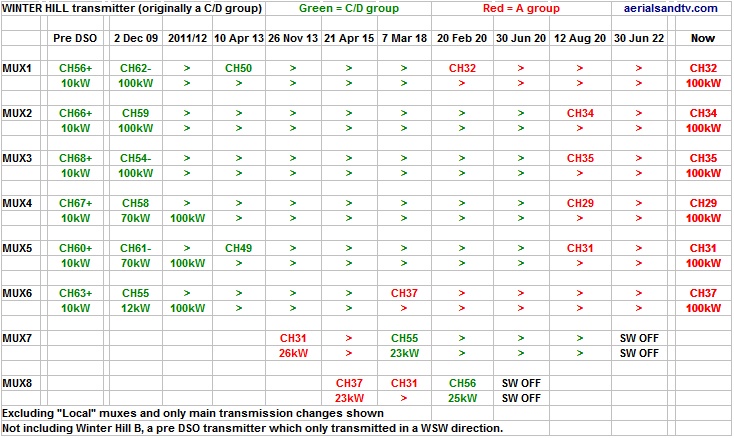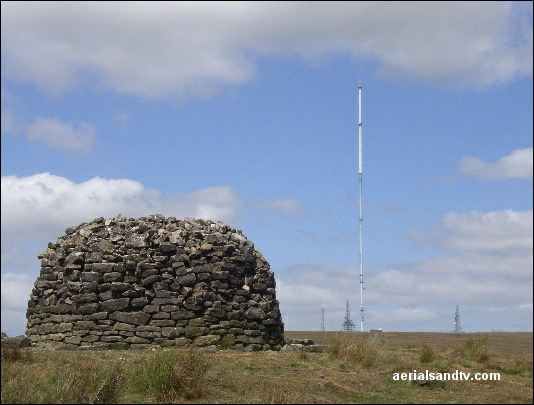 Winter Hill TV transmitter with the cairn (visible from the railway and the M61) in the foreground.
Note the other communication transmitters present on this piece of high ground.
See Winter Hill's height in relation to other transmitters.
The cairn ("Two Lads" ? ) is apparently Saxon. Can any readers confirm this ? ! ?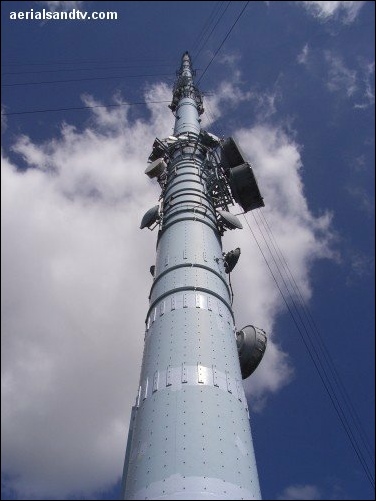 Winter Hill television transmitter "up close".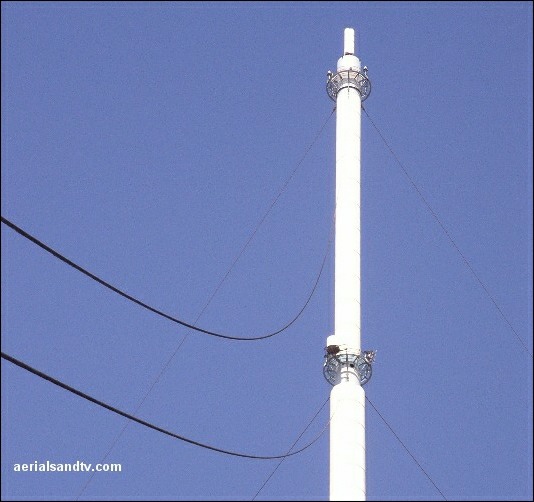 Close up of the stays holding up Winter Hill transmitter. From a distance they look straight but this shot shows that their great weight introduces a significant "sag" to the cables.
Graph of Winter Hill's channels in relation to the gain curves of the aerials we recommend for it.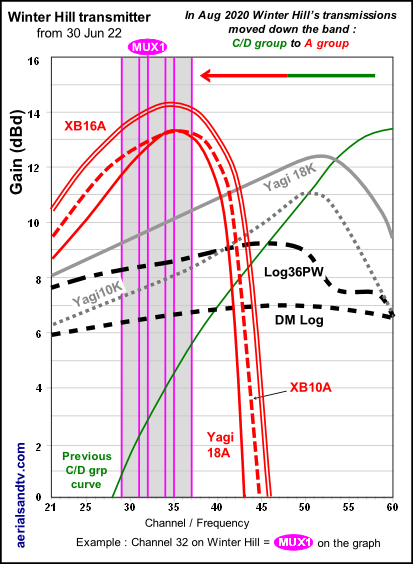 This graph illustrates clearly how, post 700MHz clearance, some aerials, mainly C/Ds but also some widebands, may struggle to pull in an adequate signal. The good news is that swapping to an A group aerial will actually put you in a better position than you were before (i.e. a C/D or wideband on a C/D Winter Hill). This is because, watt for watt (transmitted power), A group signals [being a lower frequency] travel further more efficiently than C/D signals. Provided you have an aerial tuned to pick them up at peak efficiency, i.e. an A group aerial !
Winter Hill transmitter's Channels
For the most up to date MUX to channel allocations put the postcode BL6 6SL into the Freeview checker.
Also see Granada region Freeview transmitters.
This channel allocation guide for Winter Hill also includes the same information for other major (potentially) co-receivable transmitters Sutton Coldfield, The Wrekin, Fenton, Moel Y Parc, Storeton, Llanddona, Lancaster, Caldbeck, Pendle and Saddleworth. This guide can be useful for diagnosing causes of co-channel interference or alternatively identifying other transmitters which may give a superior signal. Notice how all the transmissions "dove tail" with each other. These guides can be very useful in the diagnosis of co-channel interference problems and can also be invaluable if you are trying to find a spare channel for a modulated output (e.g. for a Sky box or CCTV system) to be added to your TV setup/distribution system without suffering from co-channel.
Also see Winter Hill's sixty seven smaller repeater transmitters.
The frequencies given are for (most) digital MUXES, for analogue channels deduct 3MHz.