A temporary 310m mast was erected to May 2018 to enable transmissions to continue whilst the existing mast's antennas are being modified to prepare for the 700MHz clearance. It mast was dismantled from early Sept 2023.
See pictures of its construction on this this MB21 link, and a video of its dismantling on this BBC news link.
Emley Moor tower is the tallest free standing structure in the UK at 328m (a.g.l), that's 1084 ft. The Shard (2012) is "only" 310m high.
Incidentally, how high is high ? And how long would it take for a spanner, dropped off Emley tower, to hit the ground ? ! ?
The very first Emley Moor transmitter was a 125m steel lattice tower * built in 1956 to broadcast ITV on the old 405 line VHF system. As such it worked in tandem with the original Holme Moss mast, which transmitted the BBC channel on VHF, only one programme remember because BBC2 didn't start till 1964. Duplicated transmitters were/are also used at Sutton Coldfield / Lichfield, Crystal Palace / Croydon and Pontop Pike / Burnhope amongst others. BBC2 started 625 line UHF transmissions from the second (ill fated) Emley mast in 1967. As a matter of interest the short lived 1966 mast (see below) never transmitted BBC1 at all and only transmitted ITV on VHF.
* This 1956 structure was rebuilt at Craigkelly in 1971 to provide UHF TV to SE Scotland.
The next transmitter, built in 1966, was a cable stayed mast [the same design as Belmont built by BICC. This mast was even taller than the present structure at 385m, but this infamously blew down in 1969. One theory was that a weak point in the design was found wanting by the unprecedented weather, possibly due to the wind setting up oscillation in the structure. Others speculated that there was so much ice on the cable stays that the weight broke them, after that the mast was doomed.... It had only been up for 3 years ! A 61m temporary mast was bought in and this replacement mast began transmitting just 3 days and 23 hours later, impressive...... Later a taller 204m interim mast was sourced from Sweden and a team of Polish riggers were bought in to erect it. It was rumoured they were the only people who were willing to work in the winter conditions prevailing at the time ! This taller temporary mast was in use within a month, even more impressive……
The present Emley Moor tower started transmissions on the 21 Jan 1971 and it is an elegant tapered concrete structure. In fact, to many people, Emley is iconic and fully deserving of the Grade 2 listed status it received in 2002. Emley Moor transmitter was originally owned by the ITA (Independent Television Authority) then it was sold off to NTL and finally to Arquiva (sic). This area of high ground is perfect for RF (Radio Frequency) transmission and both Holme Moss and Moorside Edge transmitters are visible (SW and WNW respectively) from the site.
As one travels North on the M1 Emley is on the left. Whenever I return back home from a long journey, I find the sight of Emley somewhat comforting, I know there isn't long to go now ! Incidentally, this stretch of the M1 was opened in 1968, doesn't time fly.....
Emley Moor's population coverage is the fourth highest of any UK transmitter at about 4 million people and its signals are received in many large towns/cities including Sheffield, Leeds, Bradford, Huddersfield and Doncaster.
Emley Moor transmitter's channels and powers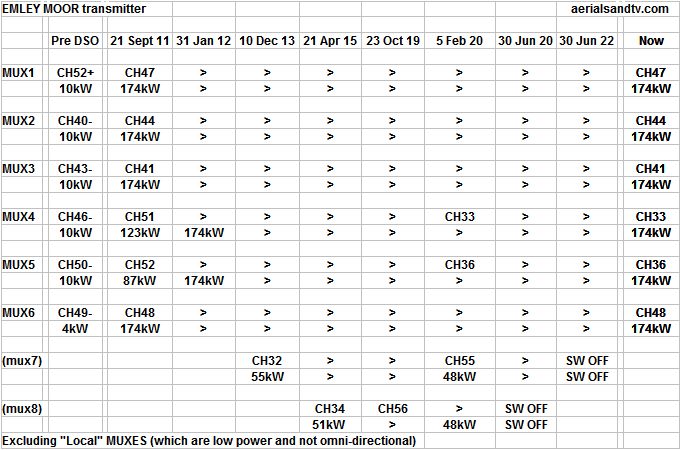 Emley is a powerful transmitter, in fact it's the the 6th most powerful transmitter in the whole of the UK.
Note the huge power increase after the 2011 digital switchover.
Emley Moor has always been a B group. Technically (since Feb 20) it is a K group though the difference for Emley's channels is so slight as to be immaterial, at least for decent aerials. All aerials on Emley should be horizontally polarised.
You can confirm if you are on Emley if you receive your local Calendar news from Leeds, rather than from Hull (which would be from Belmont). Ofcom report Emley's digital output as being essentially omnidirectional, which is somewhat surprising because there are hardly any people living to the SW of it !
Emley Moor has fifty six (including Sheffield and Chesterfield) repeaters to improve its signal coverage, particularly in the hilly areas of the Pennines.
There is one "Local" channel allocated to Emley Moor, on CH39 (Feb 2020 on) for a Leeds local TV station.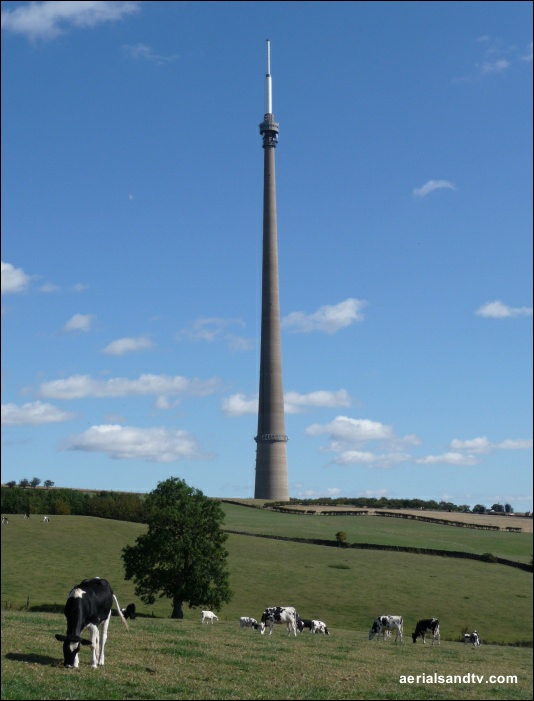 Emley Moor television transmitter, all 1084ft of it...... The structure may look solid * but according to someone who works there it sways in the wind and this can sometimes induce sea sickness to those working in the microwave link room Picture below) when gales are about ! Incidentally the structure is designed to withstand winds of up to 150 mph.
* The foundations consist of a solid concrete annulus of 8.2m width and 6.1m depth with a thickness of 4.3m and that's a lot of concrete.......
See Emley's height in relation to other transmitters.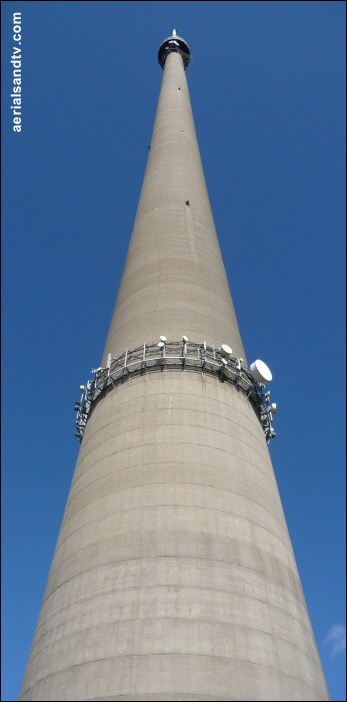 Emley Moor TV transmitter as you've never seen it before.......
The ring marks in the concrete will be noted, this is where the shuttering was used to build the structure. Because the tower is tapered the shuttering's diameter had to be reduced each time a new (higher) section was added.
The whole structure weighs 11,200 tons.
Note that Emley Moor is not a "mast" because it's a self supporting structure, it's actually a "tower". Masts are cable stayed, like Winter Hill for example.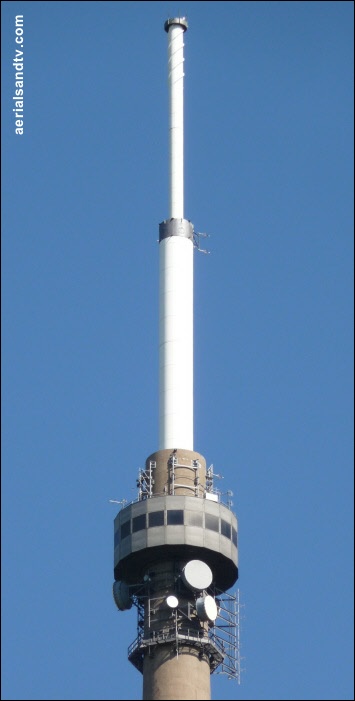 Top of Emley Moor transmitter showing the microwave link room, also note the spiral structure at the top to deflect wind upwards.
The link room is at 262m and one (of the two) lifts goes straight to this level. Despite this it still takes seven (seven ! ) minutes to do so. The other lift provides engineers access to all the different levels, but you could always use the ladder(s), with a total of 865 rungs......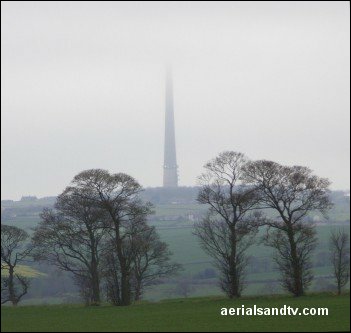 It's a tall building that can have (only) it's head in the clouds.....
This picture was taken from near the National Coal Mining Museum which is definitely worth a visit, and it's free !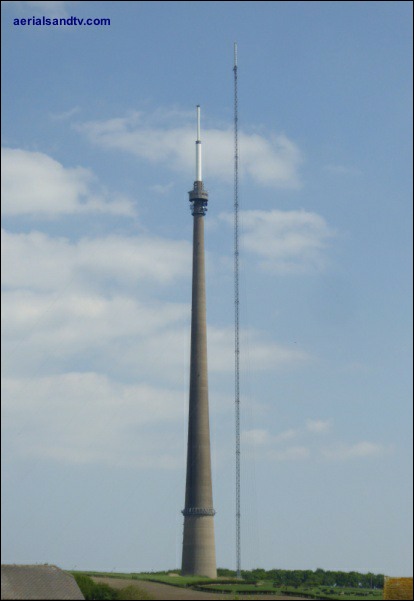 A temporary mast was erected at Emley Moor (between May 2017 and May 2018) in order to allow the 700MHz clearance work to proceed on the original tower's transmitting arrays without interruption. It was up for longer than anticipated but finally dismantled from early Sept 2023. The power output was due to be the same as the original mast, but the radiation pattern was actually due to be more omni directional !
A temporary mast was also used at Sutton Coldfield and Rowridge (amongst other sites) during the digital switchover.
The temporary mast just looks taller because of the photo's perspective, in actual fact the original tower is slightly higher (at 328m to 324m).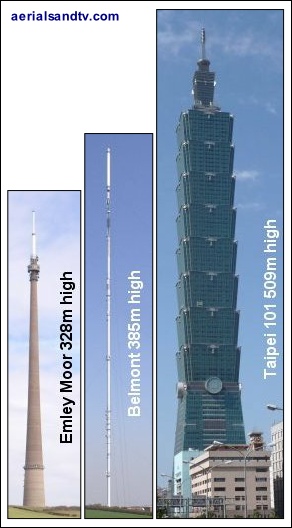 There's tall and there's tall....
Well Emley Moor is pretty high, to be honest I wouldn't really want to clean the windows on the microwave link room (picture above), but Belmont is taller (385m as originally built) and the "Taipei 101" [509m] overshadows both of them....
The three of them are pictured in scale, more or less, on the right.
Until the Burj Dubai (828m) was completed in Jan 2010 the Taipei 101 in Taiwan was the tallest building in the world, and it's bleedin' huge. My wife, our lad and I went up it and unsurprisingly the lifts are the worlds fastest (at 38mph) and it only took 37 seconds to get to the 89th floor !
Also see Transmitters In Proportion, and How High Is High ?
Incidentally we only went to Taiwan because we got a cheap flight to Australia via Taipei and we broke the journey there, but we really liked it. It's a fascinating country (a cross between Japan and China ? ) but the best thing about it is the people have got to be some of the friendliest I've ever met, and there are plenty of McDonald's for the kids…. [link]
Emley Moor transmitter : graph of its transmissions against the gain curves of the aerials we recommend for it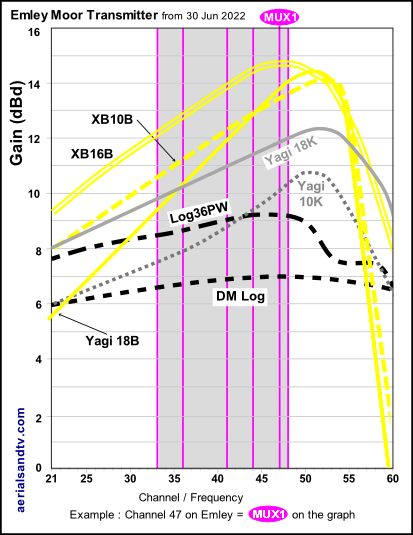 Emley Moor transmitter's Channel Allocations
The channel guide below also includes the same data for Bilsdale, Belmont, Waltham, Sutton Coldfield, Chesterfield, Sheffield, Idle, Keighley and Beecroft Hill. This information can be useful for suggesting alternative transmitters should Emley prove problematic.
The channel allocation guides can also be very useful in the diagnosis of co-channel interference problems and can also be invaluable if you are trying to find a spare channel for a modulated output (e.g. for a Sky box or CCTV system) to be added to your TV setup/distribution system without suffering from co-channel.