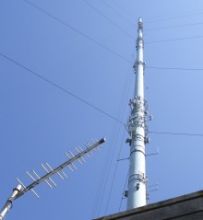 Belmont television transmitter is situated 18 miles ENE of Lincoln and is a "guyed mast" and it was built by British Insulated Callender's Cables (or B.I.C.C) who were responsible for much of the infrastructure built in this country from 1945 up to the 1980s. The company is still going but now called Balfour Beatty. It started transmissions on VHF (405 line) in 1965 and on UHF (BBC2 only) in 1966.
Belmont was originally owned by the ITA then it was sold off to NTL and finally to Arquiva (sic).
The mast was the tallest structure in the EU at 385m (1270ft). Think about it, that's nearly a quarter of a mile in height! As a comparison, the tallest building in Britain is The Shard and that is only 310m high, see How High is High? Unfortunately, as part of the digital switchover, the mast was shortened (between June 09 and April 10) by arqiva which reduced the height of Belmont to 351m. These people have no soul..... Why was it shortened? Well I heard on the grapevine the structure wasn't strong enough to cope with a load of new transmitter panels on it, so that's why it was cut down to size. Anyway, the shortened structure is now not even be the tallest in the UK, that honour falls to the Skelton mast in Cumbria.
Belmont has a huge coverage area because the topography around Lincolnshire is so flat and this also explains why it only has five smaller relays / repeaters (including Olivers Mount) to improve coverage in poor reception areas within its coverage area. Even in Sheffield (55miles away) many of those with clear views East can use Belmont if Crosspool and Emley are problematic.
Belmont serves around 1.5 million including the towns/cities of Hull, Lincoln, Nottingham, Peterborough and Grimsby.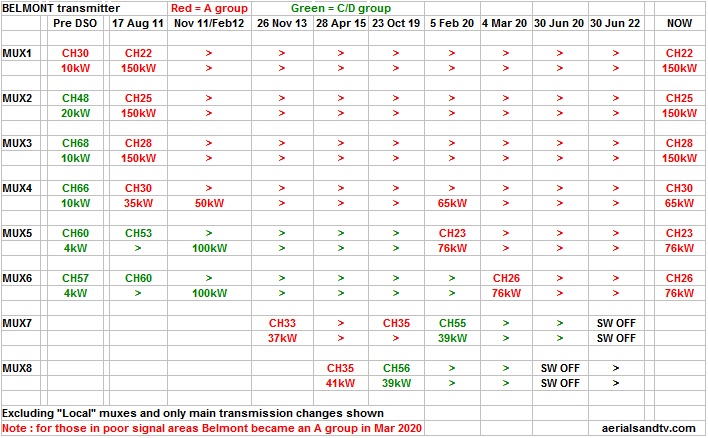 In addition there is a "Local" MUX (for a Grimsby TV station), this is on CH32, which is within the A group.
Belmont is the seventh most powerful transmitter in the country.
Note the huge power increase after the 2011 digital switchover.
Belmont is horizontally polarised and was originally an A group. Unfortunately, with the advent of digital, at first, it had to go wideband to accommodate all the Digital/Freeview, but from March 2020 it returned to an A group, which gives extra options for those in poor signal areas, see Belmont graph.
For Belmont we recommend we recommend the Yagi10K for strong signal areas, the Log36 or Yagi 18K for medium signal areas, the Yagi18A for outside installs in poor signal areas, the XB10A for loft installations in poor signal areas, and the XB16A for those with the most marginal signals. The dimensions and test performance of the aerials are on the relevant buy pages.

Those situated to the West of Belmont (including the Sheffield area) may find that during certain weather condition they can suffer from co-channel interference as their aerials are pointing towards the continent.
Belmont television transmitter from the SE, to scale, as originally built at 385m [on the left of the adjacent picture], and after being shortened to 310m (between June 09 and April 10) on the right.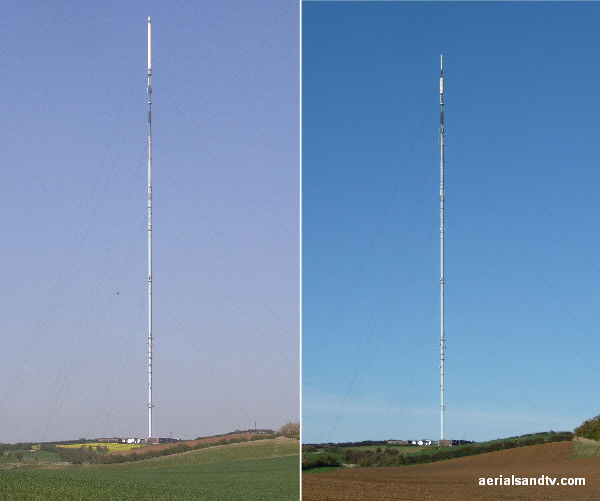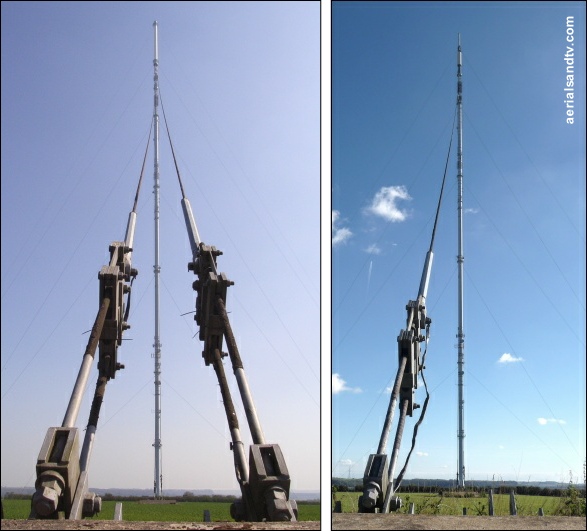 Belmont as originally built, all 385m of it, picture taken from one of the outer anchor points. There were three sets of the of anchors and each one has two stays thus giving the six stay levels on the mast. But when it was shortened (between Jun 09 and April 10) the top section was removed (c/w its stays) as can be seen in the other picture.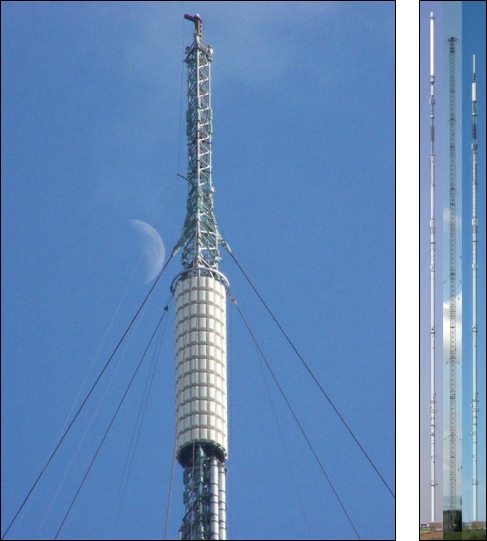 On the left we have a picture of Belmont transmitter actually being shortened, this is being accomplished by utilising a "flying jib". (picture courtesy of Rees Thatcher)
On the right we have Belmont at original height, Skelton, and Belmont when shortened, all to scale.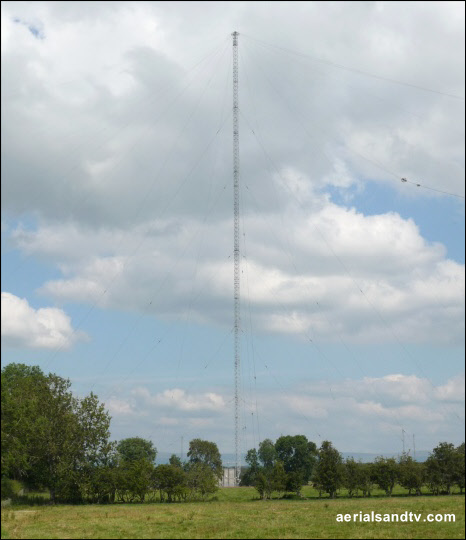 Skelton transmitter, just NW of Penrith. As of 2010 (when Belmont was shortened) it is the tallest structure in the UK. The VLF (Very Low Frequency) transmitter is used for communicating with Royal Navy submarines. VLF is 3 to 30 kHz, compare that with TV at 470MHz to 860MHz, or even FM radio, at 88 to 108 MHz, note that's Mega Hertz by the way (as opposed to kilo hertz ! ). Long wave radio transmissions (like R4 for instance) are much lower frequency than FM, but even those are in the range 148 to 283 kHz whereas Skelton's VLF transmissions are 22 kHz. If my maths is correct that equates to a wavelength of about 8.5 miles ! Unfortunately, data transfer at that frequency is bandwidth limited in a massive way, about 300 bits per second, which is about 450 words per minute.
But remember, the lower the frequency (and longer the wavelength) the greater the range and the less attenuated by things, like water one assumes.......
On the subject of military/ civil defence transmitters, here's a link to a fascinating article on the communications "backbone" of the late 1950s.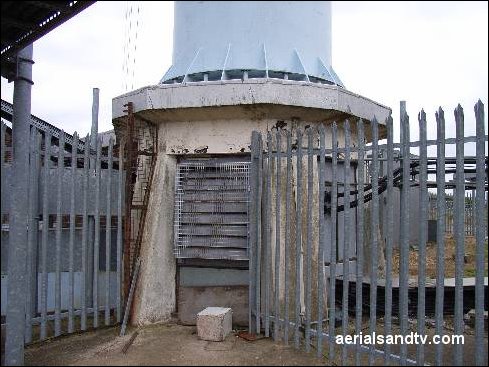 Belmont actually had an internal lift which went as high as the 4th stay level, the structure is cylindrical up to that point. However an accident (serious but not fatal) in October 1995 when a lift fell 500ft caused its use to be reassessed, 3 workers were injured. I don't really understand why because it's quite possible to fall from 500ft, or more, and do no harm at all. I'm reliably informed that it's only the last half an inch or so of the descent which significantly increases the risk of injury.
So, all they have to do is make the lift shaft half an inch taller, then it can still fall 500ft but at no risk to the occupants.
Simple, how come they didn't think of that ? Health and Safety bollocks or what !
During a conversation with one of the team of painters who maintain the structure he revealed that a hoist is used the ascend the first 500 ft but from then on it's a ladder.
He said it takes him an hour and a half to reach the top (remember he's got to carry all his paint and safety gear), but it only takes him 20 minutes to get back down again !
For more on mast lifts etc see MB21 : The trouble with tubular masts.
Belmont transmitter : graph of its transmissions against the gain curves of the aerials we recommend for it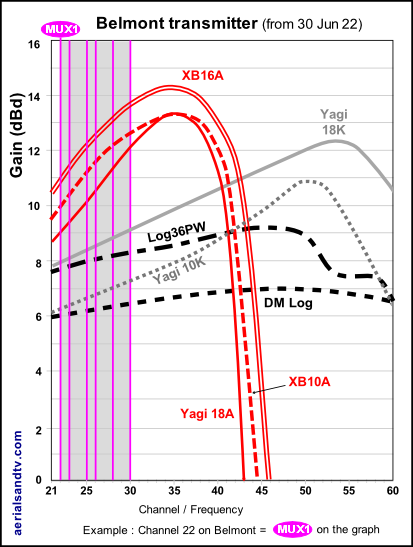 Belmont transmitter's channel allocations
For the most up to date MUX to channel allocations put the postcode LN8 6JT into the Freeview checker.
Also see Yorkshire region Freeview transmitters.
The guide below also includes the same information for some of the other transmitters in Belmont's coverage area, namely Tacolneston, Sudbury, Sandy, Waltham, Sutton Coldfield, Nottingham, Chesterfield, Sheffield, Emley Moor, Bilsdale and Oliver's Mount.
The Channel Allocation Guides can be very useful in the diagnosis of co-channel interference problems and can also be invaluable if you are trying to find a spare channel for a modulated output (e.g. for a Sky box or CCTV system) to be added to your TV setup/distribution system without suffering from co-channel.
Also check Belmont's five (including Oliver's Mount) smaller relays
The frequencies given are for (most) digital MUXES, for analogue deduct 3MHz.