Note, due to the new phenomenon of MUXICAL chairs you may experience problems with certain MUXES disappearing. First try rescanning your TV / set top box, do it manually if possible. If this fails to sort it check on transmitter work or call the reception advice phone numbers.
Also see basic digital fault finding.
700MHz clearance occurred at Craigkelly in Oct 2018 when it reverted to its original A group (excl M7 & M8), though most K group or wideband aerials will continue to work OK. Even more positively, those in poor signal areas will find swapping to an A group aerial will pay dividends, see Craigkelly graph.

Craigkelly transmitter was built in 1971, or rather more accurately it was rebuilt on its present site. The tower was originally in use at Emley Moor in 1956 by the IBA, as the first of the three transmitters to have been in existence there. The tower is situated about 8 miles North of Edinburgh, overlooking the Firth of Forth and the most famous bridge in the world. Its population coverage is about 1 million and it uses nine smaller repeater transmitters to improve its coverage in fringe areas.
The site altitude is 182m and the structure height is 125m with the transmitting arrays possibly another 10m or so above that, see How High Is High ?
Being a "main transmitter" it is horizontally polarised. Craigkelly was originally an A group it then became a K group (or wideband) at digital switchover, but it's now reverted to an A group (excl MUXES 7 and 8 which are due to be switched off between 2020 and 2022 anyway).
The transmission power for MUXES 1 to 3 is 20kW, and for MUXES 4 to 6 it's 10kW (before the 2011 digital switchover it was only 4kW and 2kW respectively).
There is one "Local" channel allocated to Craigkelly, CH32, which is used mainly for a local Edinburgh TV station.
For the most up to date MUX to channel allocations etc put this postcode KY3 9HW into the Freeview checker.
Also see Scottish Central region Freeview transmitters.

Because of wideband antennas poor response at the bottom of the band, anyone who really requires a "high gain" aerial on a A group transmitter, e.g. Craigkelly, should actually fit a A group ! See Craigkelly's Graph
(Not that many people actually need a high gain aerial anyway........)
For Craigkelly we recommend the DM log for strong signal areas, the Log36 or the Yagi18K for medium signal areas, or Yagi 18A or XB10A for poor signal areas, the latter aerial being particularly well suited to loft mounting. The XB16A is for those with the most marginal signals. The dimensions and test performance of the aerials can be found on the relevant buy pages.
External links
Craigkelly transmitter page on MB21
Craigkelly at The Big Tower
Craigkelly transmitter page on Wikipedia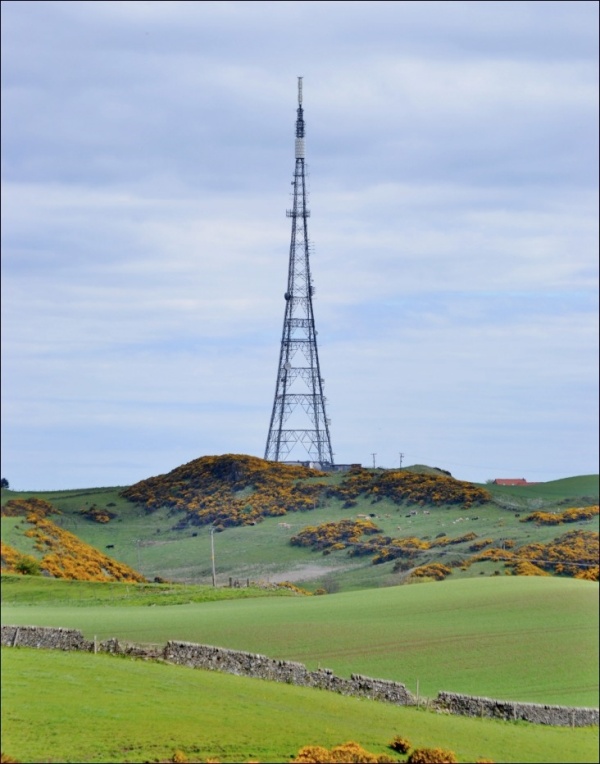 Craigkelly TV transmitter (Photo : David Foord at The Big Tower)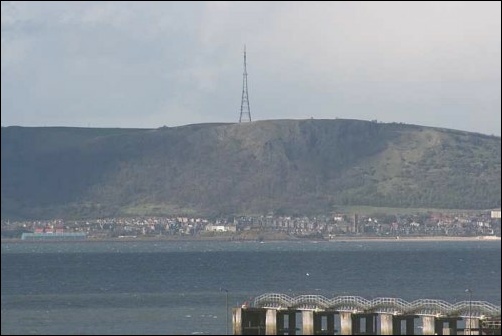 Craigkelly TV transmitter from the Royal Yacht Britannia. (Picture Mike Smith)
Craigkelly  transmitter : graph of its transmissions against the gain curves of the aerials we recommend for it
The dotted lines are MUXES 7 & 8 (Both only have a small audience and are due to be switched of between 2020 & 2022)
Craigkelly transmitter's channels in relation to the UHF TV band and the gain curves of the aerials we recommend for it.
DM Log     Log36     Yagi18K     Yagi18A     XB10A     XB16A
Note how after the 700MHz clearance in Oct 18 only MUXES 7 & 8 (both due to be turned off between 2020 and 2022) are out of the A group, so those in poor signal areas could swap to an A group and get significantly more signal.
[link]
Craigkelly transmitter's channel guide.
This table also includes the same information for some of the other transmitters receivable in the area, namely Angus, Black Hill, Darvel, Penicuik, Selkirk and Chatton. This data can be of great use in determining possible causes of co-channel interference and / or alternative transmitters to try if Craigkelly fails to give an adequate signal, see the importance of "Line Of Sight". Note how the transmissions "dovetail" together in an attempt to minimise co-channel interference. The Channel Allocation Guides can also be very useful in the diagnosis of co-channel interference problems and can also be invaluable if you are trying to find a spare channel for a modulated output (e.g. for a Sky box or CCTV system) to be added to your TV setup/distribution system without suffering from co-channel.