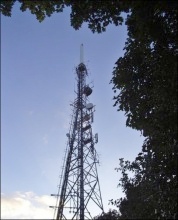 Chesterfield transmitter (sometimes called Unstone) was built in 1971. It is vertically polarised and is a repeater off Emley Moor. The transmitter was originally an A group but with the advent of digital Chesterfield is now a K group (or wideband), see Chesterfield's graph
The tower (it isn't a mast because it's self supporting) is situated mid way between Dronfield and Chesterfield and is a steel RSJ spaceframe design. It can be seen on the hill top from the Dronfield By-Pass or from the (ex Midland) Railway line which passes by in the valley. The former opened in 1975 and the latter in 1870, doesn't time fly......
Ofcom quote Chesterfield's maximum population coverage as being about 145 thousand, but that includes households which may well be on another transmitter with overlapping coverage.
For Chesterfield's channels see the Sheffield area channel allocation guide which is reproduced at the bottom of this page.

For the most up to date channel and power info put the postcode S18 4BT into the Freeview postcode checker, also see Yorkshire region Freeview transmitters.
Chesterfield's transmission power is 400W on all MUXES apart from MUX 3 (the BBC HD MUX), which is 800W.
Pre the 2011 switchover it was only 40W.
Digital switchover occurred in August 2011.
Although the transmitter is now a K group the three PSBs are still available off an original A group aerial.
It should be remembered that because of Wideband antennas poor response at the bottom of the band nobody should ever fit a "high gain" wideband on any K group transmitter, e.g. Chesterfield, see Chesterfield's graph. If the site is in a poor spot a "high gain" K group aerial should be used. On the other hand if the signal is strong (or medium) then by definition it doesn't need a "high gain" antenna anyway ! Under these circumstances a Log Periodic should be fitted instead.
For Chesterfield the Yagi 10K for strong signal areas, the Log36 for medium signal areas, and the Yagi18K or XB10K for poor signal areas, the latter aerial being particularly well suited to loft mounting. The XB16K is for those with the most marginal signals. The dimensions and test performance of the aerials are on the relevant buy pages.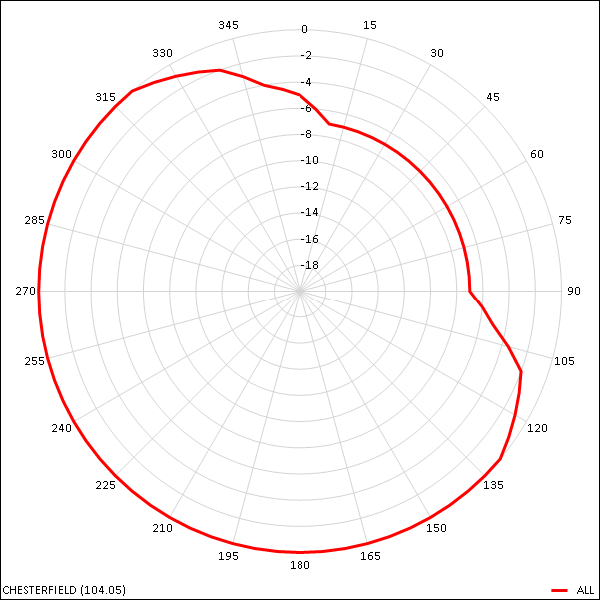 Radiation pattern of Chesterfield (post DSO), graphic courtesy of Mike Dimmick
Chesterfield transmitter is attenuated in a North Western direction.
Full output is to the SW with good signals in an arc from SE to NW.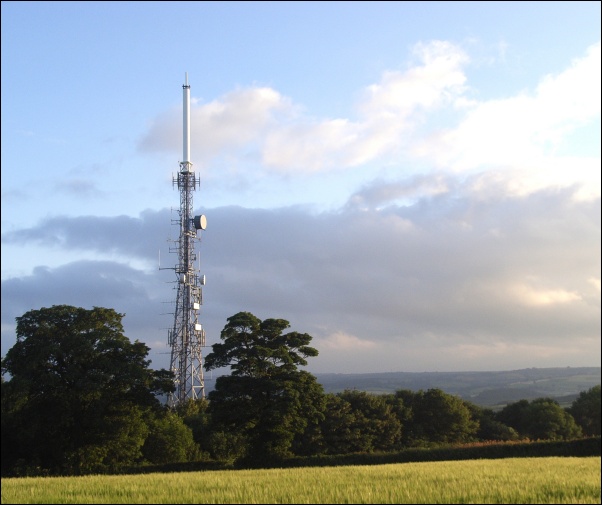 Chesterfield / Unstone transmitter at dusk.
Chesterfield transmitter : graph of its transmissions against the gain curves of the aerials we recommend for it.
[link]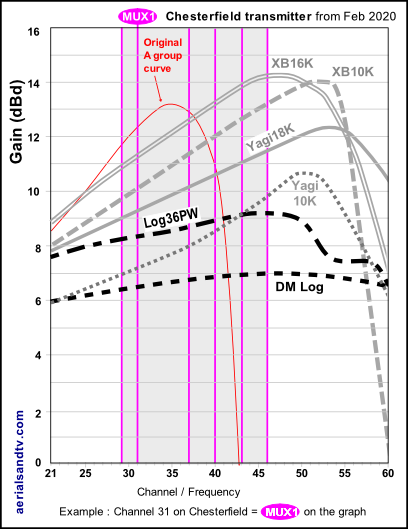 Sheffield transmitter channel allocation guide which includes Chesterfield