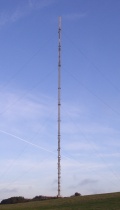 Mendip transmitter page jump links :
- Digital power output, aerial group and polarisation of Mendip
- Our TV aerial recommendations for Mendip
- Mendip's graph (its transmissions v our aerial recommendations)
- Mendip's channels/frequencies (including alternative transmitters)
Mendip television transmitter (TX) is situated 18 miles South of Bristol. It is a "guyed mast" structure (309m in height see How High is High?) and is identical to Waltham and Bilsdale. It was built in 1967 by British Insulated Callender's Cables (or B.I.C.C) who were responsible for much of the infrastructure built in this country from 1945 up to the 1980s. The company is still going but now called Balfour Beatty. The mast is a tubular structure to the top and has in internal lift, though this is thought to be out of use following the accident at Belmont. Mendip transmitter was originally owned by the BBC before being sold off to Crown Castle then to National Grid Wireless and finally to Arquiva (sic).
Mendip has a population coverage of around 1.5 million and its signals are picked up in many towns/cities including Bristol, Bath, Chippenham, Weston Super Mare and areas of South Wales including Cardiff. In fact there are a lot of houses in Cardiff which can actually see Wenvoe transmitter, but still use Mendip !
Mendip transmitter's channels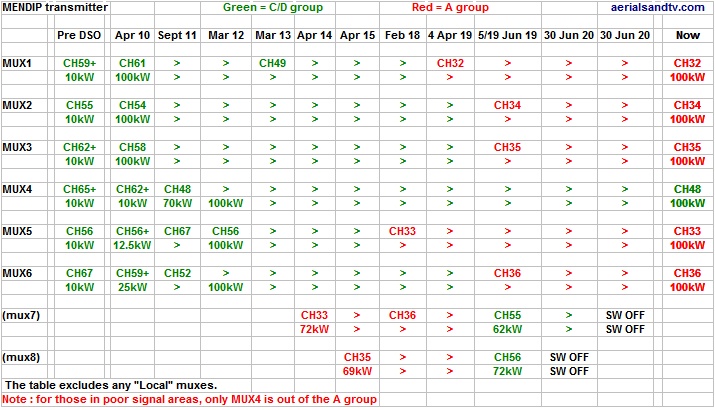 Mendip is a powerful transmitter, it has the joint eighth highest output in the country but it still needs fifty four smaller repeaters to improve its coverage in areas of poor reception due to the hilly terrain in its coverage area.
Mendip transmitter is horizontally polarised. It was originally (for analogue, then, initially, for digital) a C/D group but is now a K group, though all but MUX 5 will be within the A group, which is a handy option for those in a poor signal area, see Mendip graph.
There is one "Local" channel off Mendip (on CH30) for the Bristol local TV station.
For Mendip we recommend the Yagi10K for strong signal areas, the Log36 for medium signal areas, and the Yagi18K or XB10K for poor signal areas, the latter aerial being particularly well suited to loft mounting. The XB16K is for those with the most marginal signals. The dimensions and test performance of the aerials are on the relevant buy pages.
For those in particularly poor signal areas it should be noted that from June 2019 only MUX4 is out of the A group, so, if you live a really poor signal area you could forgo those programmes and go A group, in which case we'd recommend the Yagi18A or the XB10A for poor signal areas, and the XB16A for those with the most marginal signals. See Mendip graph.
External links
Mendip transmitter page at MB21
Mendip Transmitter page at The Big Tower
Mendip Transmitter page on Wikipedia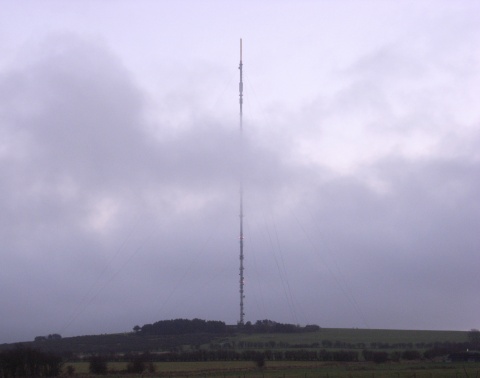 Mendip transmitter into the clouds, and out of the top........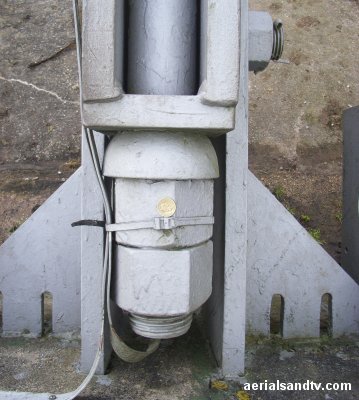 That's a big bolt.....
Close up of one of Mendip television transmitters stay tensioning assemblies where it attaches to the anchor block.
Note the £1 coin to give an idea of the scale, and also the earthing straps.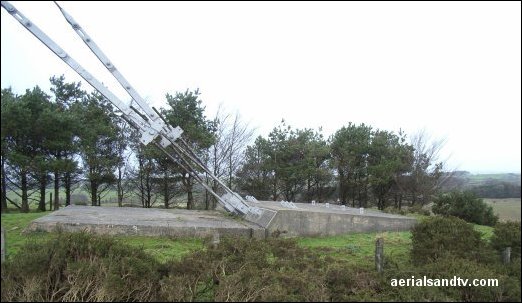 That's a big piece of concrete (and there's a lot more of it underground)...... One can imagine how much pull is exerted on the stay lines (particularly in a high wind) by the size of the block required to anchor it.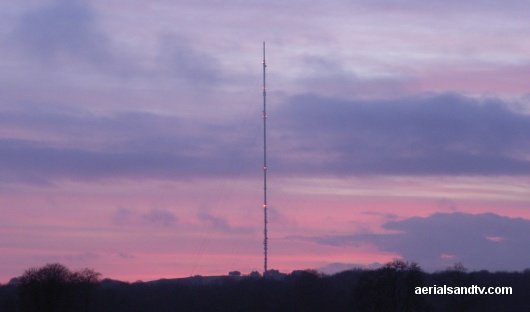 Mendip television transmitter at dusk, looking towards the South West.
Mendip transmitter : graph of its transmissions against the gain curves of the aerials we recommend for it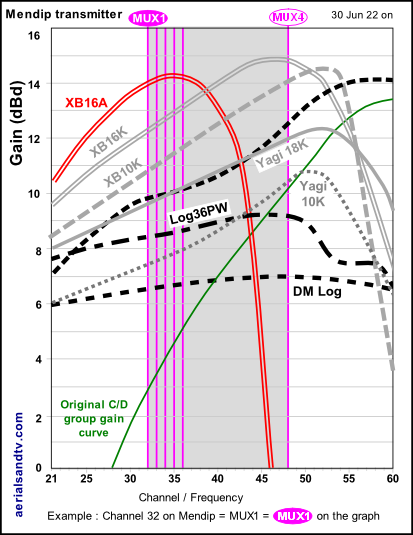 Mendip's channels in relation to the UHF TV band and the gain curves of the aerials we recommend for it:
Yagi10K    Log36    Yagi18K    XB10K    XB16K    DY14WB
Note that for sites in particularly poor signal areas only MUX 4 is outside the A group, and the benefits of using an A group are obvious from the above graph, in which case we'd recommend :
Mendip transmitter's Channel Allocations
For the most up to date MUX to channel allocations etc put this postcode BA5 3LB into the Freeview checker.
Also see West region Freeview transmitters.

The channel guide below also includes the same information for Rowridge, Stockland Hill, Wenvoe, Ridge Hill, Bristol Kings Weston, Bristol Ilchester, Sutton Coldfield, Oxford, Hannington and Salisbury. This data can be of great use in determining possible alternative transmitters to try if Mendip fails to give an adequate signal, see the importance of "Line Of Sight".
The channel allocation guides can also be very useful in the diagnosis of co-channel interference problems and can also be invaluable if you are trying to find a spare channel for a modulated output (e.g. for a Sky box or CCTV system) to be added to your TV setup/distribution system without suffering from co-channel.
Also check Mendip's fifty four smaller repeaters
The frequencies given are for (most) digital MUXES, for analogue channels deduct 3MHz.