Note, due to the new phenomenon of MUXICAL chairs you may experience problems with certain MUXES disappearing. First try rescanning your TV / set top box, do it manually if possible. If this fails to sort it check on transmitter work or call the reception advice phone numbers.
Also see basic digital fault finding.
700MHz clearance occurred at Bilsdale in Nov 19, it remained a K group on CHs 21 to 46 (excluding MUX 7). However, there was a minor supplementary retune event at Bilsdale on the 12 March 20 when MUXES 1 and 3 swapped frequencies (to CHs 27 and 21 respectively).
Bilsdale television transmitter (TX) is a "guyed mast" structure (309m in height) and is identical to Waltham and Mendip, though it was built by JL Eves (now Babcock) whilst the other two were constructed by BICC (now Balfour Beatty). The mast is a tubular structure to the top and has in internal lift, though this is out of use following the accident at Belmont. The transmitter was originally owned by the BBC before being sold off to Crown Castle (Castle Transmission International - CTI) then to National Grid Wireless and finally to Arquiva (sic).
Opened in 1969, the transmitter is about 15 miles SSE of Middlesborough, it can be seen from the A1 on a clear day. As one travels North it's on the right. A slightly better view can be had from the railway line (between York and Darlington) as it is a little closer, perhaps 12 miles away. The A19 from the A1 up to Teeside passes closer still.
Due to the fact the 309m mast (see How High is High ? ) is built on a 376m mountain the overall aerial height/altitude is 685m (2260ft) and unsurprisingly this is one of the highest in Great Britain. The latter fact obviously helps its transmission range, but like all transmissions they are subject to the "line of sight" rule, even with a "high gain" aerial !
Bilsdale's population coverage is around a million. Many of those in York, Darlington, Stockton, Middlesborough, Hartlepool, Sunderland and Harrogate use Bilsdale's transmissions, though it can also be received at sites on high ground in Sheffield, that's 70 odd miles away!
Bilsdale transmitter's channels
Bilsdale puts out up to 100kW of digital power which makes it the 13th most powerful transmitter. Note the huge increase in power at the 2012 digital switchover.
Bilsdale is horizontally polarised was originally an A group for its analogue output but only 3 (the PSBs) of the 6 main digital MUXES can still be received with a group A aerial. MUXES 4 to 6 are out of band so most people would have to change their aerial (to a K group or wideband).
The transmitter has fifteen smaller relays (or repeaters) to improve coverage in poor reception areas within its coverage area.
There is one "Local" channel allocated to Bilsdale, CH30, mainly for a local Middlesborough TV station. This is within the K group.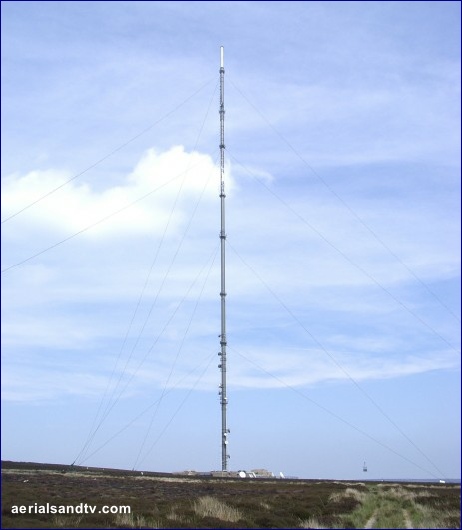 Bilsdale television transmitter from the moor below it. Note the repainting in progress (it certainly seemed to need it !) and the "Bosun's Chair" being used to ascend the mast, see below.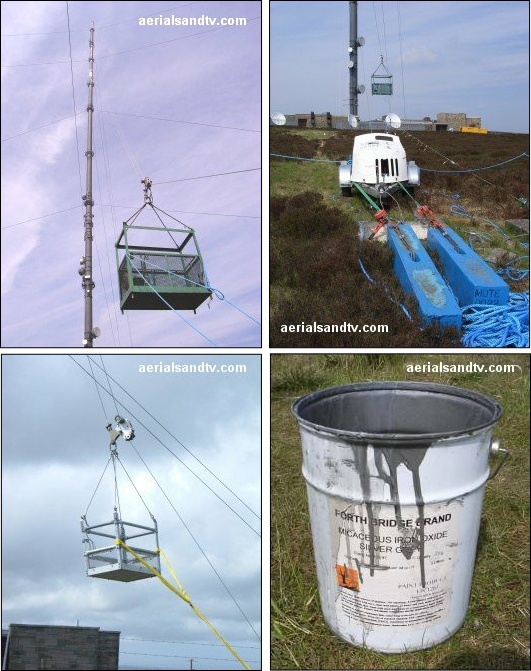 "Bosun's Chair" being used to access Bilsdale whilst it was being repainted in June 2007. Above the right is the winch (and its anchors ! ) to hoist the "chair" up as required. Below (left) is the same system being used on Redruth (in 2005) and on the right the type of paint used to coat the structures. The masts are galvanised with a 25 year warranty against rust, after that time they're repainted every 10 years with etching primer then Micaceous Iron Oxide on top of that.
And we all love the Forth Rail Bridge don't we, I know ATV do !
Bilsdale  transmitter : graph of its transmissions against the gain curves of the aerials we recommend for it
Bilsdale transmitter's graph from the March 2020.
Bilsdale Channel Allocations
For the most up to date MUX to channel allocations etc put this postcode TS9 7JS into the DUK checker.
Also see DUK Tyne Tees region transmitters.

The table below includes the same information for Pontop Pike, Chatton, Fenham, Emley Moor, Keighley, Belmont and Oliver's Mount. All these transmitters are receivable within Bilsdale's coverage area and this information can be very useful for identifying alternative transmitters. The channel allocation guides can be very useful in the diagnosis of co-channel interference problems and can also be invaluable if you are trying to find a spare channel for a modulated output (e.g. for a Sky box or CCTV system) to be added to your TV setup/distribution system without suffering from co-channel. Note how most of the channels from all the transmitters neatly "dovetail" with each other. Also check Bilsdale's fifteen smaller relays.
The frequencies given are for (most) digital MUXES, for analogue channels deduct 3MHz.