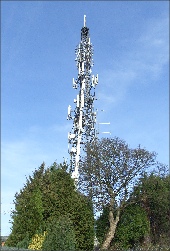 Sheffield television transmitter (sometimes known as Crosspool) was opened in 1967 and is possibly the one used by most people around Sheffield. Unsurprisingly the tower can be seen from much of the City as it was erected where it could (re)broadcast to the greatest area on "line of sight". Its exact location is off Lydgate lane and it is next to a Police TX mast. The height is 52m and the RSJ spaceframe construction it is similar to many others all over the country, which is unsurprising because it was a standardised design, a BICC type 152 to be precise. It was built by British Insulated Callender's Cables (or B.I.C.C) who were responsible for much of the infrastructure built in this country from 1945 up to the 1980s. The company is still going but now but called Balfour Beatty.
Ofcom quote Sheffield's maximum population coverage as being nearly three quarters of a million, but that includes households which may well be on another transmitter with overlapping coverage.
Crosspool is vertically polarised and is a repeater (or relay) off Emley Moor, that is to say it receives its signal from the latter then rebroadcasts it. Since digital switchover in 2011 Sheffield has been - effectively - a K group, or wideband. When (just) analogue was being transmitted it was originally an A group. Those in weak signal areas are better off with a K group (e.g. our XB10K) as it will work better than a wideband, see Sheffield's graph. Note that the main three PSB MUXES are receivable on an original A group aerial.
Digital switchover occurred at Sheffield in Aug 2011.
For Sheffield we recommend the Yagi10K for strong signal areas, the Log36 for medium signal areas, and the Yagi18K or XB10K for poor signal areas, the latter aerial being particularly well suited to loft mounting. The XB16K is for those with the most marginal signals. The dimensions and test performance of the aerials are on the relevant buy pages.
Sheffield transmitter's channels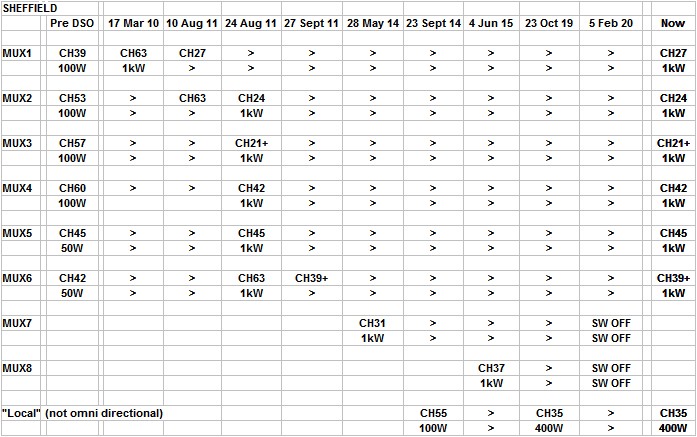 From the start of digital (in 1998) up to 2004 Sheffield transmitted all 6 MUXES at only 50W (yet much of Sheffield still got a perfectly acceptable signal ! ).
The first 4 MUXES were increased to 100W between 2004 and the 2011 switchover
There is one "Local" MUX allocated to Sheffield, on CH35, which is in the K group. It has been used for the "Sheffield Live TV" (a local station) since the 23 Sept 2014. The channel is also transmitted from Grenoside transmitter (since the 5 Feb 2020) on CH31. This is for people in Sheffield who are on Emley Moor to pick up the programme because most people in Sheffield (who are on Emley) will have their aerials pointing more or less in the Grenoside direction. The transmissions are  in a relatively narrow 30 degree arc centred on Manor / Intake.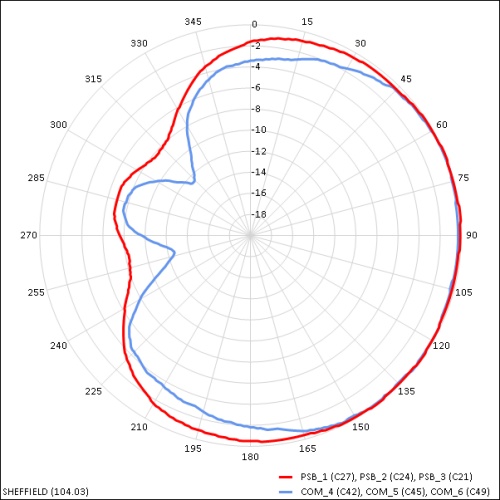 Sheffield transmitter's post DSO radiation pattern. Note how the transmitter puts out more power to the east, and how the pre DSO restriction to the SSW is no longer present. [link]
Radiation pattern graphic courtesy of Mike Dimmick.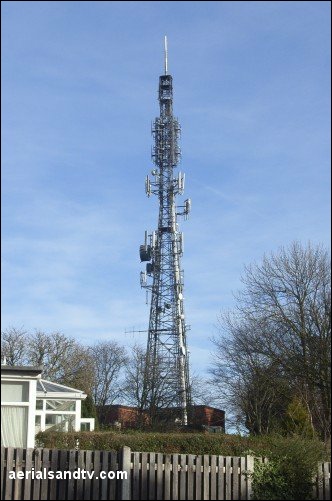 Sheffield / Crosspool transmitter. Apparently it's also known as Tapton Hill transmitter, but I've never heard anyone in the aerial trade refer to it by this moniker.
Incidentally the TX isn't really in someone's back garden, not quite anyway !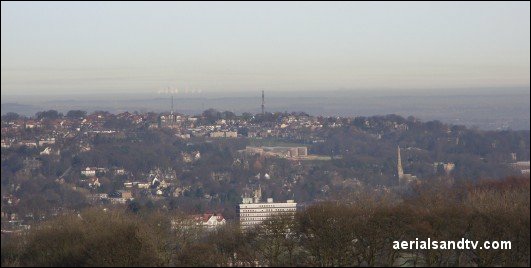 View of Crosspool transmitter looking NE from Ringinglow. The television TX is one the right of the two masts on Tapton Hill. Close examination of the picture will reveal Drax power station on the horizon (to the left of the TX) and that's nearly forty miles away !
Sheffield : graph of its transmissions against the gain curves of the aerials we recommend for it
[link]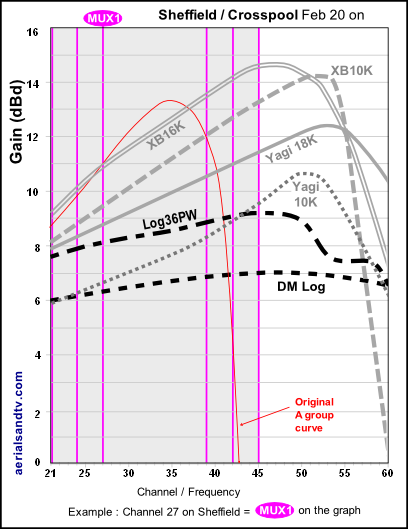 Sheffield transmitter's channel allocations