Moorside Edge is one of the most powerful Medium Wave radio transmitters in the Country. Originally built in 1931 it was significantly upgraded in 1984 and now consists of two 158m steel lattice masts from which the transmitting wires are suspended. In this area whenever you have Radio 5 Live on at 909m this is where it's coming from and at 200kW, and that's huge power. In addition Moorside Edge also transmit's Talk Sport and Absolute Radio (was Virgin Radio) on 1089kHz and 1215kHz respectively.
Apparentlty a good "signal earth" is important and here this is ensured by the boggy nature of the ground, it's actually built on a marsh.
Due to the elevation of the area it has always been important for (RF) Radio Frequency transmission and both Emley Moor and Holme Moss are within 10 miles and both are visible from the site (ESE and SSE respectively). The altitude is such that at Pole Moor (a few hundred yards away) there are houses in the same row on Emley, Bilsdale and Winter Hill, and the latter is NW of Bolton which is on the other side of of Pennines !
As one travels West on the M62 from Huddersfield the tips of Moorside Edge's masts are just visible over to the left (South). Incidentally this section of the M62 was opened in 1971 and was the most expensive piece of motorway to open in this country such was the engineering required for it in this rugged landscape.
The TX site overlooks the Colne valley to the south which has always been a major trans Pennine trading route. The London and North Western Railway built their line here in 1849 including the impressive 3 mile long Standedge tunnel. There are actually two tunnels here as the Huddersfield Narrow Canal of 1811 also passes under the Pennines at this point in a separate 3 mile bore. This closed on the 1950s but reopened in 2001.
External Links
Moorside Edge transmitter at MB21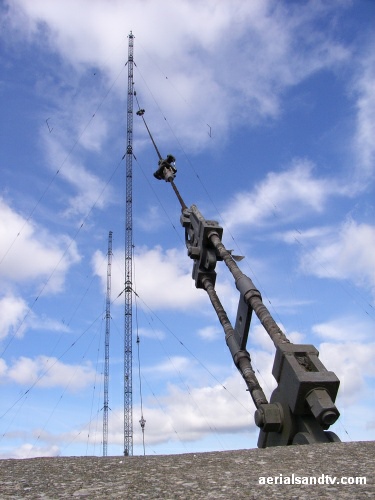 View of Moorside Edge's two masts from the outer most stay anchor.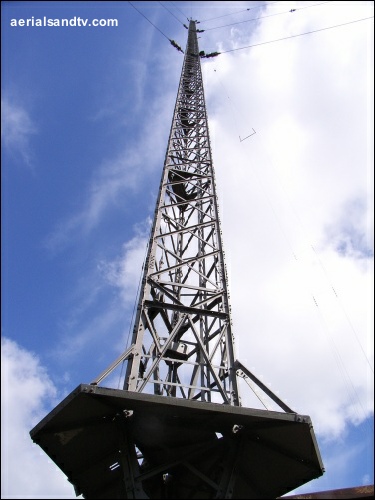 One of Moorside Edge's masts from the base.
Note the transmitting wires strung out to the right.