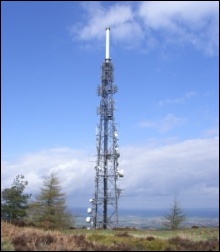 The Wrekin transmitter is situated 4 miles W of Telford on a 400m high hill which is called, funnily enough, The Wrekin ! The tower is about 50m high with the (analogue) transmitting array adding around 10m on top of that. It was constructed in 1975 amid great controversy due to the scenic and historic nature of the site. I can certainly testify to the former, the views are fantastic and well worth the mile and a half walk up the hill. Getting planning permission for the tower was made even more problematic by The Wrekin being the site of a large Iron Age hill fort ! The BBC's 1977 estimate for The Wrekin's population coverage was about 160,000. Ofcom now quote The Wrekin's maximum population coverage as being around 282,000 homes (half a million people ?) but that includes many households which will be on another transmitter with overlapping coverage.
The Wrekin's digital transmitting power is 20kW for MUXES 1 to 3 (the PSBs) and 10kW for MUXES 4 to 6.
Before the April 2011 switchover digital output was only 1kW.
Coverage is increased by four smaller repeater transmitters.
The Wrekin transmitter is horizontally polarised and was originally an A group for analogue but for digital it is now a K group [or wideband], The Wrekin's graph.
For The Wrekin we recommend the Yagi10K for strong signal areas, the Log36 for medium signal areas, and the Yagi18K or XB10K for poor signal areas, the latter aerial being particularly well suited to loft mounting. The XB16K is for those with the most marginal signals. The dimensions and test performance of the aerials are on the relevant buy pages.
Because of wideband antennas poor response at the bottom of the band, anyone who really requires a "high gain" aerial on a K group transmitter, e.g. The Wrekin, should actually fit a K group ! See The Wrekin's graph (but not that many people actually need a high gain aerial anyway........).
External Links
The Wrekin Transmitter Page at MB21
The Wrekin Transmitter Page on Wikipedia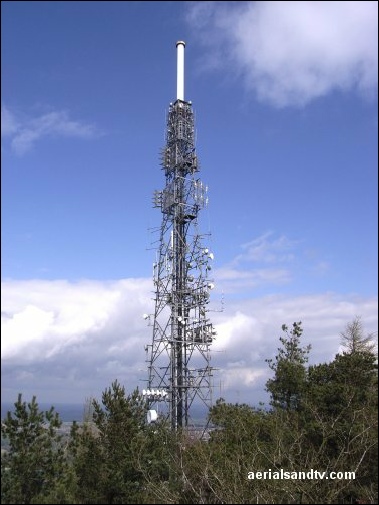 The Wrekin transmitter.
See The Wrekin's height in relation to other transmitters.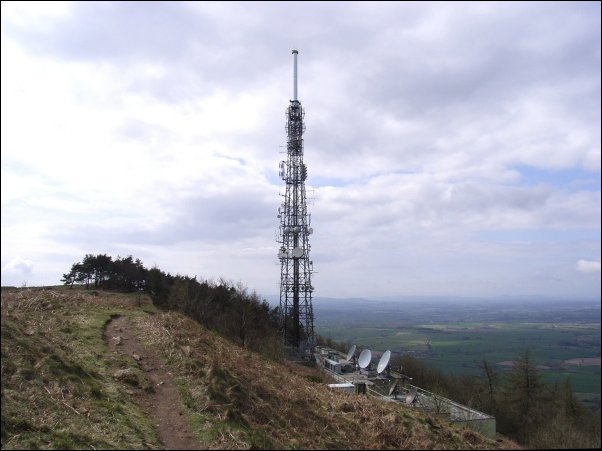 The Wrekin TV Transmitter, note the fabulous view in the background.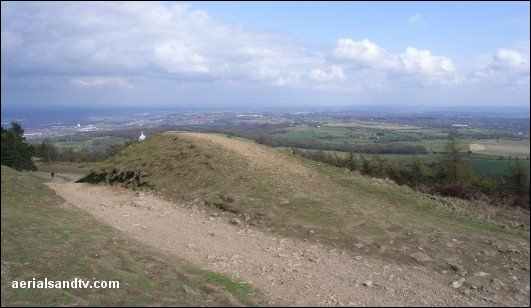 The View to the East from The Wrekin, Telford is visible centre left. The path up the hill can be quite steep but the vast majority can ascend it, taking their time if lacking fitness ! Be warned that there are three or four "false brows" on the route, you keep thinking you're near the top, only to be confronted by another "brow" ahead of you as you reach what you thought was the summit !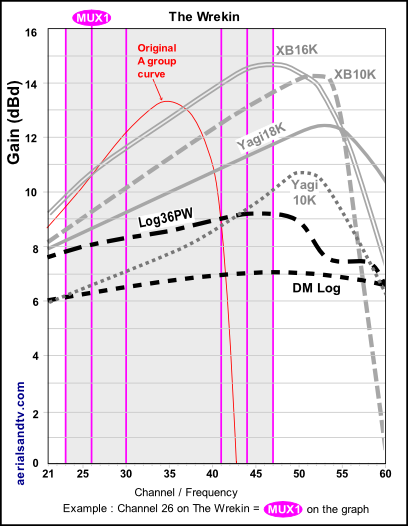 Sutton Coldfield transmitter's channel allocation guide including The Wrekin transmitter.