Moel-Y-Parc television transmitter is located 15 miles WNW of Chester and was opened in 1963. It is a cable stayed structure around 240m in total height, see How High is High ?
Moel has a population coverage of about 300 thousand, though I can't help wondering if the latter figure varies according to whether it's the holiday season ! It must be pointed out that quite a high proportion of those within Moel's coverage area choose to watch the programmes broadcast from English transmitters (particularly Winter Hill) which is easily spotted by which way the aerials(s) face.
The structure is built near the top of a mountain (the actual site height is 340m) and anyone visiting it will be rewarded with fabulous views, particularly if you walk up to the Trig point just behind it.
As a main transmitter Moel Y Parc is horizontally polarised. Technically, since Moel is a K group (if you include the local channel on CH27) but most decent B groups will still work fine. The transmitter also has twenty smaller repeaters to improve its signal coverage. More channels will move about (but stay in the the B/K group) in April 2020.
For Moel y Parc's channels / frequencies see Winter Hill's channel allocation guide which is reproduced at the bottom of this page or, for the most up to date MUX to channel allocations etc, put this postcode CH7 5UU into the Freeview checker, also see Wales region Freeview transmitters.
Power is 20kW for MUXES 1 to 3 and 10kW for MUXES 4 to 6.
(Pre the 2009 digital switchover the transmission power was only 1kW for MUXES 1 to 4, and 250W for MUXES 5 & 6)
There is one "Local" channel allocated to Moel, CH27, which is for a local TV channel for Mold (and this will not change at the 700MHz clearance). Technically CH27 is outside the B group but all decent B group aerials should still be working reasonably well down there. This may not apply to some cheap crappy B group Contract aerials
For Moel Y Parc we recommend the DM log or Yagi10K for strong signal areas, the Log36 or Yagi18K for medium signal areas, the Yagi18B for outdoor installs in poor signal areas, the XB10B for loft installations in poor signal areas, and the XB16B for those with the most marginal signals. Unless you have a massive loft we'd normally recommend an XB10B for loft installs (over an XB16) due to smaller size of the former aerial. The dimensions and test performance of the aerials can be found on the relevant buy pages.
Moel Y Parc can can be seen from the main railway line along the N Wales coast which was originally opened (by the Chester & Holyhead railway) as far as Bangor in 1848. Two years later Stephenson's famous Tubular bridge was opened across the Menai straights and the line finally reached Holyhead. This line to North Wales was once so busy (particularly in the summer with holiday makers) that it was four track for the 34 miles from Chester to all the way to Abergele. These days most people go by car along the A55 "Express way" which has undoubtedly improved access to this area of Wales but I can't help wondering where all the cars were before teh road was built because its already full ! At least they went to the trouble of building a tunnel under the river Conway (opened 1991) because constructing a huge dual carriageway through that beautiful area would undoubtedly have been a crime.....
External links
Moel Y Parc transmitter page at MB21
Moel Y Parc transmitter page at The Big Tower
Moel Y Parc transmitter page on Wikipedia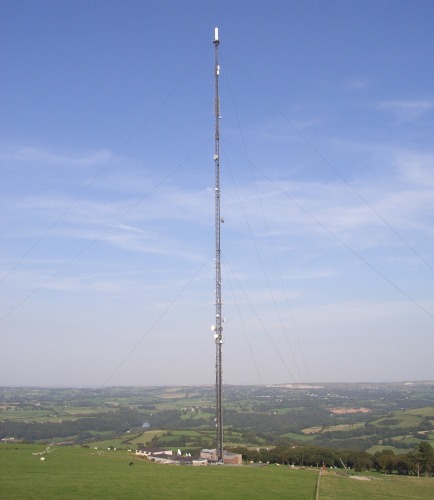 Moel Y Parc (what an evocative name....) and its surroundings.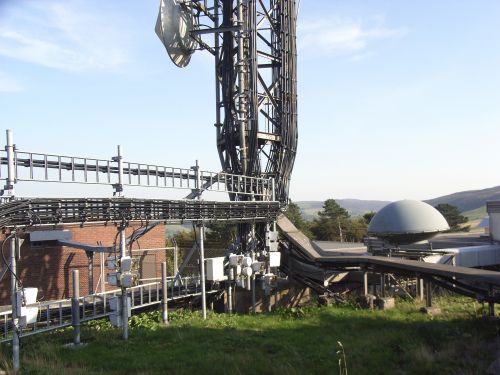 Base of Moel Y Parc showing the feeders taking the signals up to the transmitting antennas on the mast.
Moel Y Parc transmitter : graph of its transmissions against the gain curves of the aerials we recommend for it
Moel Y Parc transmitter's channels in relation to the UHF TV band and the gain curves of the aerials we recommend for it. [link]