Description
These brackets may be called "standard" but that's just for classification purposes, they are strong, the metal being 3.5mm (base) to 5.0mm (arms on the 6x9s) thick. In fact if used as we recommend they have a lifetime warranty.
Two of these are more than strong enough for just about any installation if spaced sufficiently apart, handy if you don't need the stand off of T&K brackets. Also see "heavy duty" wall brackets.
All our brackets are best quality welded and hot dipped galvanised (finish may vary) and come with a lifetime warranty.
A pair of V bolts & at least 4 wall anchors are required per bracket and these are NOT included.
Plated V bolts here and stainless here.
Wall anchors (if required) are here :
Screws (50 & 75mm) with standard plugs / screws (50mm) with universal plugs / sleeve anchors
Wall bracket dimensions :
NOTE – the centres of the mounting holes are about 4.5cm apart.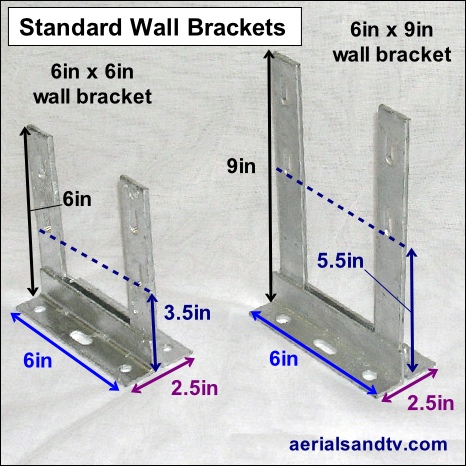 The 6×6 bracket requires modifying if it is to accept 2″ V bolts. This requires filing or a new hole drilling, but fear not, the bracket still won't rust due to the hot dip galvanisning's "bleed over" protection.
The 6×9 bracket will accept 2″ V bolts without modification.