Description
2" x 1" pole clamp.
This product will only clamp perpendicular, not parallel.
Steel 2mm thick (av) / M8 thread.
Unfortunately this clamp is only available with Pre galv pressings and zinc plated bolts, however the 2×2 clamp is available in other finishes. Our M8 stainless wing nuts fit these clamps (and many others).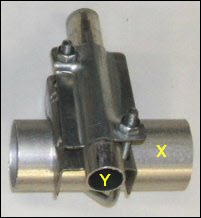 Maximum pole diameters as follows :
X = 1 to 2 inches
Y = 1 inch*
* 1.25 inch will go but is a very tight fit.
Minimum diameters :
X = 12mm (with 1" or more in Y)
Y = 10mm
Available with plain or Nyloc nuts.