Description
See Zinc plating v stainless corrosion resistance tests.
The most basic clamp is the "V bolt" which bolts the pole to its bracket, the most common sizes being 1.5″ and 2.0″, though we also stock extra long 2″ stainless V bolts..
All our V bolts are sold in pairs and come with washers.
Note that two V bolts are usually required for most brackets (1 pair of T&Ks requires 1 pair of Vs).
1.5″ V bolts are M8 thread.
2.0″  V bolts are M10 thread
If replacing a pole even the tightest aerial installer (and aerial installers are notoriously tight….) would use new V bolts, mainly because it's far easier to just hacksaw off the old Vs rather than try and undo the nuts on rusty ones.
If you have to use V bolts larger than 1.5" make sure you check they will fit the bracket. Some brackets, esp 6″ types, only accept 1.5″ Vs. You may have to drill an extra hole yourself, or get the file out !
When using V bolts I would tend to tighten the bottom one more than the top one because if you crush the wall * of the pole you will significantly weaken it just at the point where it's under most strain. In our tests all the poles (unsurprisingly) failed at this point. The bottom V bolt can be done up as much as you like to ensure the pole doesn't twist in the wind, though using saddles with V bolts is the most effective method of ensuring that. Risk of the pole rotating in its bracket is particularly important if using an end mounted aerial (though, apart from Log Periodics, we don't actually recommend end mounting aerials for outside use) or a cranked pole, and especially a Supercrank pole.
* Crushing an 18G (1.2mm) wall thickness pole is rather more likely than with the thicker 16G (1.6mm) or 14G (2.0mm) versions which we sell….
Stainless V bolts are particularly recommended for weather stations etc because rust on the nuts/threads of plated V bolts makes loosening/retightening them more problematic.
Also see article on using saddles with V bolts (they're not usually necessary) :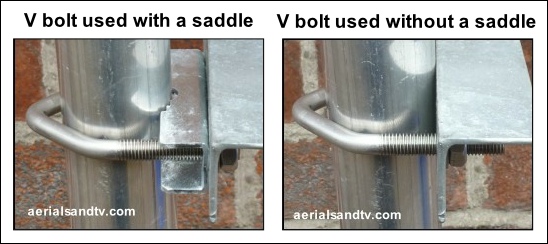 Supplied with either plain or Nyloc nuts.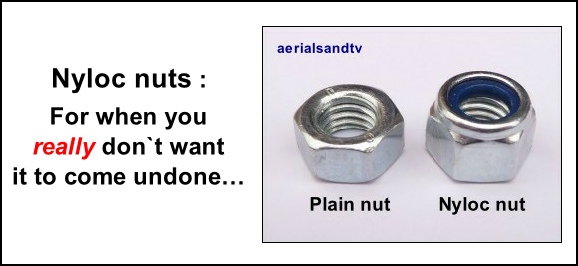 The 2″ version of these V bolts and our 2″ stainless saddles are also suitable for clamping Renusol Variosole ground mounts to scaffold poles.