Description
The Chimney Kit consists of everything needed to fit an aerial (on a chimney, obviously !):
Yagi 10K or Yagi 18K or Log 36 aerial (or no aerial) :

Yagi 10K v Log36 v Yagi 18K
103cm long : low wind load —  131cm long : low wind loading — 175cm long : medium wind loading
End mounted (more suitable for some installs)  — End mounted — Centre mounted (less twisting force in the wind)
Exceptionally sturdy aerial — Medium build quality — Very sturdy aerial
Low to medium gain (higher above CH40) — Medium gain (lower above CH50) — Medium to high gain
Hardwired (= better) — F connector wired — Hardwired
Tilting heavy duty clamp — Non tilting clamp — Tilting heavy duty clamp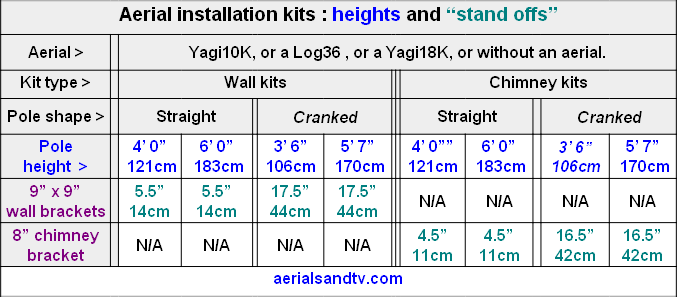 The pole can be 4ft or 6ft and straight or cranked though the latter is the most versatile mast as it can not only "crank" around an obstruction but also help to keep any aerial away from smoke if required. This pole is also a heavy duty 1.25" x 16 gauge seam welded alloy (non rusting) product.
The higher price of the kit with the 6ft version is due to the non conveyable surcharge. In the case of aerial kits that surcharge is included in the cost of the 6ft version of the kit, in fact it is that supplement which puts the price up…..
8" Mitre Chimney Bracket, as with all our brackets it is welded and hot dipped galvanised. The total stand off with the cranked pole is 16", or 4.5″ with the straight pole (approx)
Lashing Kit (c/w instructions) stainless V bolts are available at a supplement of £2.00, please phone for this
Insulation Tape (33m) (to tape the cable to the pole)
20m of Quality Cable (black), the average downlead is about 15m, but we supply 20m, just to be on the safe side ! (Brown or White – incl the appropriate colour clips – also available at no additional cost, please phone for this)
Box 100 clips (black), the correct size to hold themselves onto the cable, so you don't have to hold the clip and get your fingers hit with the hammer……
The cable and/or clips can be changed to brown or white, please phone for this
Hole Cover (brown)
Hole Tidy (semi opaque)
Co-Ax Plug (brass) (c/w instructions)
Eye screw c/w plug (see safe use of ladders)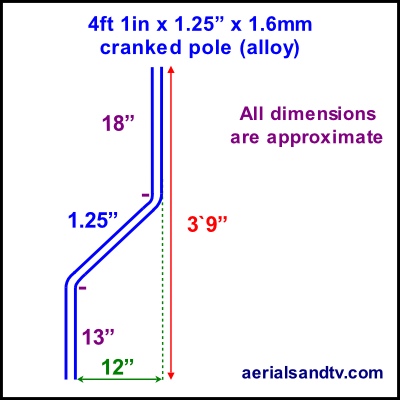 or a straight pole.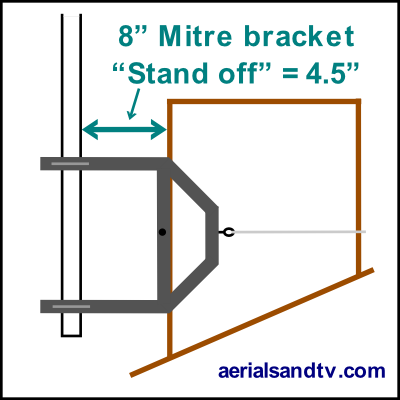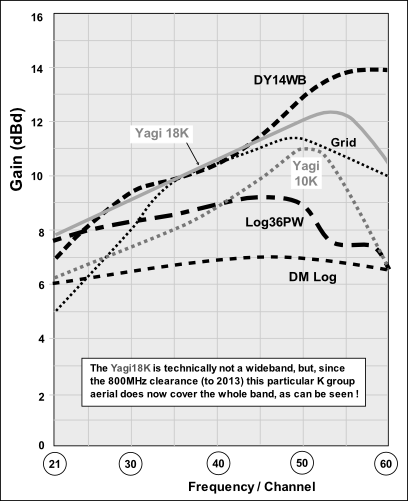 Test results of our aerial kit antennas v a typical Bacofoil XB10WB, all relative to a DM Log.