Description
All our brackets are best quality welded and hot dipped galvanised (to BS EN ISO 1461) finish may vary.
This bracket requires two lashing kit (not included). The brackets come with V bolts, so these are not required with any lashing kit purchased (we sell lash kits with and without the V bolts).
These brackets are the only ones we stock that come with V Bolts as standard (either plated or stainless as required). This is because 1.5″ Vs will not fit them but customers regularly ordered the smaller V bolts in error and could not do the job !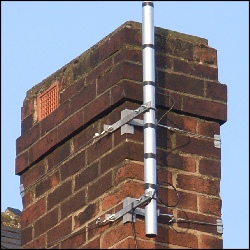 All our brackets come with a lifetime warranty.
As the table below reveals the stand off of the H/D chimney brackets is 4.5″.