Description
Double clamp assembly / jockey wheel clamp (as also supplied in our caravan aerial kits).
Neat removable way of temporarily attaching an aerial pole to another vertical tube. These are particularly well suited to bolt an aerial pole onto a caravan jockey wheel, as shown below. It is possible to use just one "double clamp" and push the bottom end of the pole into the earth, but if parked on hard standing then you need two, as is shown in the picture. Whilst it is preferable to support any aerial pole further up, bolting a 9ft caravan pole to the jockey wheel was actually a bit sturdier than I expected.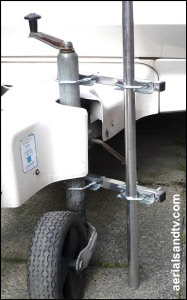 The bar is 15mm square section alloy and 33cm long.
The M6 clamps are plated steel and fit poles up to 56mm in diameter.