Description
2.5 inch V bolt (long leg)  one off c/w sledge and washers
M8 thread.
The V bolt and washers are zinc plated and the sledge is Pre-galv steel.
Can also be used to mount a Mk 4 Sky / Freesat dish to a pole.
The 2.5in sledges are also available separately here.
P&P is cheaper for this item if you phone the order through !
Dimensions :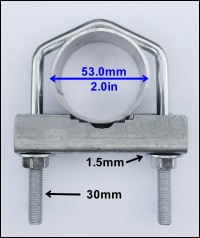 Available with plain or Nyloc nuts.