Description
The two way surface bracket is "pre galv" steel and its U bolt is zinc plated and has an M6 thread.
These two way surface brackets are also supplied as part of our straight and L section loft installation kits.
Some people use these (with large jubilee clips) to attach small items, e.g. CCTV cameras, to lamp posts or similar. One clip would go round the top section of mounting plate and another round the bottom section. Note these brackets only accept 1″ / 25mm poles and more than one may be needed.
Also see "Through brackets" and tilting brackets.
Multi angle clamp kits are often used in these installs.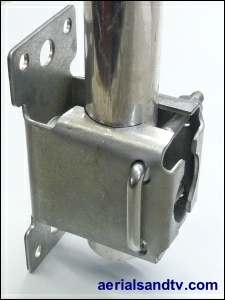 Our M6 die cast wing nuts fit this product (available separately).