Description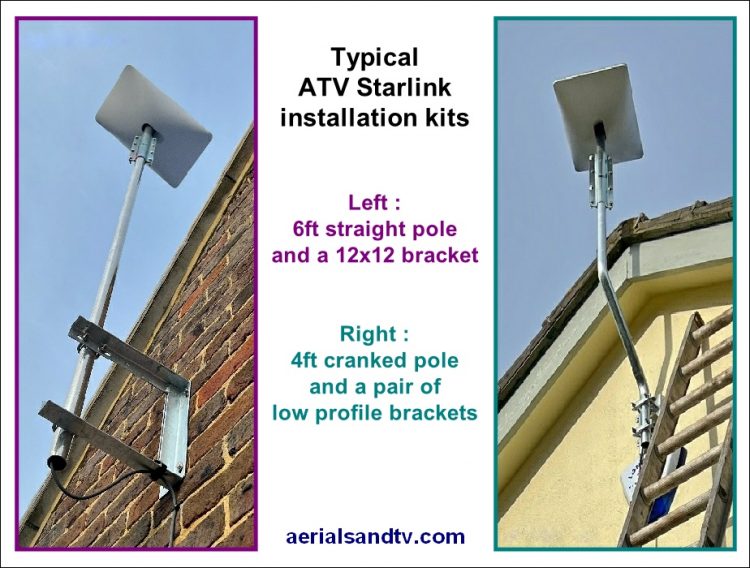 Typical ATV Starlink installation kits in situ. Ideally, when using pairs of brackets, they should be well spaced.
Starlink wall install kit with straight pole (does not include the Starlink, obviously….)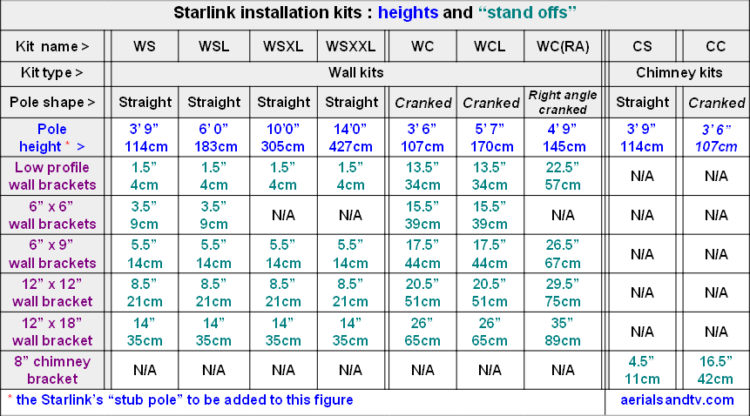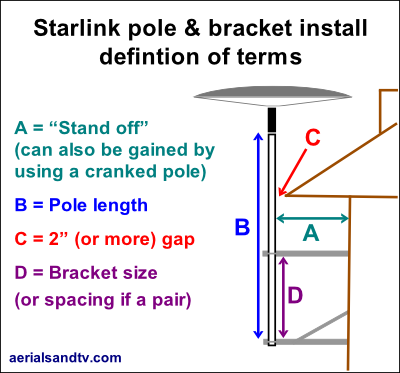 When using pairs of brackets the farther apart they are mounted the stronger the install will be.
When calculating how long you need your pole to be remember that the Starlink comes on a short pole, approx one foot long, and if using a 1.5″ pole coupler (as opposed to clamping it on to the side) all of that length will be in addition to the length of the pole you are fitting it on.
The kit comprises :
– 1.5″ (38.2mm) pole coupler which fits the Starlink mounting pole. Zinc plated (but decent quality) and supplied with stainless bolts and stainless Nyloc nuts. See here for fitting instructions.
The pole coupler can be bought separately here.
– Extra heavy duty 6ft x 1.5 inch x 1.6mm (16G) straight alloy pole for maximum strength and minimum movement of the Starlink dish.
– Pair of Low Profile brackets (hot dip galv pressings – finish may vary – and Nyloc stainless bolts).
OR a pair of welded hot dip galvanised wall brackets – finish may vary – (either 6″x6″ or 6″x9″) c/w Nyloc stainless steel V bolts
OR a single heavy duty welded hot dip galvanised wall bracket (either 12″x12″ or 12″x18″) c/w Nyloc stainless steel V bolts
– Eight (or four with single brackets) stainless steel (A2) wall bolts and washers with universal plugs.
– 4ft of self amalgamating tape (remove backing and stretch when using ! )
– Box of 100 black 7mm clips
– Screw eye (see safe use of a ladder)
The kit represents a saving of 5 to 10% in the cost of the individual items (this varies according to the current prices).
A carrier length surcharge applies to this product.
Unfortunately we cannot ship this kit out of the UK, though (just) the coupler can be shipped abroad (at a carriage surcharge).
NOTE : When installing an aerial or a satellite dish on pole you would almost always install the item on the pole then install the pole on the bracket, unless the top of the pole was very easily accessible (which it isn't usually).
Customers' Starlink install reports.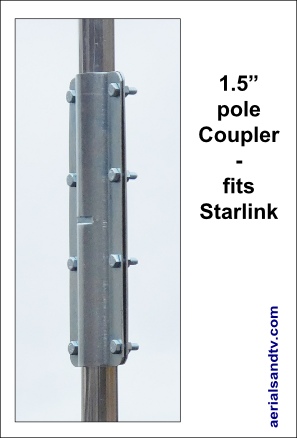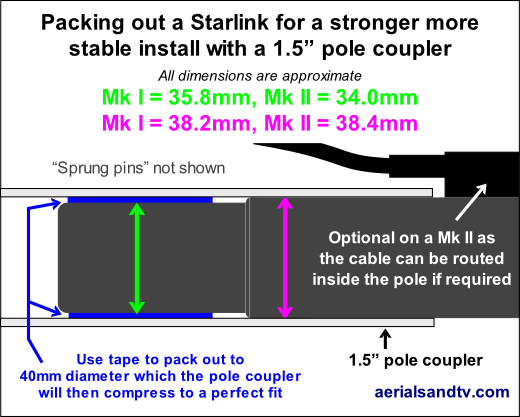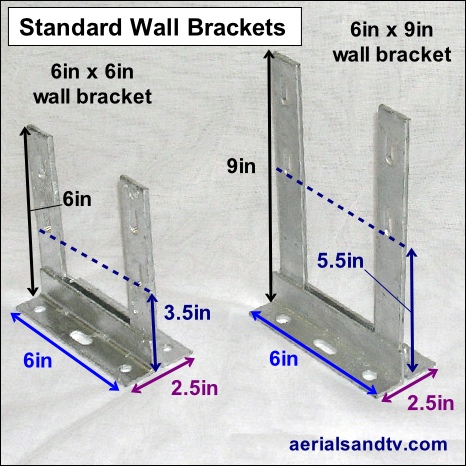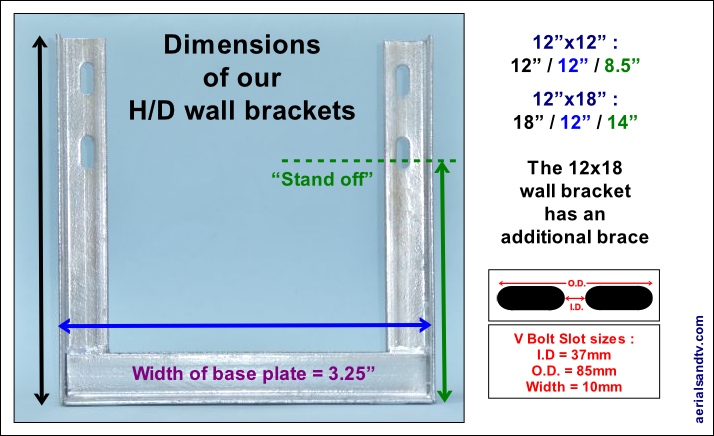 A pair of brackets are supplied (6×6 or 6×9) or a single (12×12 or 12×18), either wall brackets (as above, with a pair of stainless V bolts) or low profile brackets (as below, hot dip galvanised & stainless steel bolts)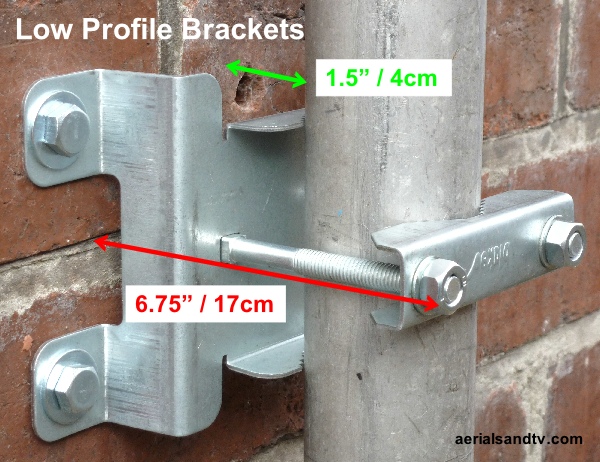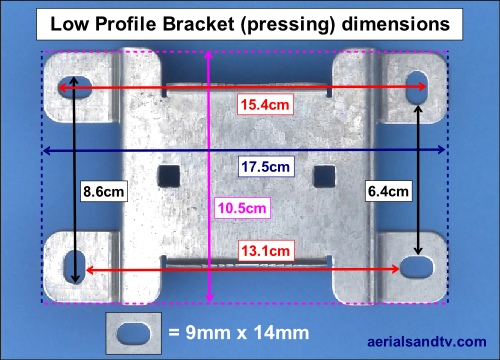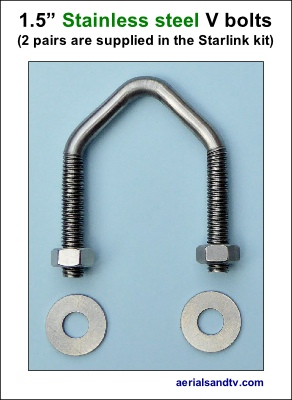 The stainless steel bolts supplied with the Starlink kits come with Nyloc nuts.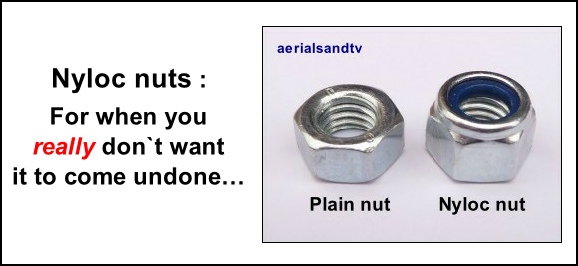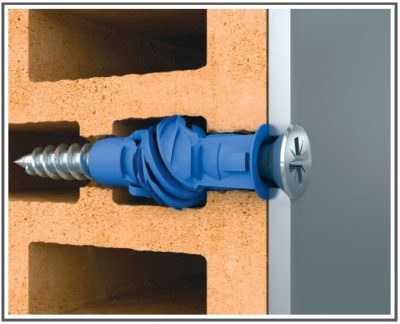 Product appearance may vary
The screws supplied in our Starlink install kits are coach screws, as below.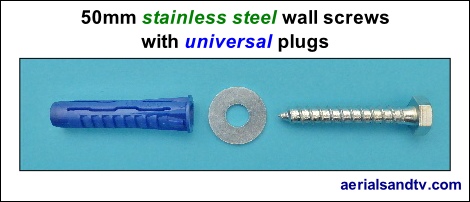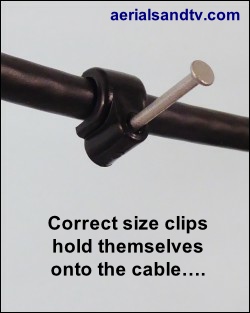 So you don't have to hold the clip on the cable and risk Derrick the Decider (the II) hitting your fingers.