Customers' Starlink installations
These customer reports of their Starlink installations are well worth a read as they can give you ideas as to your own job plus things to watch out for.
We are more than happy to add more customer install's to this page, please send them to us here.
Also see :
Installing Starlink on a longer pole.
Starlink install kit
Hey there, just wrapped the mast and Starlink install last night on our new cabin build, everything worked great! See attached pictures… We are a certified Cerakote applicator so I had all the parts coated black, looks pretty cool… Cheers Derek.
This highly customised kit was sent to (and installed in) Canada. It was the first shortened kit we sold, in fact it was Derek's idea to shorten the pole (so we could then send the kits internationally) ! 
Note how Derek has painted the install black and also applied his own SpaceX stickers !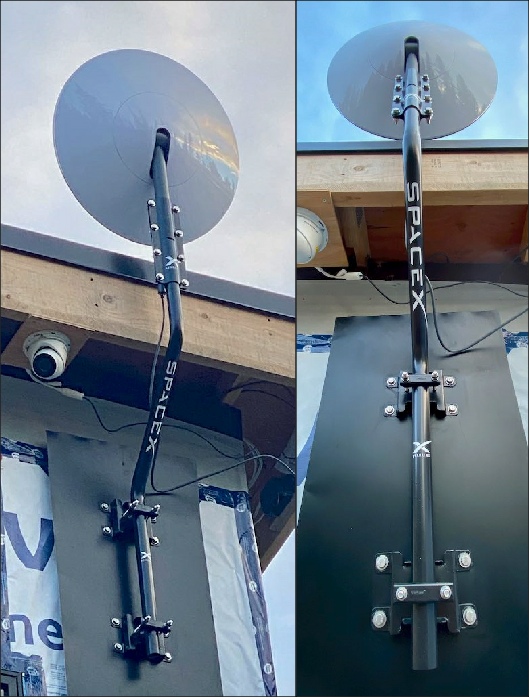 I took pictures at most stages, hopefully it should give you enough to share and give others a few ideas.
The install is relatively straight forward and no real hurdles. The main challenges people might hit are in terms of accessibility for where they are placing it. Given it needs a clear unobstructed view it's likely to be going on / near the roofline and getting access up there might be a little difficult. I was fortunate enough to have some scaffolding onsite an the time, so it was easy enough for me to use that. I think if I only had a ladder for access it would be a little more challenging, especially as it was easier to have a second pair of hands (the dish is a little heavy and awkward). Only other thing you need is a decent sized drill bit bit to get the cable through the wall as it comes pre-terminated. Thanks Paul Rae
Paul fitted one of our Starlink install kit and it will be noted Paul then painted it black, very neat I'm sure you'll agree. His point about the hole for the cable / plug is well made, see article.

The Starlink Install went very well thanks to your excellent article on your website which gave me all the info I needed. I installed it on the side of my garage as per the attached photos. I guess it looks a little agricultural but it was a DIY job after all.
The only issue encountered was that it is quite heavy and so it was easier to attach the dish to the pole before climbing the ladder! Also, given my garage is made with thermalite blocks I needed to use resin bonded anchors for the brackets and I chose two K style brackets for extra strength, don't know if this was really necessary but I feel happier this way. Could have used a shorter pole but this gives me scope to raise it if needed. Regards Charles Warwick
Charles did the right thing installing the Starlink on the pole before installing the pole, that is the way all aerial installers would do it with almost all installs. When doing this install Charles had an awkward distance from the wall to the edge of the gutter to contend with. We normally recommend that poles are at least 2" from the fascia but the problem here is that the next size up brackets wise from 24" T&Ks are 36" ones, and they are large to put it mildly as well as being heavy to man handle.
Available brackets standoffs are : 3.5", 5.5", 8", 14", 20" and 32"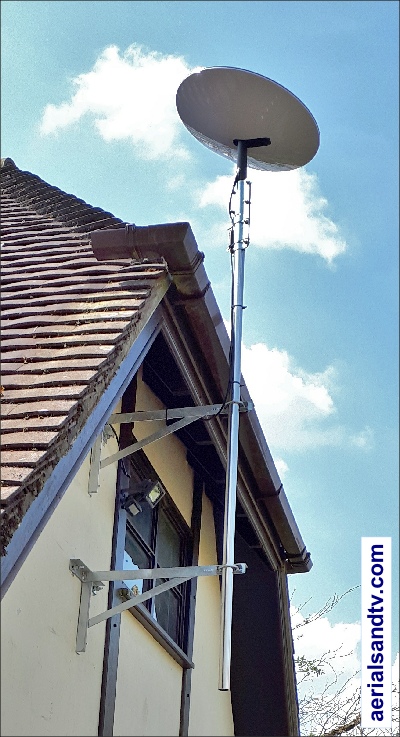 Here's a brief write up of my experience with pics. It all went great, up and running really quickly. The Starlink install kit (cranked pole and brackets) is excellent and high quality. No additional adaptors or fittings are required - everything needed is supplied in the kit. I sprayed the cranked pole with a matt black spray paint. My original plan was to install it myself, but in the end I used a local TV/Satellite installer as I wasn't confident climbing up ladders that high. Thankfully, there's some nice experienced TV/Satellite engineers local to me that can make this look easy. Pole is nice and secure. Good clearance of the roof and no obstructions. It didn't take long to get up and running. I ran the cable into my loft and then internally down into my home office. I couldn't be happier - finally I have high speed internet at over 300 Mb (a huge increase over the 6Mb I had with Openreach!).
Finally fast internet! Totally blown away by Starlink - it really has been a game changer!
Most installers should be happy to fit a Starlink, after all it's quite straightforward other than the pole attachment but the pole coupler and 1.5" cranked pole sorts that out. All they need to know is that it should have a clear view of a 100 degree cone of the sky, and it doesn't matter which direction the dish faces as it's self aligning !
Care in the use of ladders is always wise so one cannot be too critical of Lee, however all our kits (the aerials kits as well as the Starlink kits) come with a screw eye which makes using ladders much safer.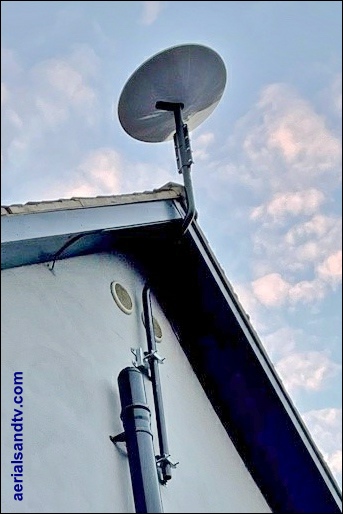 I ordered all the kit I needed for my Starlink installation from ATV, their extensive website gave me a great insight into what I had in store. The next day Justin from ATV called me out of courtesy to try and understand my intention as the order looked a little out of sorts to him. We had a chat and I had indeed ordered too many U-bolts and I possibly needed another wall bracket but may get away with it so I didn't bother. It was good to talk to a vendor who actually cared about me getting the right kit to do the right job. The day of the installation I popped into Wickes for some 10mm Rawlbolts and cable clips. I decided to put the dish near to the apex of my roof line, luckily I own a large three stage extension ladder so I was good to go. After a bit of measuring I marked up for the 16mm holes (rawlbolt diameter) for my wall mounting bracket and drilled the holes. I then attached the rawlbolts to the wall bracket and pushed them home into the drilled holes. I used my socket set to tighten up the bolts after which the mount was very securely fixed in place. I next mounted the Starlink dish to the cranked pole with the pole coupler and zip tied the cable part way down the pole. The pole was heavy and a little cumbersome but I managed to get the end of it through the one U-bolt I'd pre-attached to the wall bracket. I then altered the angle and height of the pole until I was happy, added the second U-bolt and tightened them both up. After zip tying more of the cable to the pole I then used the cable clips to fix the cable to the wall, this proved the most difficult thing to do as my mortar and bricks were so very hard! Having done the install I plugged in the Starlink router and was online within minutes. After surveying the work afterwards I noticed a small wobble on the dish, it wasn't a great problem but I thought it may cause an issue if the wind got up, Justin from ATV was right, I did indeed need two wall mounting brackets! I went back on ATV's website and ordered another bracket and pair of U-Bolts. The kit turned up the next day and I was able to finish the job! Many thanks to Justin for the great products and service, I will be recommending ATV to my friends, I just wish I'd gone with his first suggestion of having two brackets, Regards Richard.
Nice install Richard. As regards tie wraps for the cable tape is usually used by aerial installers for these reasons.