Description
Two inch Heavy Duty clamp kit in stainless steel
The nuts washers and saddles are A4 grade, the threaded bar is A2 grade.
The minimum diameter pole 1.25″ (the maximum diameter pole is obviously 2″), for other sizes see galvanised clamp kits (2″, 2.5″, 3″, 3.5″ and 4″).
Will only clamp parallel, not perpendicular.
One kit comprises :
2 x 0.5m lengths of stainless studding
Four 2″ stainless  sledges
One stainless M10 nut and washer pack (8 x nuts & 8 x washers)
Saddles dimensions are as below :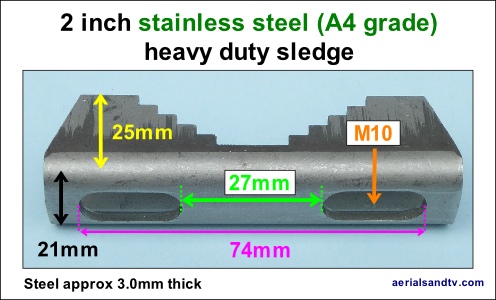 These clamps are available with plain or Nyloc (4 of 8) nuts.