Description
Sky approved Quad (4 output) LNB. Also suitable for Freesat. Collar size approx 37mm.
Typical noise figure of 0.6dB, it`s (probably) not 0.2dB…..
Not suitable for Sky Q LNBs,these are available here.
As supplied this LNB only fits Mk4 Sky type dishes (2010 on).
P&P is cheaper for this item if you phone the order through !
This LNB has a long weather shield for the connections (not all do) :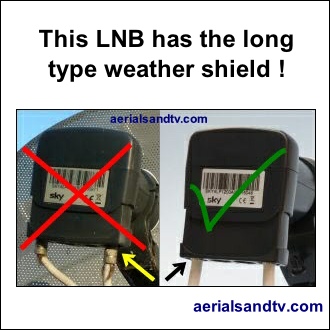 The four F connectors required are included in the price, and they`re decent ones !