NOTE: many of these reports are from the pre switchover low power digital + analogue era, but that doesn't make them any less relevant as regards aerial performance, if anything it makes them more so because aerial performance was actually better assessed when using analogue signals due to the "all or nothing" nature of digital TV reception.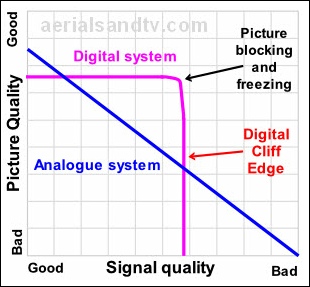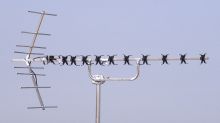 C Graham (Limavady transmitter)
Hello, I just wanted to give some feedback. I used your website to select an TV Aerial to put in my loft. I selected the XB10B as it was suited ( frequency range ) to my nearest transmitter. Being in the loft I wanted a bit more gain to make up for an inside install.
I checked the tech details on your website, including the frequency/gain graphs ( excellent !!! ) with the FreeView Transmitter websites for Bands/channel frequencies covered by the Aerial and everything matched up so I felt better reassured the Aerial would improve reception, influencing me to buy from ATV.
I was able to install the aerial and it works brilliantly !!!, I don't even need an amplifier ( I get better reception without it, tested with a Horizon meter, I just found out that Horizon meters are no longer made, pity I liked their products ). I was also able to use this cool website together with a compass to rotate the aerial to the best orientation for my nearest transmitter:-
Mounting A Terrestrial TV Aerial - 3 Aerial Alignment Calculator (with internet mapping) (macfh.co.uk)
For Terrestrial TV and Radio your website is definitely the best I've come across by far. Its very informative and does not skimp on detail. The content on your website covers the required subject matter and much more, answering exactly the right questions to empower the customer and its a real credit to your business and the industry in general. Thank you very much, and I will definitely buy from ATV again, and tell others of the website too. Kind regards, Chris Graham.
D White (Emley Moor Transmitter)
My old aerial was a Contract 10 wideband. It used to work well for analogue signals and OK 90% of the time for digital. That is until work began on Emley Moor in April 2010. As a result anything transmitted on Muxes 1,2 & D became unwatchable and eventually unobtainable.I fitted the XB10B in exactly the same place in the loft as the old aerial, set the direction with a compass retuned the TV and it worked perfectly.
I have now had the XB10B working for a week.
S Lambert (Emley Moor Transmitter)
For some reason the digital was poor here despite the analogue being good, MUX6 on CH49 was particularly bad, in fact it was more or less non existent. The cable was satellite grade and the aerial was a 19 element Vision V10-191 Wideband Yagi (actually a only 12 element by "conventional" counting ! ) put up by an aerial installer in fact.
A cheap crappy fly lead didn't help and swapping to a decent quality one did improve things but not enough. So up went the XB10B, all of the digital is now better than it was and although MUX6 isn't perfect but it's far better than it was, it was hardly there at all before!
A Hood (Moel Y Parc Transmitter)
Moel Y Parc is only 11 miles from our house, we can actually see it and it was always the case that we could have picked up the analogue signals on a coat hanger. Unfortunately the digital signals required an external aerial, particularly MUXES 5 & 6 which were on low power.
Due to the channel allocation pre DSO a wideband aerial was required and I used a DMX05WB mounted on the chimney. This did OK for all MUXES except 5 & 6 which suffered picture breakup in poor weather (this is very bad luck as it is is very unusual to have this kind of problem if you can actually see the Transmitter).
After DSO, with the increased power, all MUXES were received OK with the outdoor DMX05WB although in really bad weather MUXES 4 & 5 did just start to break up as they are on reduced power (it was at 2.5kW then! ) till Sutton Coldfield switches over in 2011.
For various reasons I really wanted the aerial in the loft and after much reading of you very informative website I decided to try an XB10B (Moel has now reverted to a B group) indoors.
I was a bit limited to where I could site the aerial so ended up mounting it high up in the apex, luckily Moel is at right angles to the house so I could align onto the Transmitter straight through the slates. I am very pleased with the results considering the negative effects mounting aerials in the loft has on reception. Despite the indoor mounting and using a two way splitter, the average % signal strength has actually increased slightly from 90.6 to 91.2, though some are slightly up and some slightly down.
May I say how impressed I was with the build quality of the new aerial, superior products compared with some of the tin foil aerials about. Many thanks for all the information which helped me no end and without which I would have been lost.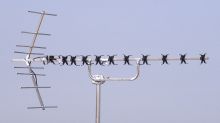 P Kinchesh (Oxford Transmitter)
FYI some follow up on the install … The aerial is installed about head height in the loft as far from the inverter as possible. I haven't detected any interference on the loft aerial from the loft mounted solar power inverter (or the LED lights), the inverter is about 5m from the aerial and the aerial is facing away from it.
I achieved the following signal strengths (as reported by the Humax box):
C41+ (max transmitter output) : 76%
C44- (max transmitter output) : 76%
C47 (max transmitter output): 76%
C29 (-3dB): 72%
C37- (-3dB): 74%
C31 (-3dB): 77%
The picture quality seemed fine on all those.
It was a bit hit and miss with C55 (-7.9dB) : 0%, 55% or 66%. I tried adjusting the aerial orientation, position and height in the loft but couldn't get any improvement. From the specified Oxford transmitter output it seems that 1% on the Humax signal strength readout roughly corresponds to 1dB. I installed the Labgear CM7266 high gain (26dB) amp in the loft that had been left there by the previous occupant.
I now have 100% signal strength on the max output channels, 95% on the -3dB channels and 87% on C55. All the pictures seem perfect.
Anyway, very many thanks for the fantastic website, and all of your help!! Cheers, Paul [link]
I am somewhat surprised to find that an amplifier made that much difference (unless it pre-amplifies before a long cable run like some mast head amps), but the proof is in the pudding so it just goes to show you that RF is a Black Art so try anything if you're desperate, it might work !
A Walker (Bilsdale / Emley Moor Transmitter)
Thanks ATV. Some positive feedback after getting me a good TV signal at last.I can thoroughly recommend the XB10K aerial. Well constructed and easy to assemble, it is a good choice for receiving transmissions from the Bilsdale or Emley Moor Transmitters if, like me, you live down in the Dearne valley area of Barnsley and get bad reception.In the past, I could never get anything like a reasonable signal from Emley on my old 'contract' 18, even though the Transmitter is only 8 miles away, probably due to my location below rows of terraced houses, down in the bottom of the valley. For ages I've put up with the marginally better signal I can get from the Bilsdale Transmitter, 65 miles away. I think my old 'contract' aerial was a K group, but it was hard to tell because the bung in the end was rather bleached, it could even have been a B group. (It is quite common for the bung [in the end of the boom] old aerials to be somewhat bleached, sometimes it's impossible to tell whether it was originally green, yellow, grey or red !  This article may help under those circumstances) Hoping to improve reception from Bilsdale I replaced the 'contract' aerial with an XB10K  X beam aerial. Helpful staff at ATV said the XB10K was also suitable for Emley transmissions, so before pointing the aerial at Bilsdale, I had a go at getting an Emley signal. I also changed the first 5 metres of cable as far as the 4 way masthead amp in the loft. It was the old brown stuff but didn't seem to be in that bad condition.
To put it mildly, I was stunned by the improvement in reception. All analogue signals come in good and strong and my freeview quality says 90-95%. Totally impressed.Cheers ATV. You made my day. Excellent helpful advice. Quick service. A pleasure doing business.
PS. Enjoyed the web site. Loads of good stuff.
N Weaver (The Wrekin Transmitter)
Firstly thanks for a great informative website, its heart warming to encounter such a complete information source created by someone who obviously has a real passion for his work, congratulations!The site lead to my purchase of an XB10K to try to resolve the poor reception at my parents place. On arriving here a couple of weeks ago, (been out of the UK for a while) the only channels were BBC and these had a poor image. The setup was a reasonable quality aerial, assume its a WB on an 8ft pole on the chimney running via a signal booster. The main problem is its a bungalow in a low position and the line of sight to    the Wrekin is pretty much directly at the neighbours chimney and 2 aerials. (Sutton  Coldfield is behind a hill that sits very close to the bungalow). I moved the position of   the aerial a little and managed to get 42 channels on the Freeview box, not bad, but reception on the BBC channels was poor.
Have now installed the XB10K and can now get the same 42 channels as before, but without the booster unit the signal is strong on all channels. BBC still gets the occasional bout of interference, but much better than before.Thanks very much for a great service.
M Cowton (Bilsdale Transmitter)
Just a short note to say thanks for providing such an excellent web-site with comprehensive Transmitter information and aerial recommendation.
I needed to replace a loft mounted 8 element A group 'contract' aerial with a Group K loft mounted aerial on the Bilsdale Transmitter some 11miles to the ENE. The change was required because MUX6 (CH42) is now outside the Group A band. The analogue quality on the original aerial was slightly grainy, but cleaned up when put through a 'plug in mains' two port amplifier. Not an idea solution, I know, but it gave an acceptable result. The digital quality, using a set top box, was good, with very little in the way of drop outs. Replaced the aerial with your recommended choice, XB10K. Clean analogue picture un-amplified and the low power  MUX6 (CH42) restored with no drop-outs so far. Not expecting it to be an issue, post DSO when MUX 6 moves to CH50. Have to conclude that was the right choice of replacement aerial and happy with the aerial's build quality.
Many thanks again.
P Bonner (Bilsdale Transmitter)
The Transmitter is Bilsdale which is about 36 miles away. The old aerial was a basic A group, about 2 feet long, 10 element. It was installed about 14 years ago about 5.8 meters from the ground. The picture was excellent, except for channel 5, which was a bit grainy. The new aerial (XB10K), is also about 5.8 meters from the ground.  With the XB10K the analogue picture is excellent, except for channel 5, which if you look closely is still slightly grainy. Digital signal strengths are now all 95 to 100%. Your gain curves comparing the XB10K to the contract 10A   look about right, I couldn't get MUX6 (on CH42) at all with the old A group aerial.  I didn't like the quality of the wing nuts, as they were made of pressed metal and the threads looked a bit poor, so used BZP M6 nylon locknuts and washers.
Note that after Bilsdale's DSO MUXES 4, 5 and 6 are out of the A group, not just MUX 6 as at the time of this report.
XB16B
XB16B gain curve compared to other relevant aerials.
Note : many of these reports are from the analogue era, but that actually makes them more valid because of the "all or nothing" nature of digital reception.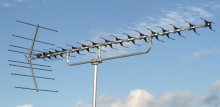 B Kenyon (Sutton Coldfield Transmitter)
Even post switchover our digital reception wasn't up to scratch despite the fact we're only 35 miles from Sutton Coldfield. This may well have something to do with the fact we live in a bungalow with 3 houses directly in the line of sight and some trees beyond that! The original aerial was a DAT 45 Tri-boom wideband on a 10 ft pole and I decided to try an XB16B to see what improvement this would bring. Whilst swapping the aerial I changed the cable as a matter of course (though the old cable was satellite standard and in reasonable condition) and upgraded the mast from a 1.5inch to a 2inch of the same length as before, due to the extra wind-resistance of the new bigger aerial (very wise).
When the weather turned fine I got around to installing the XB16B array which you kindly supplied. I have to say I did find the cradle to be slightly loose in the clamp, so I packed out the tilting box section with a shim of aluminium, and all was well (I have forwarded your comments to the manufacturer. This problem is not unknown, for many types of aerial in fact, though I wouldn't say it was common. For those who don't have anything to use as a packing shim an alternative is to use a vice to slightly flatten the box clamp).
The newer aerial was placed in exactly the same position as the old one. The performance of the XB16B (especially at the lower-frequency end) is certainly considerably better than the earlier DAT45 I have been using for around 4-5 yrs. This was exactly as hoped-for, so I am very pleased with this result and the overall benefits which are as good as or greater than I anticipated. Accordingly, the extensive advice available on your website has proved to be accurate and extremely useful, even though I have been playing-around with various aerials, myself, for at least 50 yrs now.
R Shead (Hannington Transmitter)
According to ukfreetv my home is right on the eastern edge of the Hannington reception area, it would be well within the Crystal Palace area except that there is a large hill blocking the line of sight. The new aerial was a replacement for a 30 year old wideband which gave barely adequate reception on the old analogue channels. The cable was about 20 years old and in good condition but "budget low-loss" type, badly routed (about 50% longer than necessary probably with kinks) and with unscreened faceplates - possibly losing 3 to 6dB by comparison with "copper-foil satellite cable", directly routed, no spurious connections and no face plates.
Using a XB16B and a 4 way universal mast head amp kit, together with all new cabling, I now (post 18/04/2012 DSO) get near-perfect reception of all Freeview channels. Many thanks for supplying the kit.
Mr Sharrock (Hannington Transmitter)
I live in a poor reception area for both Hannington and Crystal Palace, though most houses around here are on Hannington which we're about 20 miles away from (SSW).
My previous aerial was a Contract 18 (probably a B group) and it gave poor pictures on analogue, though the digital wasn't too bad.
I decided to go for an XB16B because I wanted to be sure I'd given myself the best chance of a good signal, and it'd still work reasonably well on Crystal Palace if Hannington wasn't any better than with the old aerial.
The XB16 gave a much better analogue picture than the Contract 18 and the digital is perfect, it hardly ever freezes or glitches. I was impressed, it was (even) better than I thought it'd be. On the other hand it's a big aerial and I'll now have to upgrade my pole and mounting brackets!
D Moule (Hannington Transmitter)
Overall our key problem is being in a slight dip and the housing estate being surrounded by lots of tall trees. The house was built about 10 years ago and we had an aerial fitted at that time, it had to go on a 10ft pole on the chimney. The installer said it was the strongest gain available at the time. Then in April this year we lost CH50 (MUX1) completely, I guess it was the trees coming into leaf combined with high pressure. A few weeks later when it rained we got CH50 back but very blocky. So either the trees had grown more, or the Transmitter's power had reduced, but they claimed it was the same output power. So in May we had the old aerial replaced. The installer recommended a "Televes DAT45" (this is a "Tri Boom aerial"), and this was the one that I had replaced last Friday with the XB16B.
The DAT 45 is a wideband but was still slightly better than the old aerial though it  wasn't able to give as good reception as the XB16B. So the advice on your website, about poor reception areas going with a narrow band B group for higher gain, and the review of the XB16B, clinched it.
So, 10 year old aerial = BBC stations gone, and half the others also = 0 out of 10.
DAT45 = BBC stations back again, but half the others were still absent = 3 out of 10.
XB16B = All stations back again, but with one CH poor and one CH very poor = 7 out of 10.
D Patrick (Emley Moor & Bilsdale Transmitters)
I finally got around to installing the two XB16B/Ks (on Emley and Bilsdale) yesterday and am very satisfied with the results !  We have a Topfield Freeview hard disk recorder and this shows bar graphs for signal strength and signal quality. With our old aerial the strength on most channels would be less than half with variable signal quality.  This was with a masthead amplifier and a distribution amplifier. I have done away with the masthead amp and now, on most channels we have perfect signal quality on both Transmitters/aerials and much improved signal strength - 100% on many channels. All in all, a very satisfactory outcome!  Thank you for your interest and your help.
XB16K
XB16K gain curve compared to other relevant aerials.
Note : many of these reports are from the analogue era, but that actually makes them more valid because of the "all or nothing" nature of digital reception.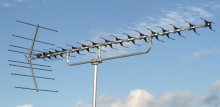 S Hart (Idle Transmitter)
I am living in the Bingley ( in the Aire Valley ) area equidistant between Idle and Keighley Transmitters which are slaved from Emley. I purchased and installed the XB16K as  recommended by yourselves. It is directed toward Idle and is receiving all terrestrial / digital signals perfectly, although I did change the cable at the same time and the old stuff wasn't in particularly good condition. Previously I couldn't get analogue BBC 1 or 2 ( very weak) or CH5,  also the digital channels were very patchy in bad or cloudy weather (and that was with an  amplifier too). So all is OK . The only question I would raise it whether one clamp is sufficient to secure such a long aerial.
It'll be fine, provided the nuts are done up sufficiently firmly!
G Brown      The Wrekin transmitter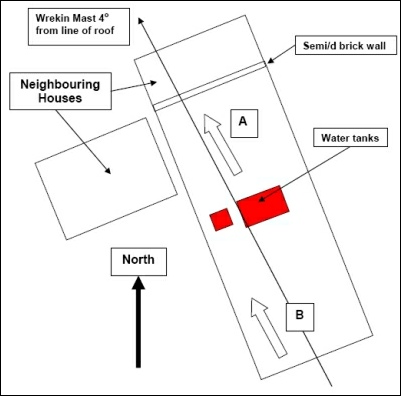 Importance of aerial positioning, particularly in a loft.
A loft installation of the XB16K was required, it's a very old property in a conservation zone – no external aerials permitted.
The original aerial was a 'Maxview' Contract 18WB aerial positioned at point A gave reasonable analogue reception but very poor digital reception, picking up only half of the available channels with frequent 'drop outs'.
Loft space in property very small with very restricted height but reasonable length, with the Wrekin Transmitter site line very close to the line of the roof.
Tried XB16K in position B first, on the theory that the site line of the aerial would include less of the gable end wall of the neighbours (semi-detached) house.
The signal quality actually proved to be worse than the original contract aerial set-up, possibly due to the two (plastic) water tanks and copper pipe work in the middle of the loft space, or whatever the neighbour had in his loft.
When the XB16K was moved into position A and signal strength and quality improved dramatically. Sixty Two digital channels/4 MUX's became available, with only channels 53 and 57 (MUX's 5 and 6) not currently available due to a deliberate 'Null' zone sent towards Bridgnorth to protect the analogue transmissions on channels 53 and 57 from the Brierley Hill Transmitter.
This result was also using the original, rubbish 'low loss' coax cable put in when the property was refurbished in the 80's. This is due for replacement with decent grade cable as soon as the weather permits! I expect the 'missing' MUX's to correct when the Wrekin DSO happens in August 2011 and the 'Null' is removed.
Overall, not the easiest of installations but absolutely worthwhile in terms of the final result.
The quality of the aerial and connectors etc. supplied by ATV is excellent and only fully appreciated when side by side with the inferior article removed from my loft.
The quality of information on the ATV website is superb and order handling, exchanging aerials and dealing with ATV over the phone has been completely painless.
I shall be recommending you in the future.
A valuable lesson in the importance of aerial positioning, especially in a loft !
D Cochran (Craigkelly Transmitter)
We're on Craiogkelly and have trees in the way, but by putting the aerial in the loft I was able to align it between a gap in them. We were able to use the XB16K in the loft because we've got a big loft!  In addition we used a 4 way Mast Head amp to split it up there and I'm pleased to say it all works absolutely perfectly.
D Patrick (Emley Moor & Bilsdale Transmitters)
I finally got around to installing the two XB16B/Ks (on Emley and Bilsdale) yesterday and am very satisfied with the results!  We have a Topfield Freeview hard disk recorder and this shows bar graphs for signal strength and signal quality. With our old aerial the strength on most channels would be less than half with variable signal quality.  This was with a masthead amplifier and a distribution amplifier. I have done away with the masthead amp and now, on most channels we have perfect signal quality on both Transmitters/aerials and much improved signal strength - 100% on many channels. All in all, a very satisfactory outcome!  Thank you for your interest and your help. Kind regards.