Description
M8 (A2) stainless 60mm bolt kit
Pack of :
10 off M8 x 60mm bolts
10 off nuts (plain or Nyloc)
20 off Form C washers
These bolts are 60mm long but are fully threaded so can be cut down, and without risk of rust as they are stainless ! 60mm just happens to be the perfect length when installing two low profile brackets on a 4×4 post !
P&P is cheaper for this item if you phone the order through !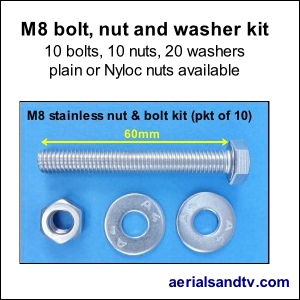 Available with plain or Nyloc nuts.