Description
Outdoor/Mast Head Diplexer to combine or separate FM/DAB (85 to 240 MHz) and TV (470 to 860 MHz).
The unit is fully screened and its weatherproof enclosure means it can be mounted outside if required.
Quoted through loss approx 0.5dB
See article on Diplexers.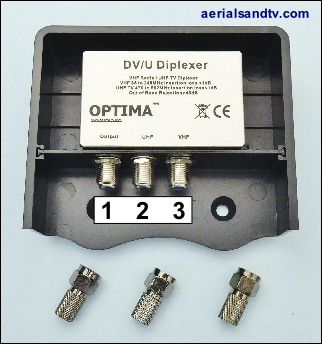 1 – Combined output (or input). NO power pass*
2 – UHF/TV input (or output) at 470 to 862MHz (loss approx 1dB).
3 – VHF/DAB + FM input (or output) at 88 to 240MHz (loss approx 1dB)
(The top cover is removed in the picture of the product)
* A version with power pass (on the UHF leg) is available for the same price but in a different case type, it's the same as the CH38 diplexer, i.e. not an F connector type, please phone for this.
The F connectors are supplied with this unit and they're good ones ! :

Similar units mounted outside :