Description
Quality brass (nickel plated) Co-Ax plug with brass claw. We prefer them to alloy ones because the latter can be susceptible to corrosion and become difficult to undo over time, particularly in a damp atmosphere. The shape of the "claw" insert is critical to whether it grips the cable well, or just pulls off, but the plug must be attached correctly, and that's not as obvious as many people seem to think, secrets here….. Incidentally it is bad practice to re-use a Co-Ax plug because this claw becomes deformed (particularly if the plug was incorrectly attached) and it never seems to grip as well after that.
Also see loose fitting CoAx plug ?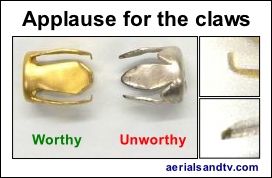 This product is included in all our aerial kits (wall, chimney, loft, caravan, etc).