Description
Fully screened Mast Head Amp Kit with variable gain by attenuation on the input.
The unit amplifies 470MHz to 862Mhz, i.e. it will not pass FM/DAB. If required this should be diplexed in after the amplifier.
This amp can supply four TV points directly or more via a splitter(s) with power pass.
The weatherproof enclosure makes it equally suitable for mounting on the aerial mast, on the wall, or in the loft. The PSU is also screened.
Max recommended distance from PSU to amp would be well over 250m.
This amp is cascadable up to 30mA.
NOTE : This unit is only suitable for those in poor signal areas as strong signals at the input may result in cross modulation interference. Unless particularly long cable runs are involved or a large number of points are required to be fed (via splitters) we would normally advise the use of the universal 4 way M/H amp, which has lower gain but is able to be turned down further, and is also capable of accepting larger input signals.
In other respects the two units operate in a similar manner, including PSU on any leg.
Specifications :
Amplifier
Gain = Variable (front end) : 4 x 12 to 25 dB
Max input level = 73 to 60 dBμV
Noise = 2.5 dB
Power requirement = 12V x 50mA
Power Supply
Output Voltage = 12V x 100mA
Insertion loss = Less than 1.0 dB
Protection = No short circuit protection.
Power consumption = 240V x 3W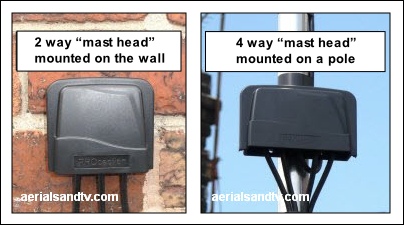 The 4 F connectors required are included in the price, and they`re decent ones !

Examples of a mast head amp in use :