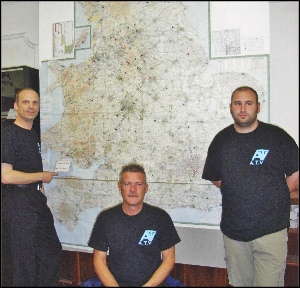 The original map was put up in October 2003 and extended in December 2006, then had its first update in December 2012 for any DSO changes (but that's the pins not any roads ! ) though there wasn't actually much that changed. There were a few new repeater transmitters plus some were taken out of use, the most significant being Croydon and Lichfield (both large ex analogue C5 [only] transmitters). In addition a few repeaters changed which main transmitter they get their signal from.
In October 2020 the map was fully updated for the 700MHz clearance resulting in the C/D group disappearing (many more TXs became A or K group) and 12 more TXs became 6 MUX, 4 of which were completely new.
Incidentally we haven't got anything against Scotland it's just that we ran out of room to go any further North !
Below is a section of the map around Emley Moor.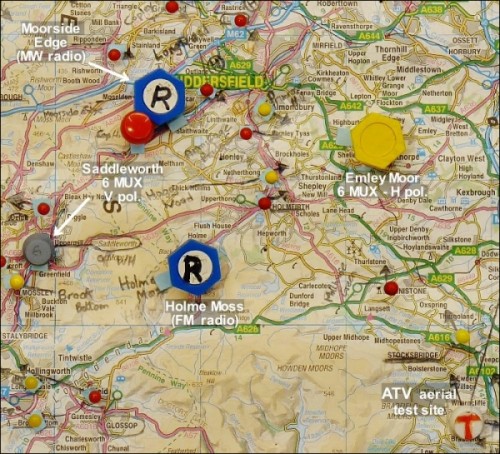 Large pin.
Main transmitter, transmission powers vary between 10kW and 200kW.
All are 6 MUX transmitters and horizontally polarised. [link]
Medium pin.
Larger repeater transmitter (with a power over 200W).
All are vertically polarised, most only transmit 3 MUX transmitters, but some do all 6.
Not all transmit omnidirectionally.
Small pin.
Smaller repeater transmitter (with a power under 200W).
A gold disc means it's a 6 MUX transmitter, but the vast majority only transmit 3 MUXES.
The black collar indicates horizontal polarity (but almost all are actually polarised vertically).
Most do not transmit omnidirectionally
For detailed "close ups" of sections of the map click on the "letter links" A to T below the map.
There are two additional close ups centred on :
Emley Moor
Sutton Coldfield
(O is more or less centred on Crystal Palace)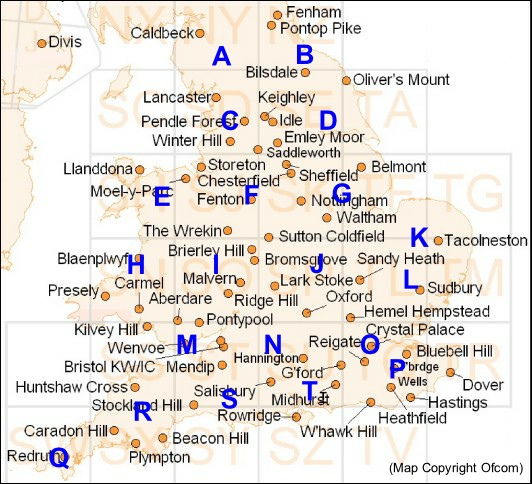 Four adjacent repeaters off four different main transmitters !
One area of particular interest on our transmitter map is that of the South Peak District which shows four repeaters (Tideswell, Ashford, Earl Sterndale and Burbage) off four different main transmitters (Emley, Waltham, Sutton Coldfield and Winter Hill respectively) yet none of the repeaters are more than nine miles from any of the others ! For a higher resolution image use teh close up buttons on the transmitter map above.
This map raises an interesting question as to whether this area of the country is, in fact, the centre of England ! Think about it. All these repeaters must have line of sight onto their main transmitters. It's also pretty likely that there's a big hill in the centre of that blue quadrilateral ! If there isn't then why are all their main transmitters in opposite directions ?
On the other hand, the fact that people off these 4 repeaters may want the local news from what they consider "their area" also adds weight to the suggestion this is the centre of England. Think about it. Those on Tideswell consider themselves Northerners, so they want Look North from Emley. Those in around Ashford may well see themselves as East Midlanders (East Midlands Today from Waltham), off Earl Sterndale as Midlanders (Midlands Today from Sutton Coldfield), and those in Buxton as North Westerners or Lancashire men, North West Today from Winter Hill.
I certainly think the accents vary quite a bit too. Buxton, and NW thereof, definitely sound Lancashire. South/SW of Earl Sterndale a Midlands twang with slight Black Country Brummie influence ? Ashford/Bakewell and SE, they've certainly got an East Midlands lilt.
As for Tideswell, and North thereof, that's certainly God's country, with the relevant intonation, obviously.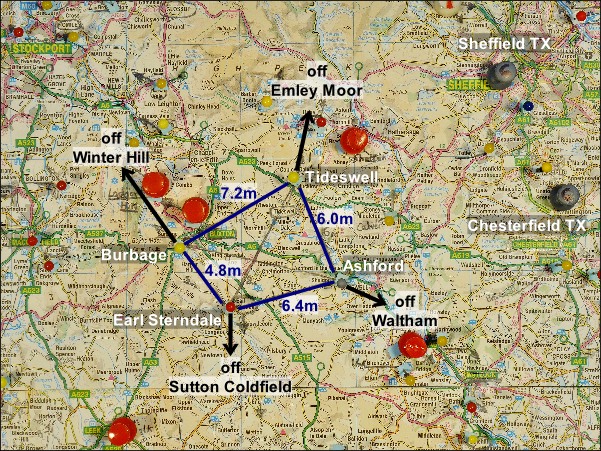 Transmitters into / out of service
Transmitters no longer broadcasting TV since the switchover (2008 to 2012)
Most are still in use but only for radio, see the relevant transmitters` entry on MB21.
Bagillt - W (SE of Holywell - NW Wales)
Burnhope - C5 (5m WNW of Durham)
Cambridge Madingley - C5 (4m W of Cambridge)
Chelmsford - C5 (4m SW of)
Churchdown Hill - C5 (1m NE of Gloucester)
Croydon - C5 (2m SW of Crystal Palace)
Fawley - C5 (ex power station - 8m SSE of Southampton)
Flint - W (Centre of - NW Wales)
Hatch Bottom - I (2m SE of Eastleigh)
Holywell - W (1m NW of - NW Wales)
Hythe (Hants) - I (N of - 4m S of Southampton)
Lichfield - C5 (2m W of Tamworth)
Mounteagle - C5 (Black Isle - N of Inverness)
North Winchester - I (4m N of)
Sandale - BS (4m SW of Caldbeck - N Lakes)
BS = BBC Scotland only
C5 = Channel 5 only
I = ITV (Meridian) only
W = BBC Wales & S4C only
See the Digital Spy thread on this subject.
TV transmitters brought into service at switchover (2008 to 2012)
Many of the transmitters existed before (for radio usually) but had TV added at (or shortly before) DSO.
Bexhill (Centre of)
Budleigh Salterton (Between Budleigh Salterton and Exmouth)
Burnham on Crouch (West side of)
Clacton (Centre of)
Great Yarmouth (Centre of)
Lowestoft (Centre of)
Rouncefall (1m NW of Rochford)
Skelmersdale (N side of)
All are 3 MUX transmitters.
See the Digital Spy thread on this subject. 
TV transmitters bought into service at the 700MHz clearance (2017 to 2020)
Ashford
Gillingham
Sittingbourne (Stockers Hill)
Worcester
Wroughton
Apart from Gillingham all are 6 MUX