Description
Amplifier specifications
Gain : (4 way) = 4 x 9dB  (8 way) = 8 x 5dB
Max input level = 77 dBμV
Noise = approx 4.0dB
Line power (for a M/H amp) = Not fitted
Inputs = UHF (470 to 862 MHz) and VHF (88 to 108 then 174 to 230 MHz)
Power consumption = 240V x 6W
These IR return path (Digi Link) Amps are suitable for running up to eight TVs. All outputs can accept a Digi Eye (with short circuit protection). The amp is fully screened and have separate inputs for TV + FM and DAB. If a suitable FM/DAB aerial is connected to the second input, each of the outputs can then supply a TV and /or an FM or DAB tuner, either via a 2 way splitter or (ideally) a "Set Back Diplexer", though there would be no Digi Link capability through the diplexer. Note that post Aug 2013 Sky boxes require an IO link !
Earth bonding terminal.
2 year warranty on this product.
These amps are fully screened :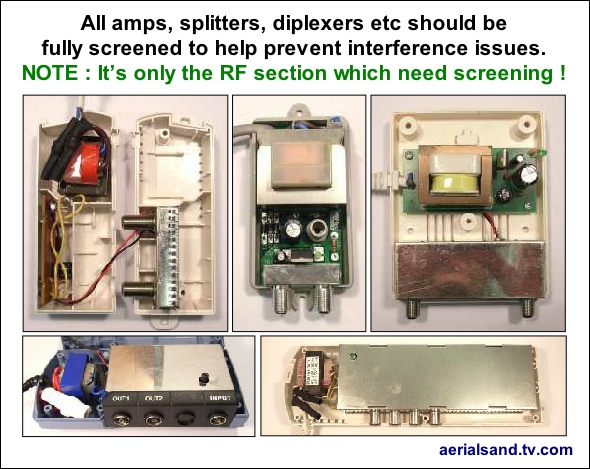 The F connectors are supplied with the amps and they're decent ones ! :