FAQs : Digital Freeview reception issues / problems
Do I need a digital aerial for Freeview ? : You do need an aerial for Freeview but there is no such thing as a "digital" aerial and an "analogue" aerial, they are the same thing. Confusion arose over this during the 2008 to 2012 digital switchover when some people needed a different aerial (usually a wideband) to receive all the available digital channels. However, from 2020, almost nobody needs a wideband aerial "upgrade" to receive all the available Freeview digital transmissions, though if your aerial (or cable or distribution system) is faulty you may need to replace it. More detail on "digital aerial".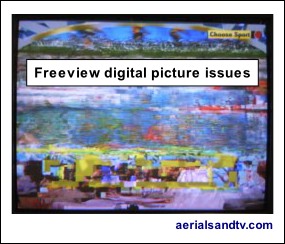 What is digital Freeview TV ? : Freeview is the brand name for terrestrial (i.e. from transmitters to aerials) digital TV broadcasting in this country and has been since 2002. Freesat is the same but via a satellite. It is "free" with no subscription required, hence the name. The number of channels available varies according to which transmitter you receive your signal from, but the great majority of sites get over 100, about 15% of which are HD (High Definition). More detail on Freeview digital TV.
Why do I have to retune my digital Freeview TV / PVR so often ? : The main reason is the government want to sell off as much of the TV broadcast spectrum as they can, and quite often when they switch a bit of it off everything has to be moved around in order to minimise the number of channels lost. More detail on all these retunes.
How can I check the Freeview digital TV signal strength in my area ? : The Freeview postcode reception predictor gives a reasonable estimate of the TV signal strength in your area but it's not 100% accurate, particularly when trees or high buildings are in the same direction as the transmitter(s). Generally (but not always....) it tends to be a bit pessimistic, particularly if you can use a genuine high gain aerial, particularly a grouped aerial to improve your reception. More detail on : reception predictors - signal strength - high gain aerials.
Why is my Freeview digital TV reception so bad ? : If you have poor Freeview digital reception you either have a faulty aerial installation, you are in a poor signal area or your TV is not tuned in correctly, so try retuning as a first step. Note that a faulty aerial installation does not just mean the aerial, but also includes the cable etc plus any amplifiers in the system. In many cases amplifiers are the cause of the problem particularly because they exacerbate any problems with excessive signal. More detail on : signal strength predictors - Freeview digital TV fault finding -